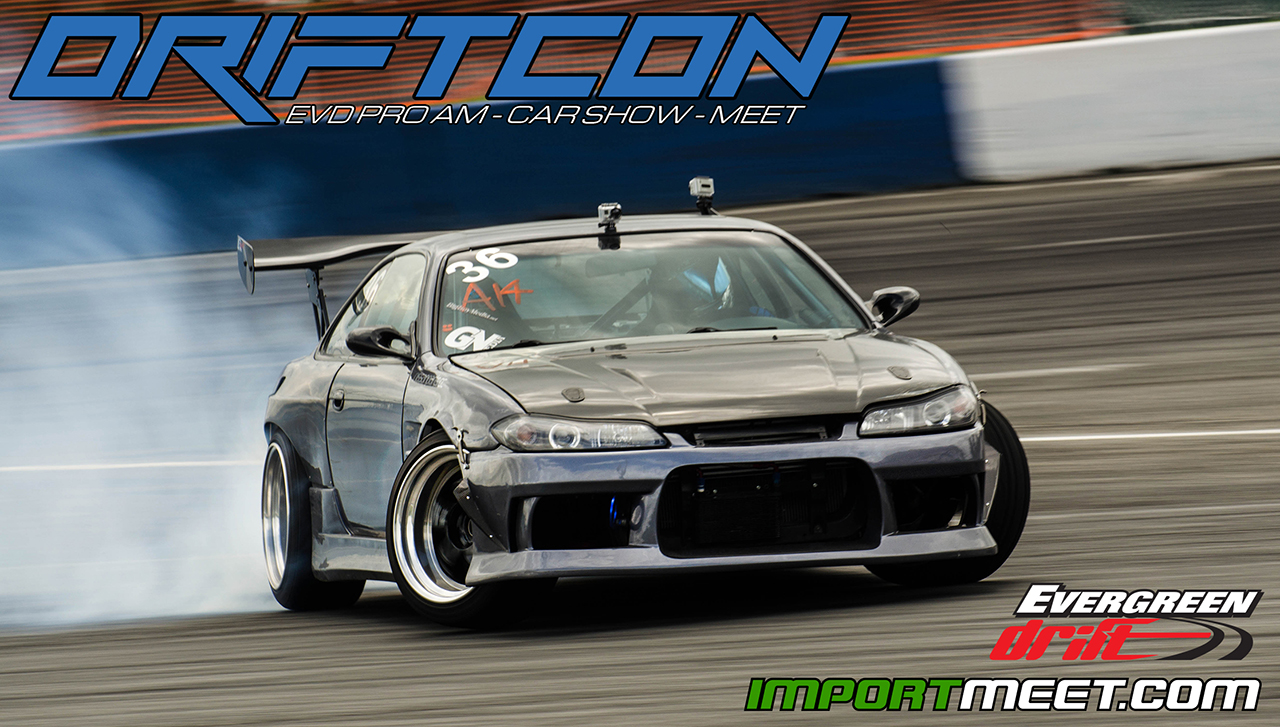 On May 18, 2014, ImportMeet.com will be partnering with Evergreen Drift to produce DriftCon, an import car show and drift event at Evergreen Speedway in Monroe, WA. The event will take place during round 2 of the Evergreen Drift Pro Am competition. All makes, models, and styles of import/European cars are welcome at the show. The event will be held from 12pm – 5pm.
What:
Import car show (inside of the gates of the track)
Import meet (inside of the gates of the track)
EVD Pro Am round 2 competition
Team Tandem drift competition
Beer garden
RC drift track by Raincity Raji Kon
Vendor area (email info@importmeet.com for information about how to become a sponsor/vendor)
Cost:
General Admission: $10
Pit Pass: $15 ($5 more than spectator)
Car Show: – SOLD OUT
Meet Parking (Inside the Gates): $20 day of the event (includes Pit Pass)
Team Tandem: $300 per team of 3
Where:
Evergreen Speedway
14405 179th Ave SE
Monroe, WA 98272
Event Map: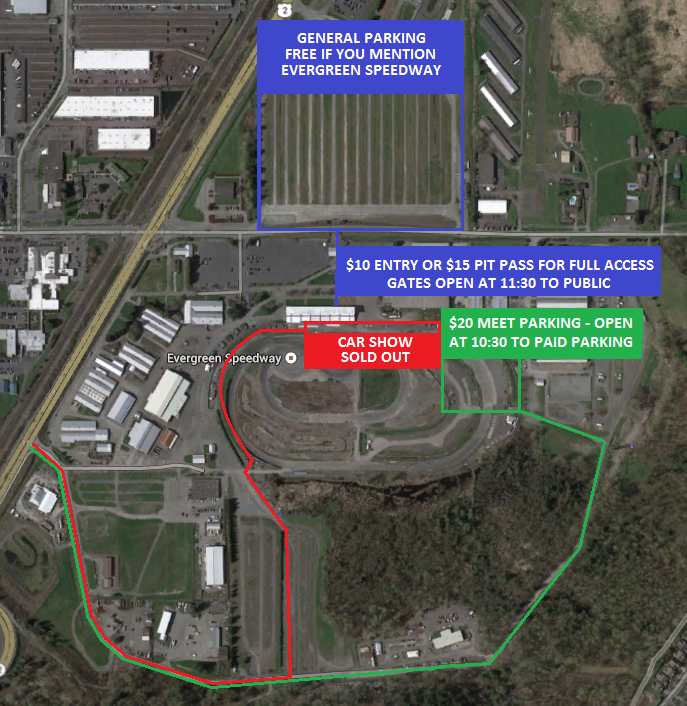 When:
May 18, 2014
9:00am – 10:30am – Car show roll-in
11:00 – Meet parking roll-in
11:30 – Gates open the public, car show starts and Pro Am qualifying
11:30-2:30 – Pro Am Qualifying & Competition
2:45-4:45 – Team Tandem Competition
5:00 – End of car show and award ceremony
Team Tandem Registration:
http://www.importmeet.com/?p=8427
Facebook event page:
https://www.facebook.com/events/1455421691341717/
Media Application:
http://www.importmeet.com/driftcon-media-application/
Car Show Awards
Best Engine Bay
Best Interior
Best Exterior Finish (Paint or vinyl wrap)
Best Import (Asian)
Best Euro
Best Old School (1989 and older)
Best Street Mild (Wheels, lowered, lips, same engine that came with the car, etc.)
Best Street Wild (Body kit, engine swaps, etc.)
Best Race/Track (Slips or photo of car on track required)
Best Stance (Judged by owner/founder of StanceWars)
ImportMeet.com Choice (Judged by ImportMeet.com staff)
People's Choice (Photos will be uploaded to Facebook and most "Likes" determine the top 5 cars which will be voted on at the event)
Best Subaru
Best Honda
Best Toyota
Best Nissan
Best Scion
Best Lexus
Best Mazda
Best Mitsubishi
Best of Show
Make awards may be added depending on entries.
Team Tandem Payout & Rules
Teams of 3 will battle it out at DriftCon for a large purse. Other prizes for the teams may be announced soon.
Payout for the winning teams will be determined by the number of teams that enter (example payout below is based on 10 teams competing).
1st Place Team: $1000
2nd Place Team: $500
3rd Place Team: $250
All cars must have cages and door bars in order to compete.
Team Tandem Registration:
http://www.importmeet.com/?p=8427
Event Rules
1. DriftCon will happen rain or shine.
2. All registrations are final. No refunds will be given.
3. Registrations are not transferable to another person or vehicle.
4. Cars in the car show must remain parked until after the awards have been presented (around 5:00pm).
5. Only registered motor vehicles will be allowed to compete in the car show.
6. Only registered vendors or sponsors are able to advertise at DriftCon. You will be asked to leave if you attempt to market your business without pre-approval.
7. These rules and new rules can be modified at any time.
Don't have a PayPal account? Click the "Pay with a debit or credit card" at the bottom of the screen to make your payment.
Car Show Sold Out – Meet Parking Available Day Of for $20
Sponsors
Please email info@importmeet.com if your company is interested in being a vendor or a sponsor of this event.