We are excited to introduce Nathan Wood as the next competitor in our Import Meet Street Car Competition. The IMSCC is an event that will compare 10 import cars in multiple categories (drag racing, autocross, dyno, car show, etc.) in August 2013.
The next competitor will be announced on June 28, 2013. For notifications, join the Facebook event.
Nathan Wood, an electrical engineer from Washington, builds his car the same way he tackles a problem at work. He compares the effect vs. the cost and goes with the components that will give him the most benefit for the least amount of money. He even has a list made up for weight removal. This list takes into account the location on the car that the weight is being removed from and the cost of removal. Everything he has done to his car has been deliberate and well thought out.
"Aimless/misguided modding or horsepower goal modding are all well and good for some people but don't make sense to me. Personally, I like to make sure that every modification is the next best in terms of effect/cost ratio than the previous one," Nathan says.
Text by Matt Haugness. Photos by Matt Haugness and Ryan Cutuli. Video by Ryan Kam (RK Films).
Watch 2006 Mitsubishi Evo MR – Nathan Wood – 2013 IMSCC Competitor on YouTube
This isn't Nathan's first Evo. After owning one for a little over a year, Nathan was in an accident that resulted in the car being totaled. Not long after the car was taken away by the insurance company, he found a mint 2006 Mitsubishi Evolution MR and his build continued.
When Nathan started modifying his first Evo he didn't really have a direction for the car. His main goal at the time was to just make more power. It was at his first autocross event that he realized that going fast means more than just having a lot of horsepower. From that point forward, improving the suspension and increasing the grip of the car became his primary focus.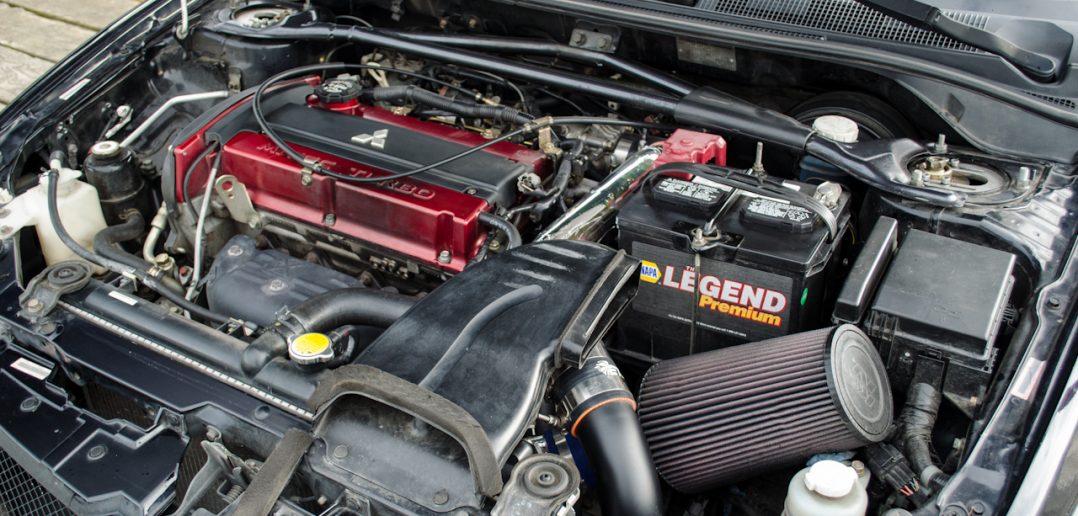 After researching every possible suspension setup, Nathan decided to go with a set of Bilstein PSS9 coilovers. He went with these because of their spring rate and adjustability on the street and track. These particular coilovers also allowed him to install Ciro Design Racing caster/camber plates. With these and a set of PERRIN lower control arm bushings, the car has about 2 degrees more caster than stock. This allows Nathan to place the wheel where he wants in the wheel well to fit larger tires without rubbing.
The stock turbo has been replaced with an HKS GTII 7460r and the intercooler with a 3.5" PERRIN unit. For bolt-ons, Nathan decided to install upper intercooler piping, lower intercooler piping, and intake piping from ETS. He also picked up an ETS 3" titanium exhaust to save weight and reduce backpressure.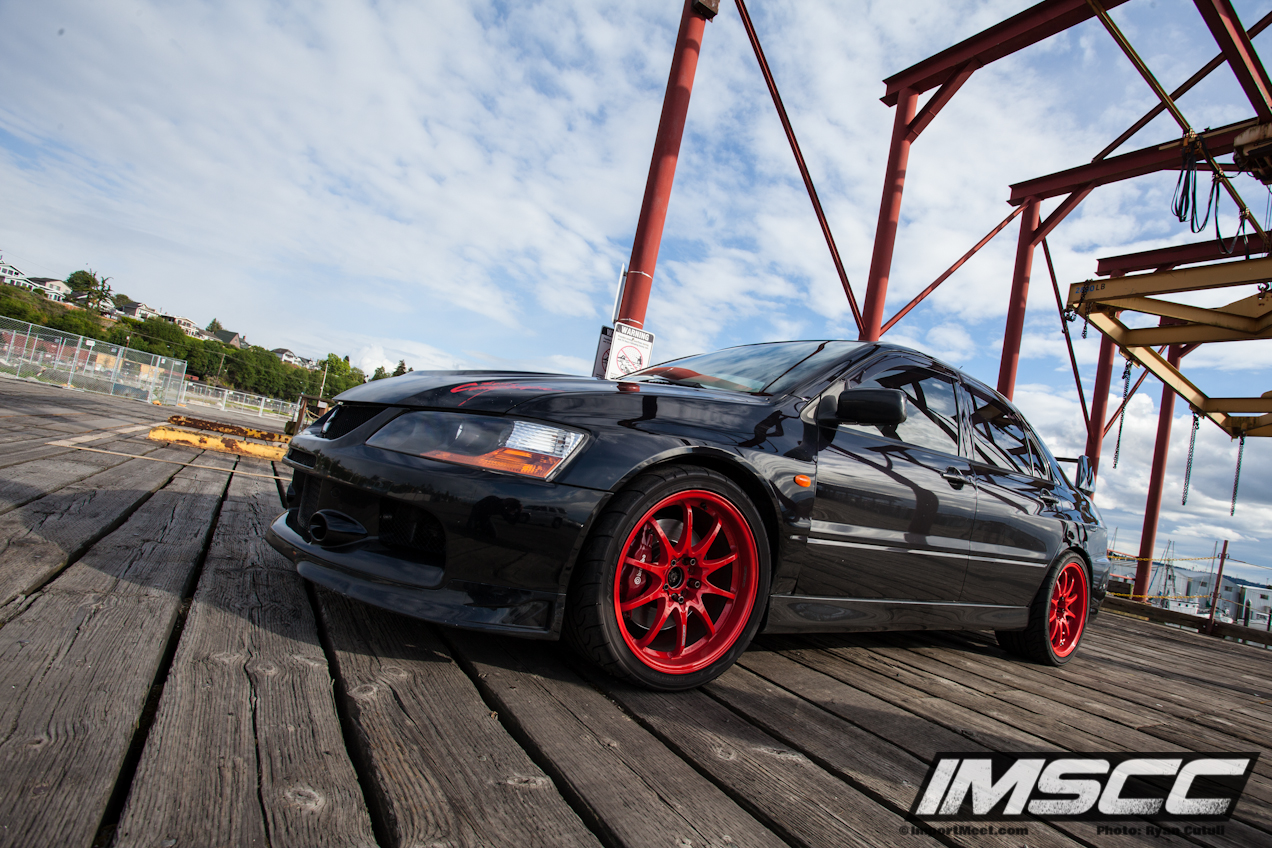 Mitsubishi has refined the 4G63 engine so much over the years that many of the stock engine parts perform very well. Nathan wanted to improve them even further by having them ported. The throttle body, intake manifold, and exhaust manifold were all ported by Buscher Racing.
Like some of the other competitors, Nathan will be running E85 for the IMSCC. In order to run E85, the stock fuel pump was upgraded to a Walbro 255 and the stock fuel injectors were swapped for a set of FIC 1050cc injectors.
The interior was left alone with the exception of a Gruppe-S gauge pod outfitted with an AEM oil pressure, UEGO, and TruBoost gauges.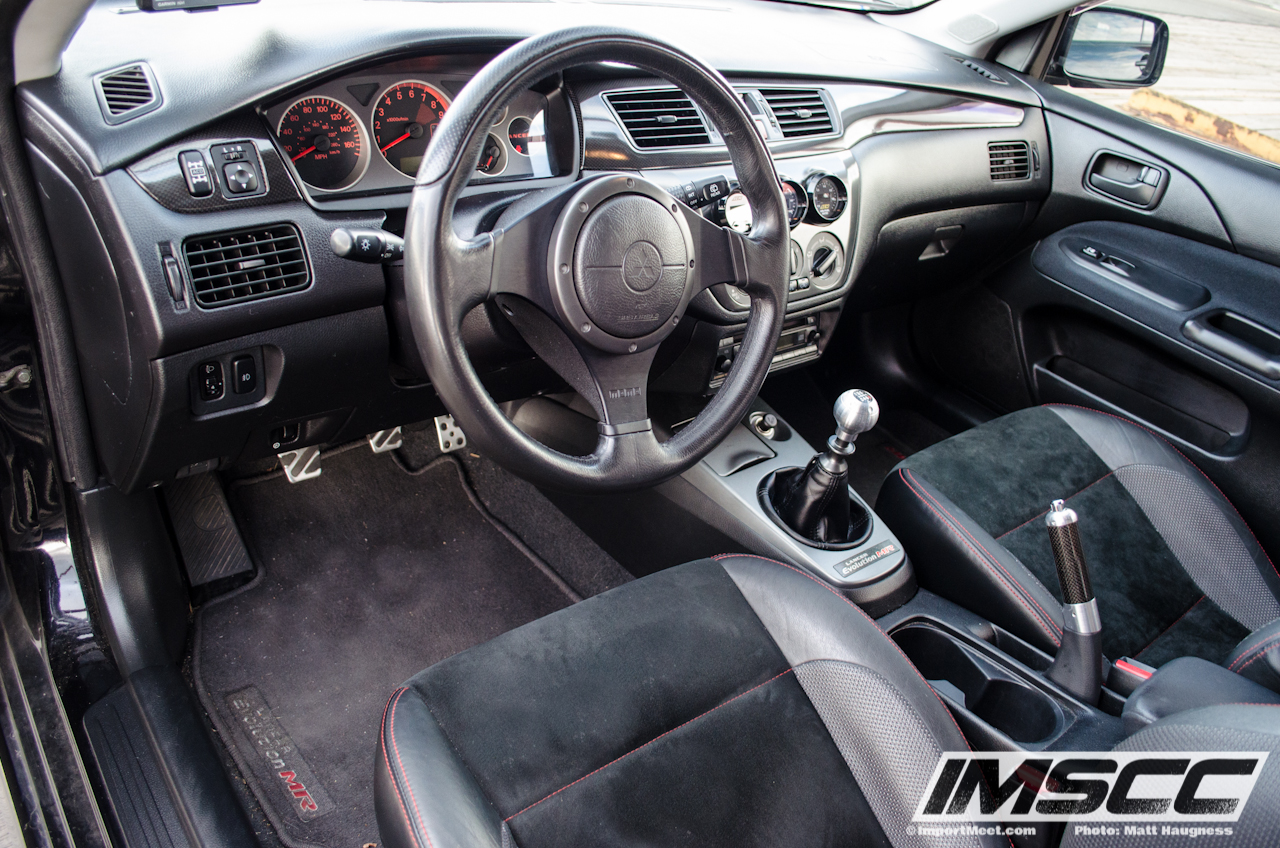 Nathan's favorite modification is the wheels. "Nothing is more noticeable when you first see the car than the wheels. They turned out better than I had hoped. I have seen people do red wheels before but they are usually too dark and not glossy enough. I picked the brightest red that was offered and added an extra coat of gloss. They are also very lightweight and can accommodate the fat meat of 285 wide tires," Nathan explains.
The wheels that he is referring to are 18×9.5 +34 Volk Racing CE28N's with 285/30R18 Yokohama Advan AD08 tires. Although it may look like the car has aftermarket front fenders installed, they are actually spaced out stock fenders. This is a fairly common modification that Evo owners perform to fit wide tires up front while allowing full steering articulation. To allow for wider wheels and tires in the rear, Nathan installed R/TErnie custom rear trailing arms with high offset wheels and rolled the fenders.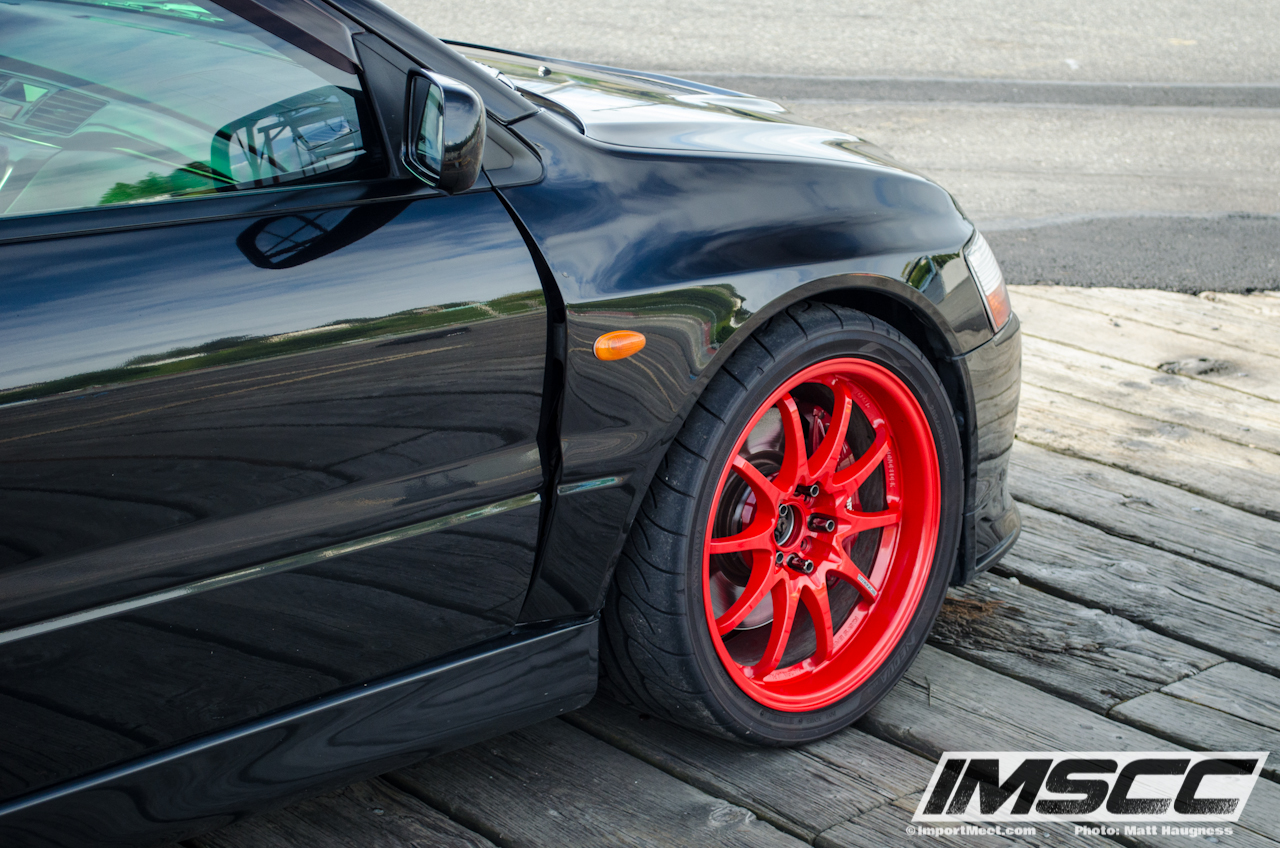 "I see people get ridiculous, expensive widebody kits but then fit 275 tires on the car. What's the point of getting a widebody kit if I'm able to fit 285's on the stock body?"
Recently, Nathan's focus has shifted from autocross to road racing. He has already participated in multiple HPDE events and plans on doing TT (time trials) next year. He is planning on limiting future modifications to ones that will comply with both SCCA Solo Street Modified and NASA TT3 rules. He still wants to keep the Evo a street car and has no plans of making it into a dedicated track car anytime soon.
"At this point I am self-imposing the limitation of "Arrive and Drive" to every racing event. No tire trailer, no truck and trailer hauling a racecar or any of that for me. I will drive to an event, participate in the event and drive home all in the same vehicle," Nathan says.
When asked why he thinks he will do well in the IMSCC, Nathan responded with:
"I am not worried about AutoX unless a Miata shows up. I have AWD and a high grip:weight ratio for the tires allowed in this competition. High horsepower, laggy turbo cars might as well run around the course NA. I might be worried about a V8-swapped car if they can keep their grip.
Peak horsepower: I will give it up to the dyno queens but I won't be far behind.
Power delivery: my car comes on fast and hard and pulls until just before redline.
Drag racing: I am not sure how well my clutch will hold on for a decent 60' but I expect to be mid 11s with my power:weight and grip shouldn't be a problem. I don't know what other cars are in the competition but I can see being 3rd or 4th here.
All the other categories… I'll let the audience judge from the pictures."
Nathan would like to thank the following people for all of their help:
Chris Ball – for putting lots of hours into the car helping him out
Nicholas Wood (his brother) – for drinking his beer while watching Chris and him work on the car
Christine McKinley (his girlfriend) – for being supportive of him and his time intensive hobby
His parents – for letting him use their garage and tools to work on the car
Click here to see the rest of the IMSCC competitors
Modifications:
Exterior/Wheels/Tires:
Volk Racing CE28N 18×9.5+34mm wheels – powder coated "Racer Red"
285/30R18 Yokohama Advan AD08 tires
Project Kics R40 lug nuts
JDM rear bumper
JDM taillights
JDM MR headlights
JDM amber side turn signals
Spaced out front fenders (for tire clearance)
Rolled rear fenders
Rear UK badges
Interior:
Gruppe-S center gauge panel
AEM oil pressure gauge
AEM UEGO gauge
AEM TruBoost controller
Engine/Transmission:
HKS GTII 7460r turbocharger (49 lb/min)
ETS 3" titanium catback exhaust
ETS intake piping
PERRIN 3.5" intercooler
ETS upper and lower intercooler piping
4 bar Omnipower sensor
FIC 1050cc low impedance fuel injectors
Walbro 255lph fuel pump
Spoolinup coil-on-plug ignition spark
Grimmspeed 3 port boost controller
ACT Xtreme Duty clutch
Weir 12 plate rear differential upgrade
TRE 1.5 way rebuilt rear diff with HD side cover
K&N intake filter
Synapse recirc valve (pull mode, port B connected)
Buschur Racing 65mm Ported Throttle Body
Buschur Racing ported intake manifold w/ phenolic gasket
Buscher Racing ported exhaust manifold w/ ceramic coating
Kiggly valve springs/retainers/seats
GSC S2 cams
Kiggly HLA pressure regulator
No-Tick lifters
MAP O2 eliminator downpipe with dump
Works resonated test pipe
Blox front motor mount
Suspension/Brakes:
Bilstein PSS9 coilovers
Ciro Design Racing caster/camber plates
PERRIN PSRS
Whiteline RCA
Whiteline front control arm to subframe bushing
Megan Racing adjustable rear toe rod
Energy Suspension rear differential bushings
R/TErnie custom rear trailing arms
Girodisc S/S brake pads front and rear
Stainless steel brake lines
Special Thanks to Our IMSCC Sponsor:


If your company is interested in sponsoring the IMSCC, please email info@importmeet.com for more information.