We're excited to introduce Katie Smith as the next competitor in our Import Meet Street Car Competition. The IMSCC is an event that will compare 10 import cars in multiple categories (drag racing, autocross, dyno, car show, etc.) in August 2013.
A new competitor will be announced each week leading up to the competition so be sure to check back next week. For notifications, join the Facebook event.
If you're reading this article, there's a good chance that one of your favorite toys growing up was a Hot Wheels car. Katie Smith was no different. From an early age she knew that she wanted to build a car of her own someday.
Text by Matt Haugness. Photos by Ryan Cutuli. Video by Ryan Kam (RK Films).
Watch Rumble Wagon – Katie Smith – 2004 Subaru WRX – 2013 IMSCC Competitor on YouTube
When Katie was finally old enough to drive, she became involved in the local offroading community. This was when she met her husband, Ryan Smith. After modifying her first vehicle to the point that it was no longer practical as a daily driver, she decided that it was time for something different. Ryan encouraged her to look for her dream car, a Subaru WRX wagon, rather than settle for a car that she would grow tired of.
Taking his advice, she purchased this clean 2004 Subaru WRX in 2007. It wasn't until 2008, after joining multiple Subaru forums that she started to modify the car and bring it out to local events.
Her first modification was simple–a full 3" turbo back exhaust system that she received as a birthday gift from Ryan. Of all of the mods on the car, Katie says that it's still her favorite.
"It's the one mod that started my passion for modifying and everything else came after. Plus, the car wouldn't have its name without it. Shortly after installing the exhaust my best friend's car crazy son started referring to it as Rumble Wagon. The name stuck and I've been calling it that ever since."
With the exception of the tune, the clear bra, and the alignment, Katie and Ryan have installed all of the modifications themselves.
"Ryan was there to help with every part of the build. If he didn't know how to do something, he would research how to do it and we would tackle it together," Katie explains.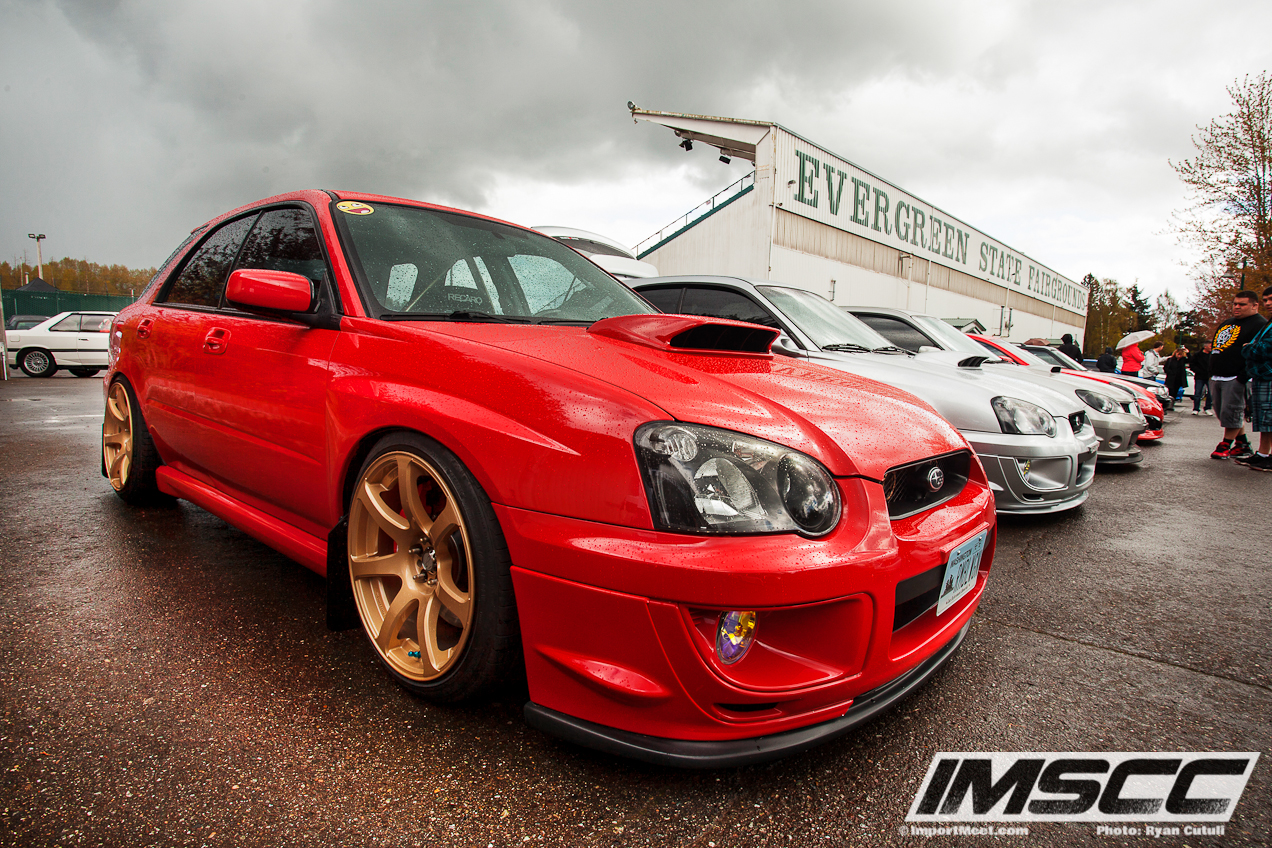 Anyone familiar with Subarus knows that red WRX wagons are somewhat rare. To make the car stand out even more, Katie installed a front bumper, lip, fenders and liners from a sedan. During this conversion she also replaced the stock hood scoop with one from a STi to improve the already aggressive look. To finish off the front of the car, she added STi splitters and JDM multi-coat fog lights.
For engine mods, Katie decided to upgrade to a VF39 turbocharger, cold air intake and turbo inlet pipe. She also added a STi top mount intercooler and 565cc injectors. Once these and the other supporting fuel system mods were added, the car was Pro Tuned by Dom at Maxwell Power Services using the previously installed Cobb Accessport V2.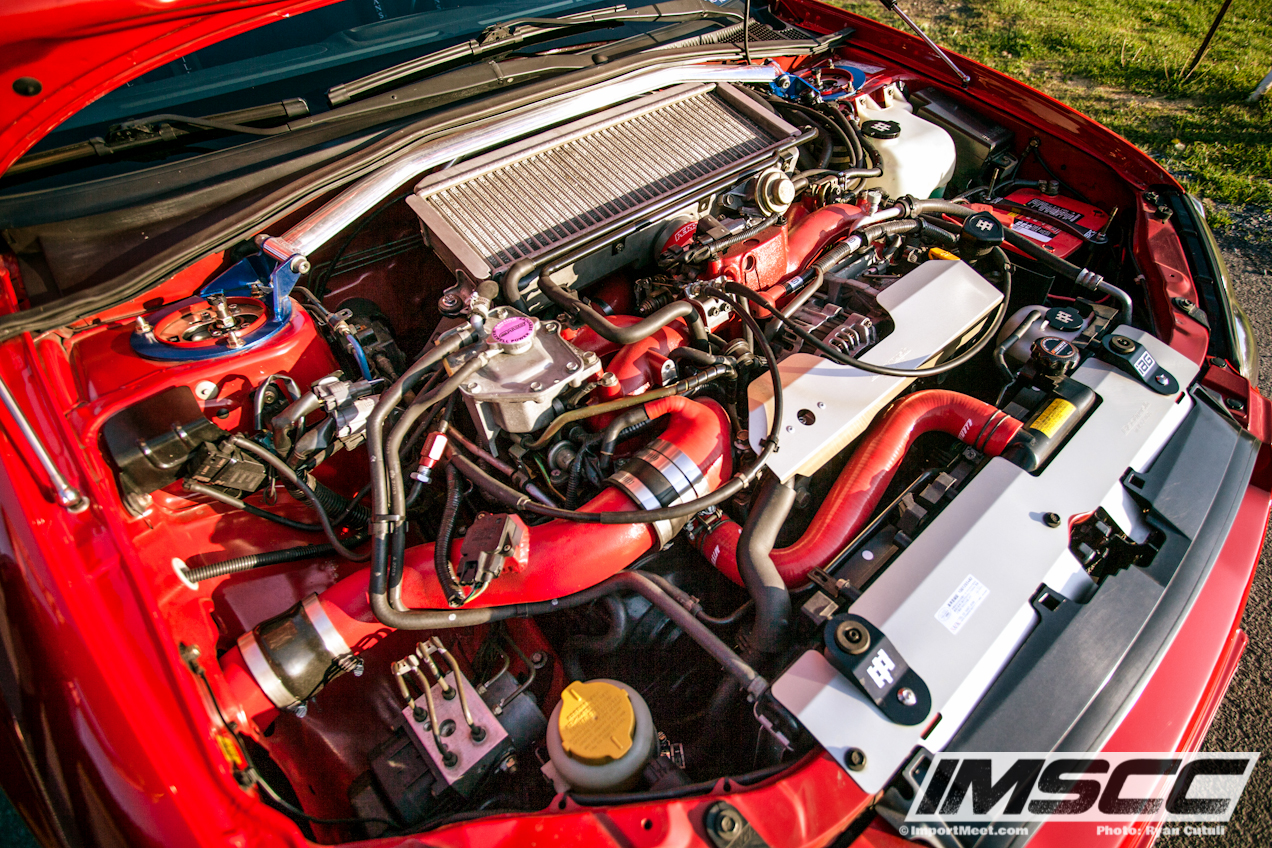 The car has been lowered on a set of BC Racing BR coilovers using an Umbrella Auto Design Variable Ride Height (VRH) system with Swift springs. The VRH system is essentially a hybrid of an air ride and coilover suspension. An air-powered piston on top of each spring compresses it to raise the car and releases it to lower it. This setup allows her to slam the car at a show and then drive it home at a reasonable height–all without sacrificing performance.
 "If I had to describe my car with one word it would be "versatile". It really is the best of both worlds. It's a show winner but can still hang on the track," Katie says.
Even though Katie just started tracking the car at local autocross events, the cage has been in the car since last year. The decision to put a cage in started with Ryan's desire to showcase his abilities as a fabricator. Ryan had experience fabricating tube frame chassis for buggies and knew that he was capable of building a custom cage for the car.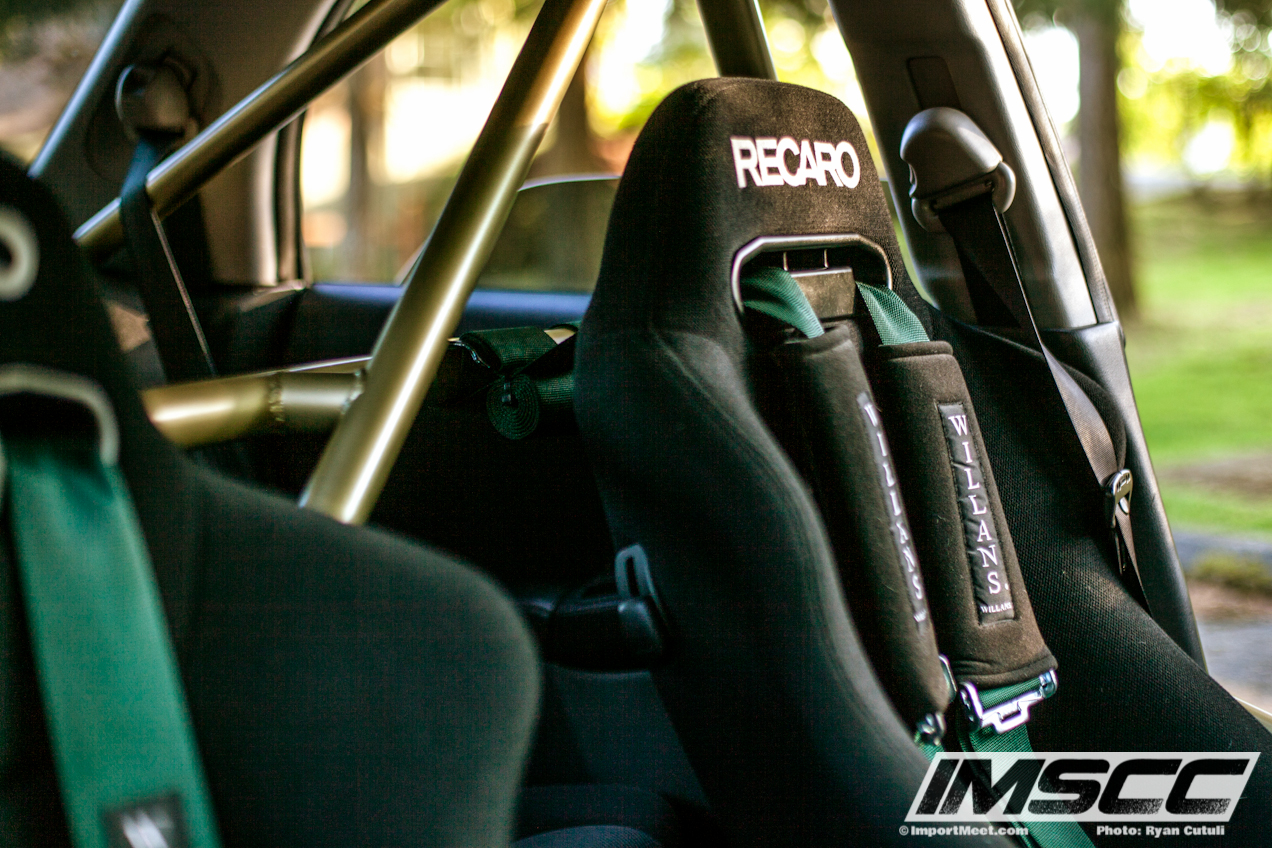 He built the cage to meet Katie's needs but made sure to design it so that it would be easy to modify in the future to meet NASA racing requirements. To finish off the race spec interior, Katie installed Recaro SRD seats with custom British Racing Green Willans 4 point harnesses.
For track days, Katie runs a set of gold 17×8" Enkei RPF1 wheels with 245/40R17 Dunlop Direzza ZII tires (not shown) and this is what she plans on running for the IMSCC. She recently replaced the stock brakes with a StopTech big brake kit that includes two piece slotted rotors that measure 332mm in the front and 328mm in the rear.
Katie's future plans for the car are to continue to make it even more trackworthy with suspension and engine upgrades. She also wants to improve the interior for the show season that is about to start.
When asked why she thinks she will do well in the IMSCC, Katie responded with:
"My car is extremely well-rounded. I've been meticulous in the whole build and tried to balance everything while keeping the car clean and classy. This should help me for the show, fabrication and build portion. In my novice year in autocross I've been kicking butt so I think I'll have a little bit of an edge there as well. I love being competitive, so while the car may be outclassed by some of the others, I'll put my all into the competition and have a great time."
Katie would like to thank the following people for helping her build Rumble Wagon:
Ryan Smith (her husband) – for being the biggest support and wealth of knowledge on the build, not to mention teaching her everything as they went
Dom (Maxwell Power Services) – for the great tune on the car
IAG Performance (Sponsor) – for being her first and only sponsor of the car and for always taking care of her as a customer
Check out Katie's page on Facebook dedicated to the car: Rumble Wagon Facebook Page
Click here to see the rest of the IMSCC competitors
Modifications:
Exterior:
OEM sedan front bumper, fenders, and liners
OEM STi splitters
OEM STi hood scoop
JDM multi-coat fog lights
Front lip
Full front-end clear bra by Guardline
Painted OEM side skirts
Roof-rail deletes
Rally Armor UR mud flaps
Blacked out & cleared headlights w/6000k HIDs
Hella Supertones painted gold
Rear windshield wiper delete
Debadged trunk
IAG billet washer fluid cap
IAG billet brake fluid cap
IAG billet radiator reservoir cap
IAG billet oil cap
IAG radiator stays
Prosport hood dampers
Beatrush pulley cover and radiator cooling panel
Mishimoto carbon fiber radiator cap
Interior:
3/4 Cage – 1.5" .095w Tube with 1.75" .120w main hoop – Clear UV protection film
Recaro SRD seats
Speedware Motorsports seat brackets
Willans 4 point harnesses in custom British Racing Green
Pioneer touch screen iPod/DVD Player
Polk speakers & Rockford Fosgate subwoofer
Black suede headliner and custom dyed rear carpeting
Dynamat lined trunk, hatch & quarter panels
Red JDM hazard button
STi Ti shift knob
Performance:
Cobb AP v2 – Maxwell Power – Pro Tune by Dom
VF39 Turbo – Ceramic coated hot-side w/Cobb heat shield
Turbo inlet
Cold air intake
Powder coated red intake manifold
IAG Billet TGV delete w/8mm phenolic spacers
08 STi TMIC w/IAT sensor relocate
Perrin Y-Pipe
Perrin boost controllers
565cc fuel injectors
Walbro fuel pump
Ceramic coated exhaust manifold
Perrin up-pipe (ceramic coated – catless)
Helix downpipe (ceramic coated – catless)
Blitz Nur-Spec 3″ exhaust – catless
NGK BKR7EIX Iridium plugs – one step cooler
Mishimoto red silicone radiator hoses
IAG fuel rails
Optima Redtop battery w/SPT battery tie down
Suspension/Brakes/Wheels/Tires:
Gold 17×8 +45 Enkei RPF1 (not pictured but will be running for the IMSCC)
225/40R17 Dunlop Direzza ZII tires
BC Racing BR Coilovers with Variable Ride Height system by Umbrella Auto Design
Swift springs
STi lower control arms
Whiteline control arm bushings
Whiteline steering bushings
Cusco front strut bar
AD Motorsports 25mm front sway bar
Whiteline 25mm rear sway bar
StopTech Big Brake kit w/ 332mm front and 328mm rear zinc plated slotted rotors
Steel-braided brake lines with Motul RBF600 Fluid
Kartboy front endlinks
Kartboy rear endlinks
ARP extended studs
Special Thanks to Our IMSCC Sponsor:


If your company is interested in sponsoring the IMSCC, please email info@importmeet.com for more information.