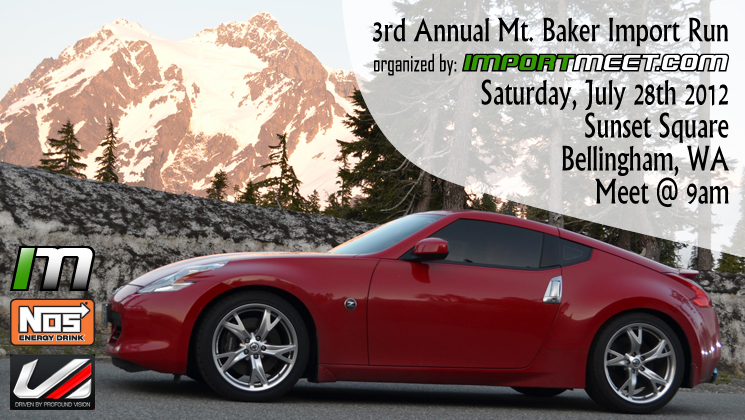 ImportMeet.com would like to officially announce the 3rd Annual Mt. Baker Import Run! Last year, we had over 60 cars in attendance despite the less than ideal weather. Our goal this year is to have over 150 cars cruise to the top of Mt. Baker.
When:
July 28th 2012
Pre-Meet – Sunset Square (Cost Cutter parking lot)
1275 E. Sunset Drive
Bellingham, WA 98226
Meet at 9:00 AM – Leave at 10:00 AM
Just like last year, NOS Energy Drink will be sponsoring the event by providing FREE energy drinks. ImportMeet.com will be providing FREE hot dogs to everyone in attendance.
There will be a raffle in the parking lot with giveaways from ImportMeet.com and V-LEDS with the grand prize being a $50 gift certificate to V-LEDS. Each person who attends will have a chance at winning and will receive 1 FREE raffle ticket before the drawing after lunch.
Who's invited?
All makes and models of cars are welcome, but the primary focus will be on imports. You do not have to be a member of the site to be present.
You are NOT invited if you plan on driving like an idiot. You will be asked to leave and will not be welcome at future events if you do not follow the rules listed below:
No revving, racing and/or burnouts
No speeding
No stealing
No littering
NO PASSING (due to the large number of cars that will be present)
Facebook event page: http://www.facebook.com/events/257486837682060/
What's the plan?
We will be meeting at the Sunset Square Cost Cutter parking lot in Bellingham at 9:00am (address is posted above). A driver's meeting is scheduled for 9:45 where we plan on going over our rules for the cruise up the mountain. This year, Poirier Arts will be taking photos of cars as they drive up the mountain at various points along the way. If you would like to purchase a high quality print of your car, visit Poirier-Arts.com after the Mt. Baker Import Run. ImportMeet.com will also have a dedicated photographer that will take pictures of individual cars as they leave the meet at the top. These will be posted in a special gallery after the event.
What's the route?
View Directions to WA-542 W/Mt Baker Hwy in a larger map

Check out our event coverage from last year.
Mt. Baker image courtesy of ultomatt.
2012 Mt. Baker Import Run Sponsors
Are you interested in sponsoring this event? Please email info@importmeet.com for more information.