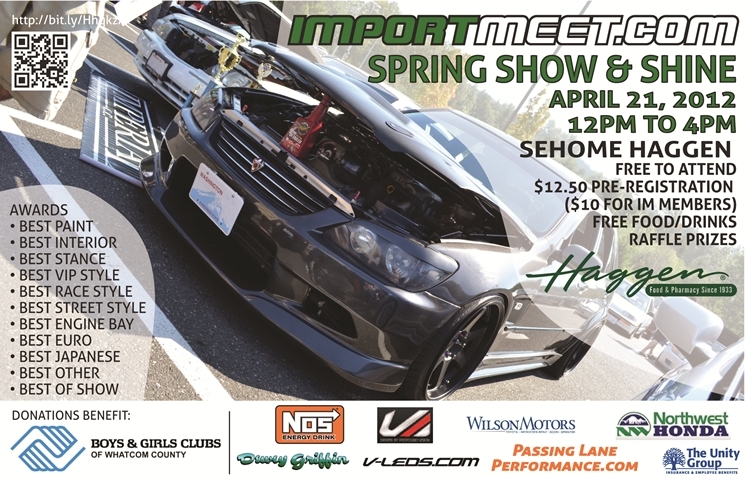 ImportMeet.com is teaming up with NOS Energy Drink and Haggen Food & Pharmacy once again for a Spring Show & Shine in Bellingham, WA. The show & shine will happen on April 21, 2012 from 12pm – 4pm at the Sehome Village Haggen. All raffle and food donations will be given to the Boys and Girls Clubs of Whatcom County. This car show is FREE to the public and you are only required to pay if you want to reserve a spot in the show.
There will be a BBQ with either FREE hot dogs or hamburgers and NOS Energy Drink will be giving away FREE energy drinks. Gramophone Co. will be our DJ for the show.
There are currently 75 reserved spots available for show & shine participants. $10 will reserve a spot in the show & shine for ImportMeet.com members. If you're not a member on our site, the price is $12.50. It's completely FREE to become a member on ImportMeet.com and you can register here if you haven't already to save $2.50. If you wait and register the day of the show, it will be $15 cash.
Please use the form at the bottom of the page to reserve your spot at the Spring Show & Shine. Make sure you login to your ImportMeet.com account before clicking on the PayPal button below to ensure that you aren't overcharged.
Various prizes from the show sponsors will be raffled off during the event and all of the money received from the raffle will be donated to the Boys and Girls Clubs of Whatcom County. PassingLanePerformance.com will have a booth set up and will have products for sale with a portion of their profits going to the Boys and Girls Clubs of Whatcom County.
Location:
Sehome Village Haggen
210 36th St
Bellingham, WA 98225
(360)676-1996
Time:
10am – 11:30am (Parking and registration)
12pm – 4pm (Show & Shine)
Cost:
$10.00 for ImportMeet.com members
$12.50 for non-members (Register here!)
$15.00 for morning of registration
Awards for the Show & Shine are listed below (may change and new awards may be added):
Best Paint
Best Interior
Best Engine Bay
Best Stance
Best VIP Style
Best Street Style
Best Race Style*
Best Euro
Best Japanese
Best Other
Best of Show
Cars will be judged by all of the other people who have registered for the car show. Each person who enters will receive a voting card that they must use to select their favorite car for each category. Near the end of the day these will be tallied up and the winner in each category will be announced.
*To win the Race Style category a car must have proof of being on a racetrack. Proof means either photos, a cage, or time slips. Please present any of these at registration if you think you're car is eligible.
Previous car shows held by ImportMeet.com:
2011 End of Summer Car Show (a similar event held at the same location)
Quote from David Stewart (entry in the End of Summer Car Show):
This show was extremely well organized. It was on time, they grouped similar cars, there were mandatory car shots on the way in, they tracked the voting for prizes – to the point that one of the organizers tracked me down and asked if I was going to hand in my voting card! My only complaint was the annoying loud music… which I realize kind of goes with the 'scene'. Oh, and holding a car show in a parking lot is HOT, venues where you park on grass are better.

Even so, overall these guys did a fantastic show – probably the best organization I've seen all season.
Facebook event page:
http://www.facebook.com/events/193263737453483/
Feel free to invite your friends on Facebook. We hope to see you there!
Pre-Registration [CLOSED]:
Note: The car show will happen rain or shine. If you pre-register and choose not attend because of rainy weather, your pre-registration fee will not be refunded.
Registration List – Thank you!
(It may take up to 24 hours to get your name added to the list)
| | | | | | |
| --- | --- | --- | --- | --- | --- |
| # | Make | Model | Year | Style | Name |
| 1 | Honda | S2000 | 2001 | Street | Matt |
| 2 | Infiniti | G35 | 2003 | VIP | Milad |
| 3 | Subaru | STi | 2007 | Street | Angel |
| 4 | Honda | Civic | 1988 | Street | Will |
| 5 | Honda | Civic | 1996 | Street | Josiah |
| 6 | Toyota | Supra | 1987 | Street | Adam |
| 7 | Mazda | RX-7 | 1993 | Race/Street | Matt |
| 8 | Toyota | Supra | 1998 | Street | Chris |
| 9 | Nissan | 350Z | 2004 | Race | Dean |
| 10 | Infiniti | G35 | 2003 | Street | Sergey |
| 11 | Honda | Civic | 1995 | Street | Brit |
| 12 | Nissan | 300ZX | 1990 | Street | Matt |
| 13 | Toyota | MR2 | 1994 | Street | Eric |
| 14 | Nissan | 240SX | 1996 | Street | Kyle |
| 15 | Mazda | Mazdaspeed3 | 2007 | Street | Tyson |
| 16 | Mazda | Protege5 | 2002 | Race | Earl |
| 17 | Nissan | 240SX | 1995 | Street | Chris |
| 18 | Honda | Civic Si | 2004 | Street | Pete |
| 19 | BMW | 318is | 1991 | Street | Nate |
| 20 | Hyundai | Genesis | 2011 | Street | Joe |
| 21 | Datsun | 240Z | 1971 | Race | Joe |
| 22 | Nissan | 240SX | 1995 | Street | Nick |
| 23 | Hyundai | Tiburon GT | 2004 | Street | Marcus |
| 24 | Mitsubishi | Evo X | 2008 | Street | Eric |
| 25 | Mitsubishi | Evolution | 2006 | Race/Street | Tj |
| 26 | Honda | Ruckus | 2005 | Street | Mike |
| 27 | Honda | Fit | 2007 | All | Felix |
| 28 | Subaru | Legacy | 2009 | Street | Brian |
| 29 | Subaru | WRX | 2005 | Stance | Michael |
| 30 | Acura | NSX | 1994 | Street | Dan |
| 31 | Honda | S2000 | 2000 | Stance | Sergey |
| 32 | Honda | Civic | 2002 | Street | Dwayne |
| 33 | Mazda | MPV | 1993 | Surprise | David |
| 34 | Subaru | Legacy | 2002 | Other | Marvin |
| 35 | Mazda | Mazdaspeed3 | 2008 | Street | Matt |
| 36 | Honda | S2000 | 2003 | Street | Brandon |
| 37 | Volkswagen | Jetta | 1988 | Street | Andre |
| 38 | Mitsubishi | Evo IX | 2006 | Stance | Elree |
| 39 | Subaru | Impreza | 2009 | Street | David |
| 40 | Infiniti | G35 | 2003 | Street | Jermaine |
| 41 | Infiniti | G37 | 2008 | Street | Matt |
| 42 | Toyota | Corolla Trueno | 1985 | Classic | Bryan |
| 43 | Honda | Civic | 1992 | Street | Tyler |
| 44 | Scion | tC | 2012 | Street | Melissa |
| 45 | Honda | S2000 | 2000 | Street | Nelson |
| 46 | Nissan | Skyline | 1989 | Street | Mark |
| 47 | Subaru | Loyal Wagon | 1991 | Other | Reid |
| 48 | Nissan | 240SX | 1989 | Street | Jeff |
| 49 | Mazda | Miata MX-5 | 1990 | Street | Dave |
| 50 | Nissan | 240SX | 1992 | All | Aziz |
| 51 | Subaru | WRX | 2008 | Street | Kseniya |
| 52 | Mazda | Miata | 1990 | Street | Ben |
| 53 | Subaru | STi | 2005 | Street | Kseniya |
| 54 | Honda | Civic | 2003 | Street | Nolan |
| 55 | Subaru | STi | 2008 | Street | Paul |
| 56 | Subaru | WRX | 2011 | Race/Street | Brian |
| 57 | Toyota | Supra | 1989 | Street | David |
| 58 | Hyundai | Genesis | 2010 | Street | Krista |
| 59 | Hyundai | Genesis | 2010 | Street | Fred |
| 60 | Hyundai | Genesis | 2010 | Street | Chris |
| 61 | Honda | S2000 | 2000 | Race/Street | Anthony |
| 62 | Subaru | STi | 2008 | Street | Greggory |
| 63 | Toyota | – | 1992 | All | Jose |
Spring Show & Shine Sponsors