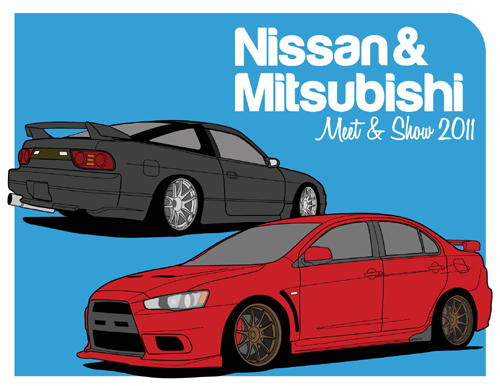 Where:
Olympia Nissan
2220 Carriage Drive SW
Olympia, WA 98502
When:
12pm – 6pm
What:
Car show/meet
Cost:
FREE
On August 20th, Olympia Nissan and S12Silvia.com will be hosting their 2nd Annual Nissan & Mitsubishi Meet & Show. This sounds like a great event with the proceeds from the raffle going to local Humane Society locations. Anyone interested in participating in the car show needs to register online at NWMotiv.com. Parking will be available for spectators at the Olympia Auto Mall.
From NWMotiv's page:
An addition to this year's annual car meet, Olympia Nissan have collaborated with S12Silvia.com to host a pre-screened car show.
The car show is free of charge and open to all. Because this is a prescreened show, all those who wish to participate need to submit their car using the form below.

We have limited space and need to accommodate for both Nissans, Mitsubishis and old school, so be
aware that it is possible that not everyone will be admitted. We have up to 100 spaces, so we will try to fit everyone.

The last day to submit your car for the car show will be 31st of July. Please be sure to get entries in by then.
At that point, all the entries will be reviewed and acceptance emails will be sent out. Further instructions about the car show will be included in the email.

The following are the trophies that will be awarded:

Best Nissan Category: 1st, 2nd, 3rd

Best Mitsubishi: 1st, 2nd, 3rd

Best Old School: 1st, 2nd, 3rd

Viewer's Choice

The Nissan, Mitsubishi, and Old School categories will be judged by five independent judges. The Viewer's Choice will be just that. All those who attend will have the chance to cast their vote for the car of their choice. Lastly, there will be a raffle being held to win other prizes and prize packages. All proceeds of the raffle will be donated to the local Humane Society.
A good cause for some great prizes. Best of luck and looking forward to seeing you all at Olympia Nissan's event.

Confirmed Sponsors:
NWMotiv.com
S12Silvia.com
Mackin (Rays, PMU, Yokohama, etc)
Touge Factory
NOS Energy Drinks
Rally Armor
NWN (northwestnissans)
Cornwell Tools
Modified Magazine
Griots Garage
S3 Magazine
Drift Office
Thatssiiick.com
Photos from last year:
NorthwestNissans.com: http://www.northwestnissans.com/board/showthread.php?t=115385&highlight=nissanparts.cc
EvolutionM.net: http://forums.evolutionm.net/northwest-region/509541-nissan-mitsubishi-meet-pictures.html
More details:
SHOW: If you plan to enter the show you need to register online. All registrations are subject to approval by the event staff. Only the best will get in and have a chance at 1 of 10 trophies awarded. Due to parking availability we have to proceed this way with the approval process.
PARKING: Parking is available throughout the Olympia Auto Mall. With it being a Saturday there isn't too much traffic going in and out so there will be TONS of parking all over the place.
EVENT COVERAGE: This year they have a ton of media coverage coming out. The usual suspects from our local community will be out and about – Thatssiiick.com, Big Boy Media (hopefully…?!), NWMotiv.com, etc. In addition to the local guys they will have Modified Magazine & S3 Magazine providing print coverage for the event. Want the chance to grace the pages of a national magazine…this might be your chance! ImportMeet.com will also be covering this event and providing photos and car show results once they are posted.
Facebook event page: http://www.facebook.com/event.php?eid=120013898081898
Import Meet forum thread about the event: http://www.importmeet.com/forum/viewtopic.php?f=14&t=410