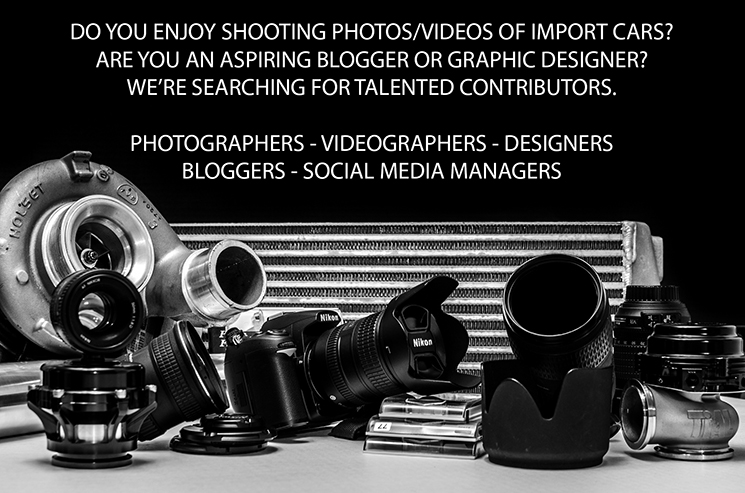 We're always looking for talented content creators who want to grow their skills.
If you're passionate about import cars and have any of the following skills we want to hear from you:
Photography
Videography
Blogging/Writing
Graphic Design
Social Media Management
What you will gain from working with us:
Experience – You will work with our existing staff to learn new skills or further develop existing ones
Event Media Access – You will gain free access to events under the ImportMeet.com name (Evergreen Drift events, Forum Fest, Nissan Fest, etc.)
Exposure/Credit – Every piece of work you produce will be attributed to yo and will be viewed by visitors of our website/YouTube channel
Potential Project Car Sponsorship – Project cars on ImportMeet.com have a higher chance of being sponsored by aftermarket companies than private cars. If you have a build that our readers would be interested in following this might be your way of getting sponsored
Criteria:
Photographers/videographers should be using DSLR cameras or camcorders
Writers should send examples of written work – formatting of images within text is not critical
Social media managers should send links to pages that they currently manage
Graphic designers should be skilled using Adobe Illustrator and Photoshop
If you are located in the Pacific Northwest you will have better access to our staff and events but your location is not critical
Note: All positions will be treated as unpaid internships. As your relationship with us develops, opportunities for paid projects may come up. Depending on your skill level, paid projects from businesses that we work with may be referred to you.
If you are interested, please completely fill out the form below.