Holding the last large outdoor car show event of the season in September is always a gamble. With the weather in the NW being so unpredictable the success of the event hinges completely on what Mother Nature decides to do.
Photos by Kenny B. and Nick/Melissa Poirier. Text by Matt Haugness.
We lucked out again this year and DriftCon Afterdark was amazing from a spectator turnout and driver standpoint. Almost 30 drivers showed up to compete in the Round 5 ProAm competition which was only bested in turnout by DriftCon in June.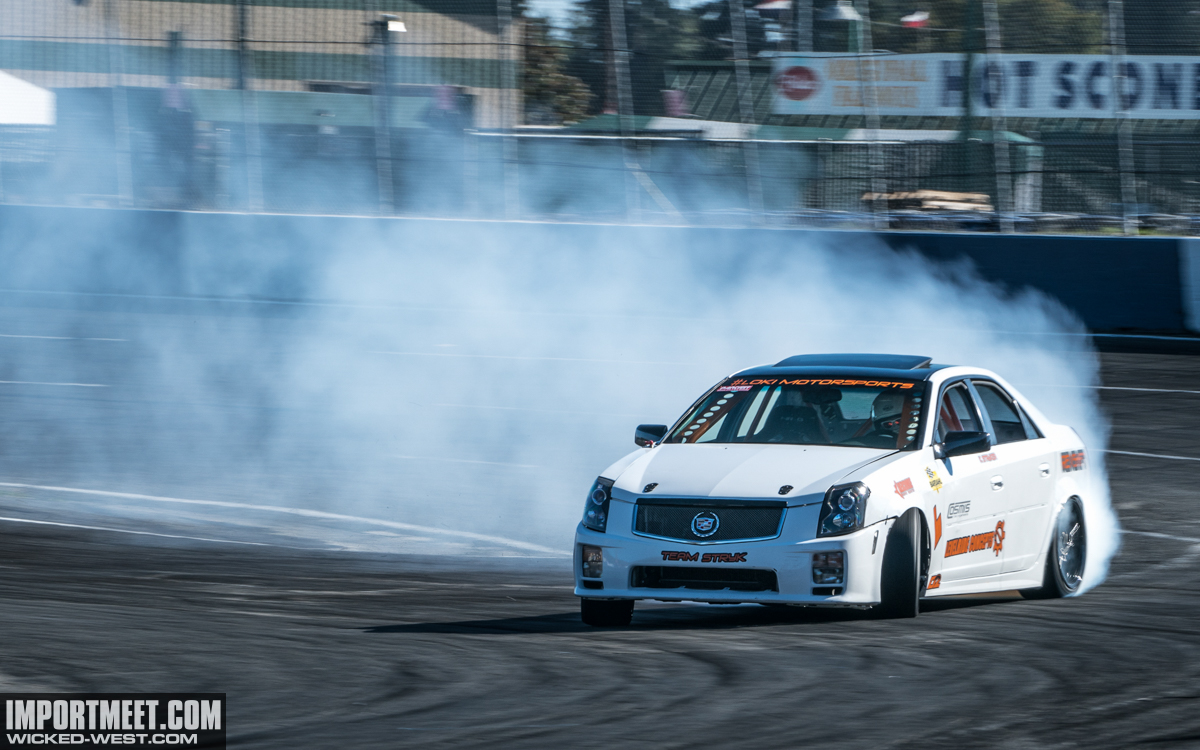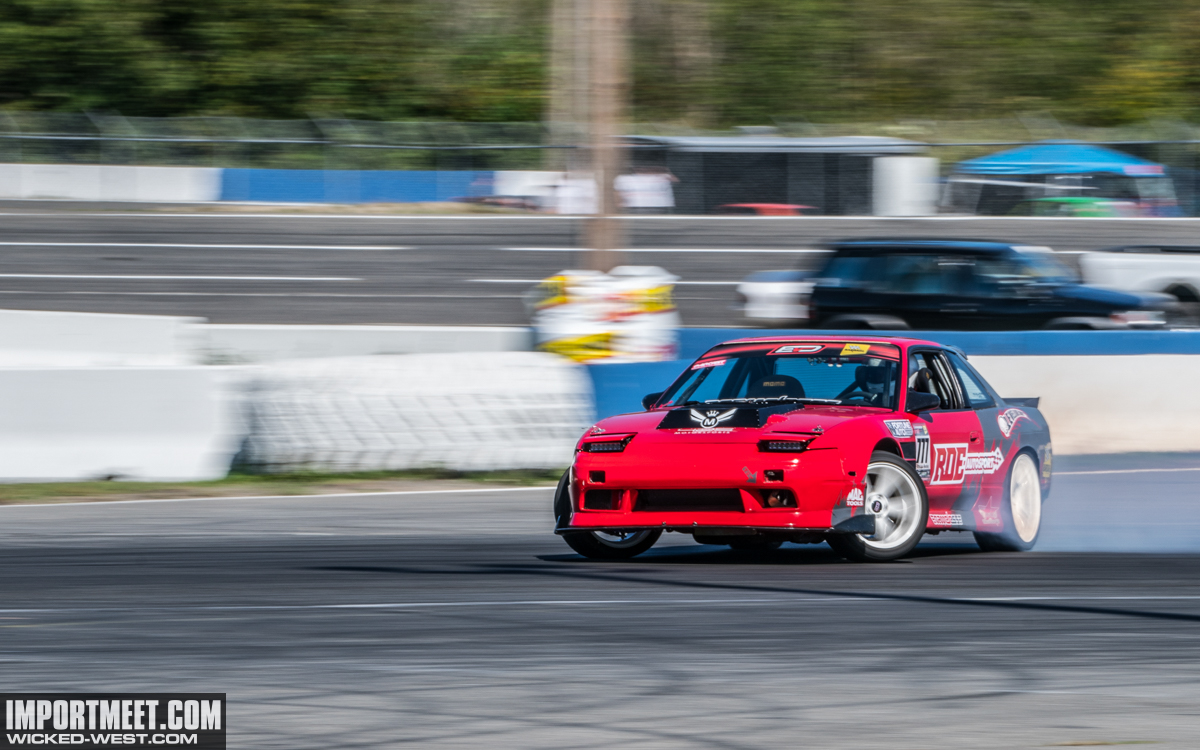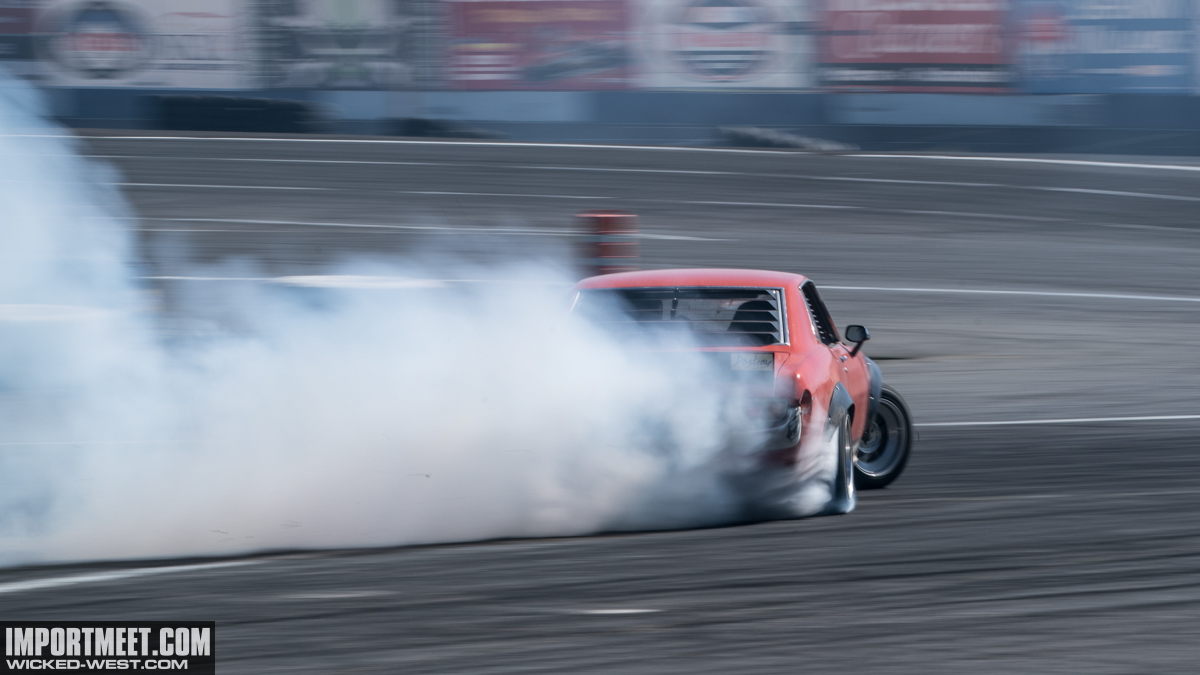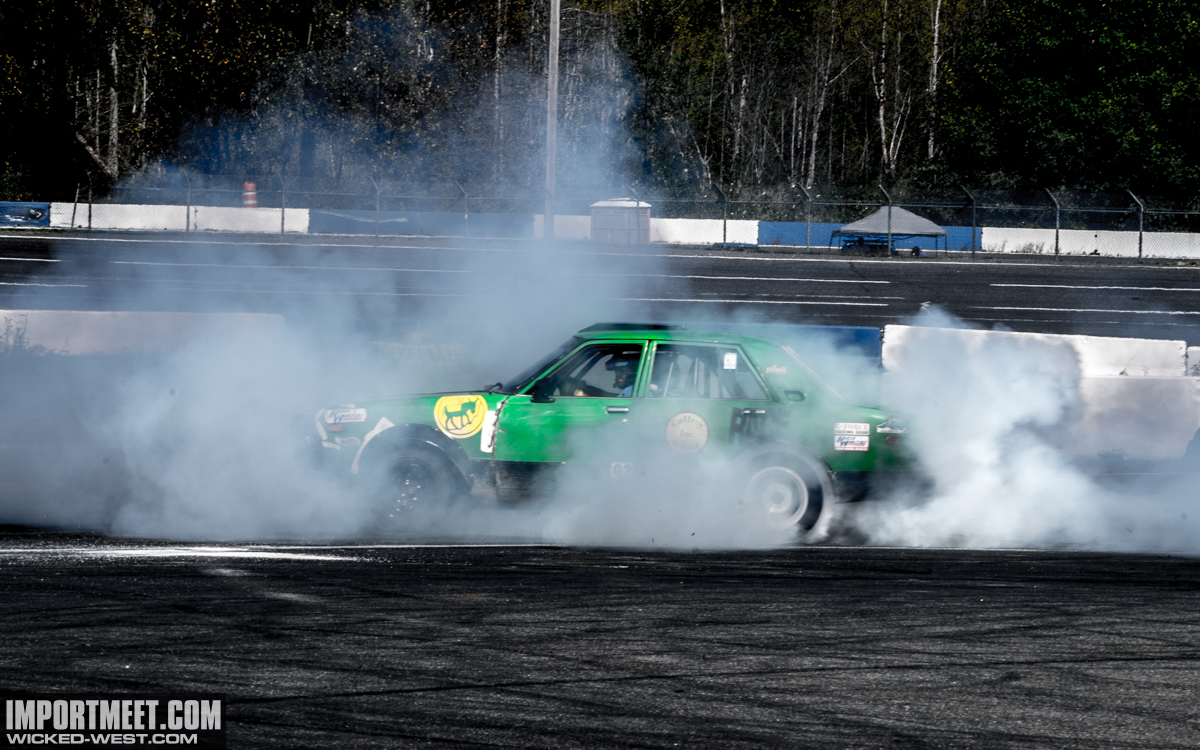 For a full breakdown of the drifting competition be sure to check our sister site DriftCon.us.
After the main ProAm competition was over and the sun had set the more relaxed Team Hoon-Off and Drift Games started. The Team Hoon-Off presented by Hoonigan paired two drifters together to see which team could put on the best rolling burnout competition. Although only 3 teams ended up competing, they all put on a badass display with TJ Fry and Brad Davis taking first place. Brad even had a small fire in the engine compartment of his IS300 to end the show (his fire suppression put out the fire quickly before any damage could happen).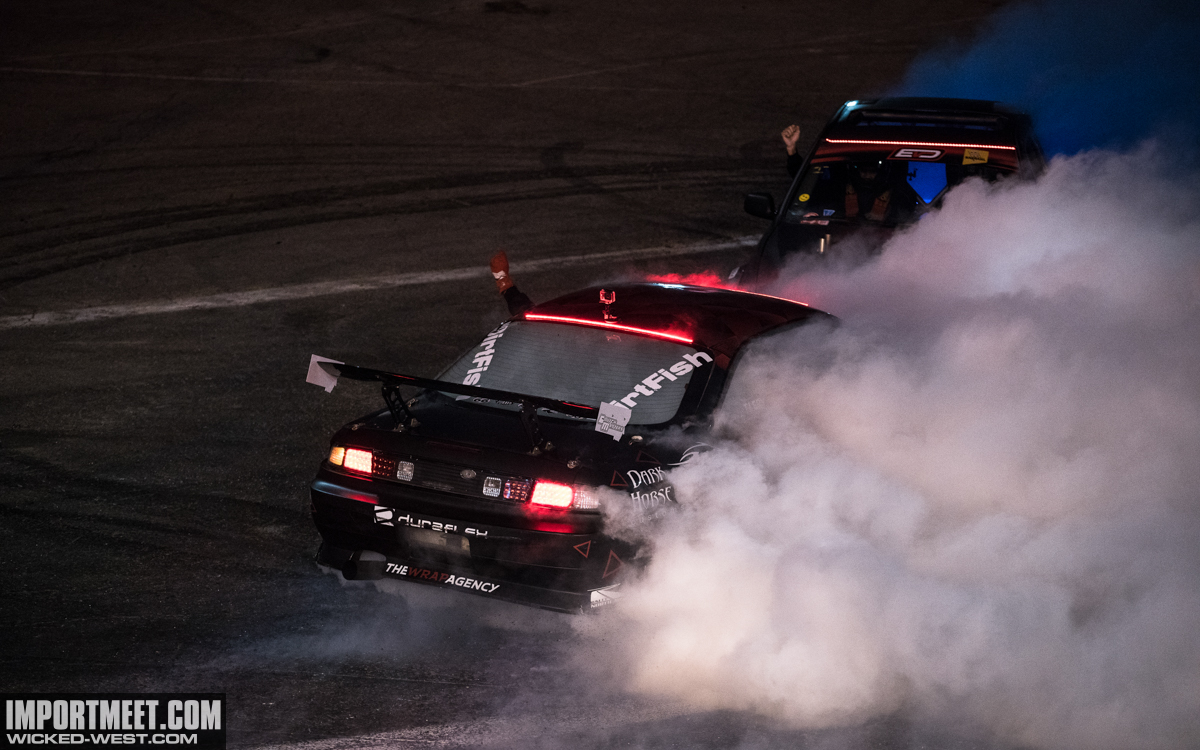 The Drift Games had a full schedule and unfortunately due to some mechanical failures during ProAm competition it was cut short to only the Drift Limbo. After Drift Limbo ended we moved into Tandem Mayhem/Open Drift so that the drifters could give ridealongs and have some fun at the last big drift event of the year. We'll be making some changes to address the Drift Games to ensure some of the most exciting games are done earlier in the night.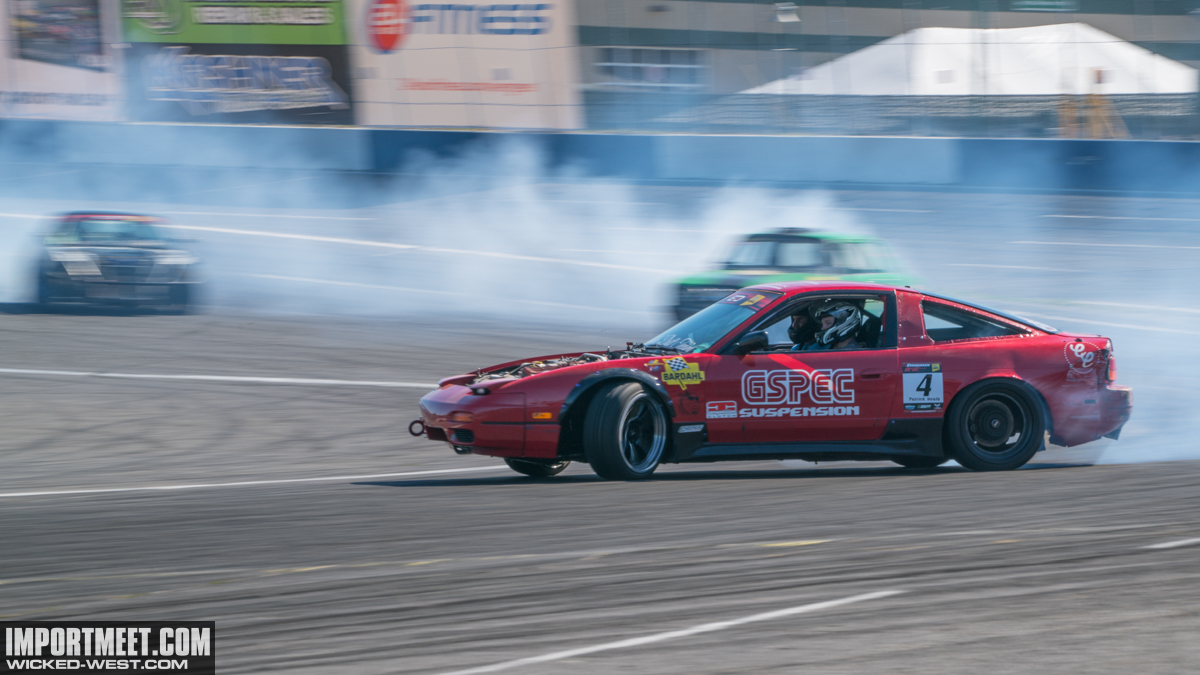 The car show was held alongside the track but this time was limited to the "Best 70" so that we could have room for a large stage and dance area. With the show selling out about 3 weeks before the event the competition for these spots was fierce. Also for the first time ever we also sold out of pre-sale VIP spots days in advance. In a change from DriftCon we came up with a hybrid vote/judge system to determine the winners. Some awards were determined by our traditional voting method but all of the Best of Show and Best Make awards were judged by our staff. This system worked really well we plan on using it again in the future! Scroll to the bottom of this post to see a full list of the cars that won each award.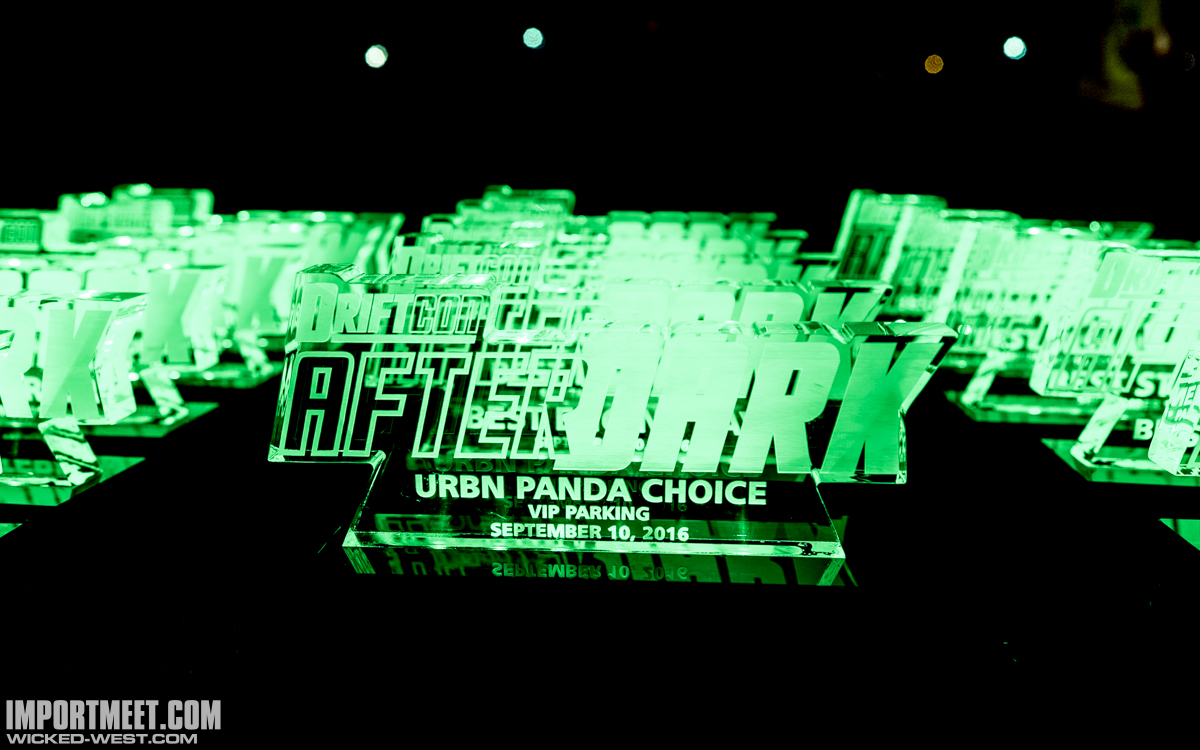 Thank you to everyone that attended DriftCon Afterdark! We look forward to continuing these events and growing them even further in 2017.
Special thanks to all of the vendors and the following sponsors for their support of this event:
Hawk Performance
VLEDS
Hoonigan
Urbn Panda
RHD Specialties LLC
Bardahl Manufacturing
More coverage:
I'Nertia
Schofhauser Media
Zatvundoot
Nice Hunters
FSX Photography Part 1
FSX Photography Part 2
Shinchoku
 
ProAm Round 5 Podium Results
1st: TJ Fry
2nd: Nate Snyder
3rd: Dio Ortiz II
Drift Limbo Competition Results
Winner: Lucas Duraudo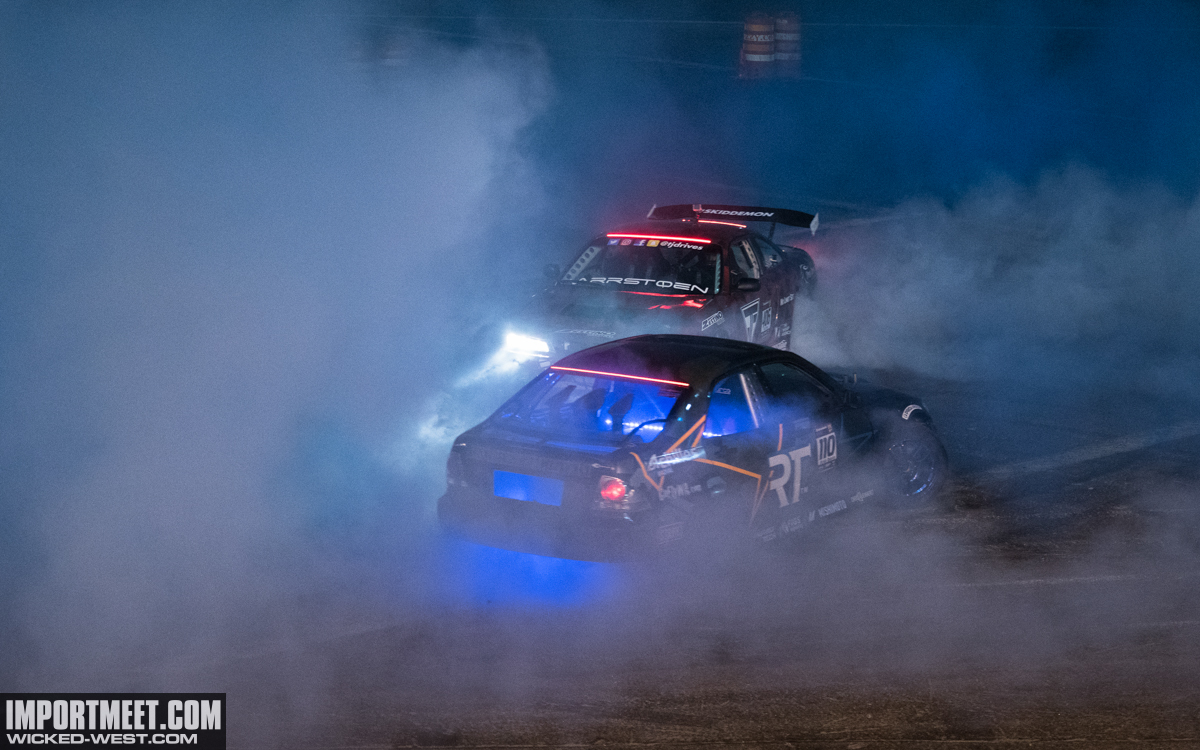 Team Hoon-Off (Burnout Competition) Results
1st: TJ Fry & Brad Davis
2nd: Cole Werner & Zach Farrar
3rd: Andrew Long & Tory Jelinek
Best 70 Car Show Results
ImportMeet.com Choice (VIP Parking)
Viet Vo – 1991 Acura Integra
Evergreen Speedway Choice (VIP Parking)
Paul Brownlie – 1989 Nissan 240SX
Urbn Panda Choice (VIP Parking)
Andrew Hewitt – 1993 Nissan 240SX Convertible
Best Interior (Voted)
Elizabeth Badau – 2000 Lexus GS300
Best Engine Bay (Voted)
Levi Mohorich – 1997 Nissan 240SX
Best Exterior Finish (Voted)
Eric Bullis – 1991 Skyline GT-R
Best Import (Voted)
Todd Reed – 1995 Nissan Skyline GTS25T
Best Euro (Voted)
Dominic Marquez – 2006 Audi A8L
Best Domestic (Voted)
Blake Jones – 2006 Ford Mustang
Best Old School (Voted)
  Caryl DelaRosa– 1989 Mazda RX-7
Best Stance (Judged by StanceWars)
Manav Dawar – 1991 Toyota MR2
Best Lighting (Judged by VLEDS)
Navid Haq – 2006 Mazda Speed6
People's Choice (Voted)
Manav Dawar – 1991 Toyota MR2
 Best Acura (Judged)
  Stanley Yan – 2007 Acura TL
 Best Acura Runner Up (Judged)
  Douglas Foster – 2003 Acura RSX
Best Honda (Judged)
  Bilawal Rehman – 1997 Honda Civic
Best Nissan (Judged)
Levi Mohorich – 1997 Nissan 240SX
Best Nissan Runner-Up (Judged)
  Eric Bullis – 1991 Skyline GT-R
Best Infiniti (Judged)
  Colin Reed – 2004 Infiniti G35 Coupe
Best Mazda (Judged)
Austin Pennington – 1994 Mazda RX-7
Best Subaru (Judged)
 Mallory Tatman – 2011 Subaru STi
Best Volkswagen (Judged)
Jeremy Abendhoff – 2004 VW R32
Best of Show Runner-Up (Judged)
 Frank Moreno – 2005 Nissan 350Z
Best of Show (Judged)
Justin March – 1979 Honda Civic Wagon