Turning a $25,000 sports car into a car worthy of the title of "supercar" is no easy task. Accomplishing it within a three month timeline before one of the biggest automotive shows in the world is nearly impossible. Taking design cues from the Lexus LFA, the team at Bulletproof Automotive modified nearly every part on their Scion FR-S to make it competitive with other supercars in all aspects.
Watch Scion FR-S Turbo Concept One on YouTube.
Ben Schaffer (the owner of Bulletproof Automotive) decided to build an FR-S because he feels that the 86 chassis makes for an amazing driver's car. "Many cars now have sequential transmissions and so many electronics that they basically drive themselves. We liked the idea of making a baby brother for the LFA that was in some ways a bit more pure. Something that had a proper 6-speed manual and was lightweight but still had enough power to make it all work together," he said.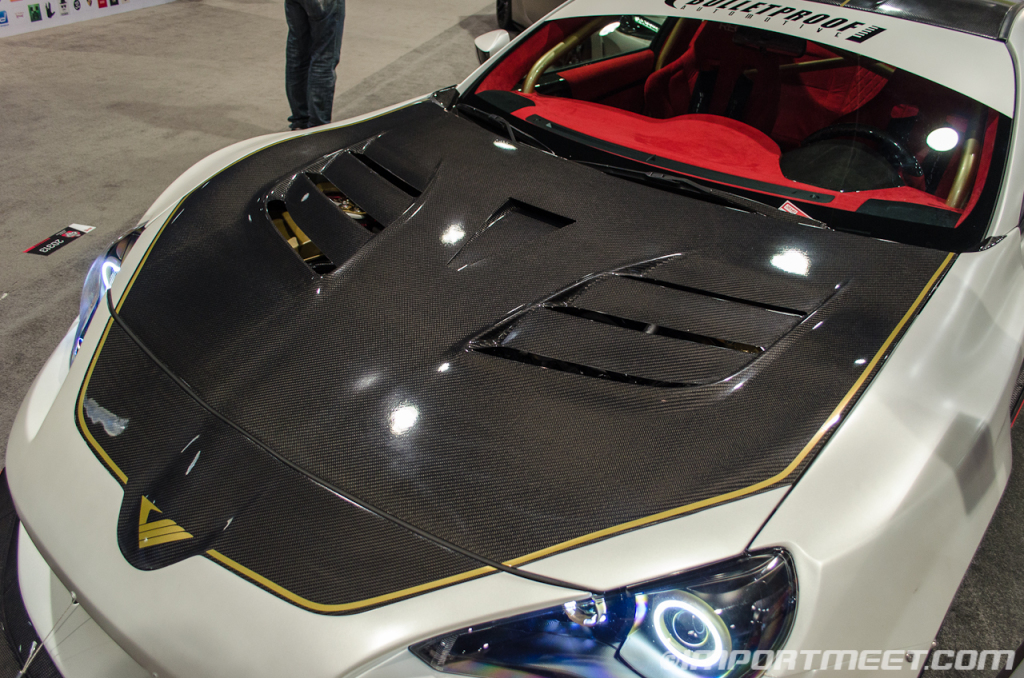 Making a display vehicle stand out at SEMA can be challenging. The competition was fierce this year (especially with so many other FR-S/BRZ's) but their Concept One drew crowds at the Scion booth every day. The molded Varis Spec D widebody kit, vented hood, lightweight trunk, and GT wing made the car different from every other 86 chassis at the show. The Varis front bumper was further customized by Bulletproof Automotive to extend the carbon fiber down from the hood. Even the sheet metal roof was replaced with a dry carbon replacement from Esprit.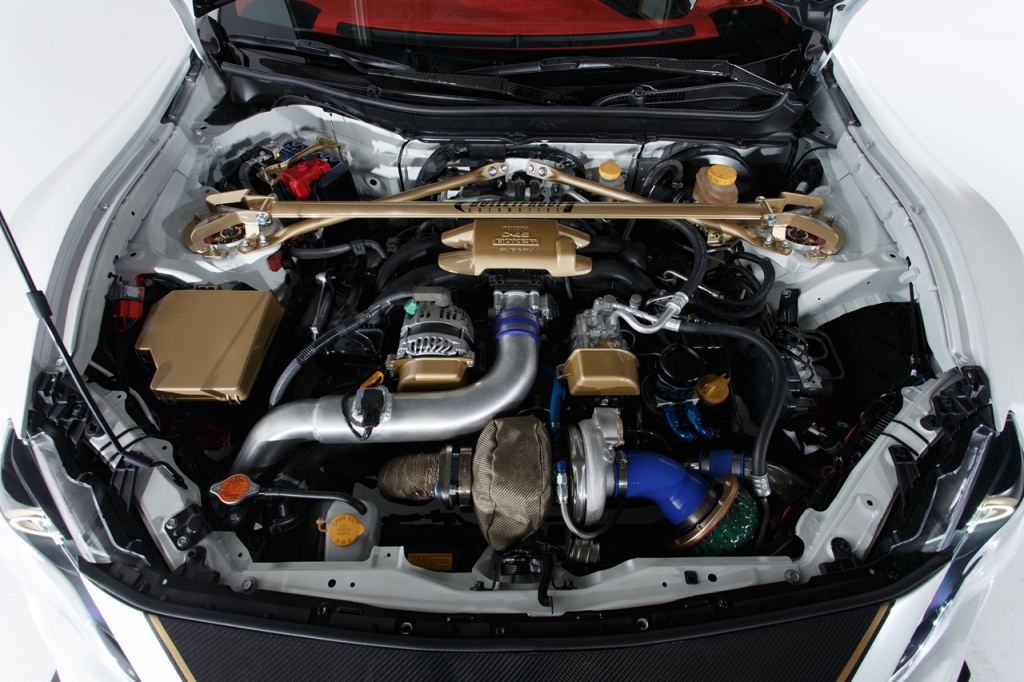 The 4U-GSE boxer engine was upgraded with 86.5mm pistons, aftermarket connecting rods, and ACL bearings. For the turbo kit, Bulletproof chose to go with a Powerhouse Amuse kit that utilizes a Borg Warner EFR 6758 turbocharger. An Amuse R1000 STTI titanium downpipe, Amuse R1 titanium front pipe, and Amuse R1 Titan Extra STTI were installed to replace the factory exhaust system. For their fuel system they went with a set of 900cc fuel injectors and a DW65C fuel pump from Deatshwerks. To tune the engine, Bulletproof used an EcuTek ROM and tuned the car on both 91 octane gas and E85.
The rest of the car was upgraded to handle the increased power with a Cusco metal clutch kit and engine mounts. They also swapped out the stock limited slip differential for a Cusco RS Spec F 1.5 way. For wheels and tires, Bulletproof went with 19" Volk Racing G25 wheels (19×9.5 front / 19×10.5 rear) fitted with Toyo R888 tires.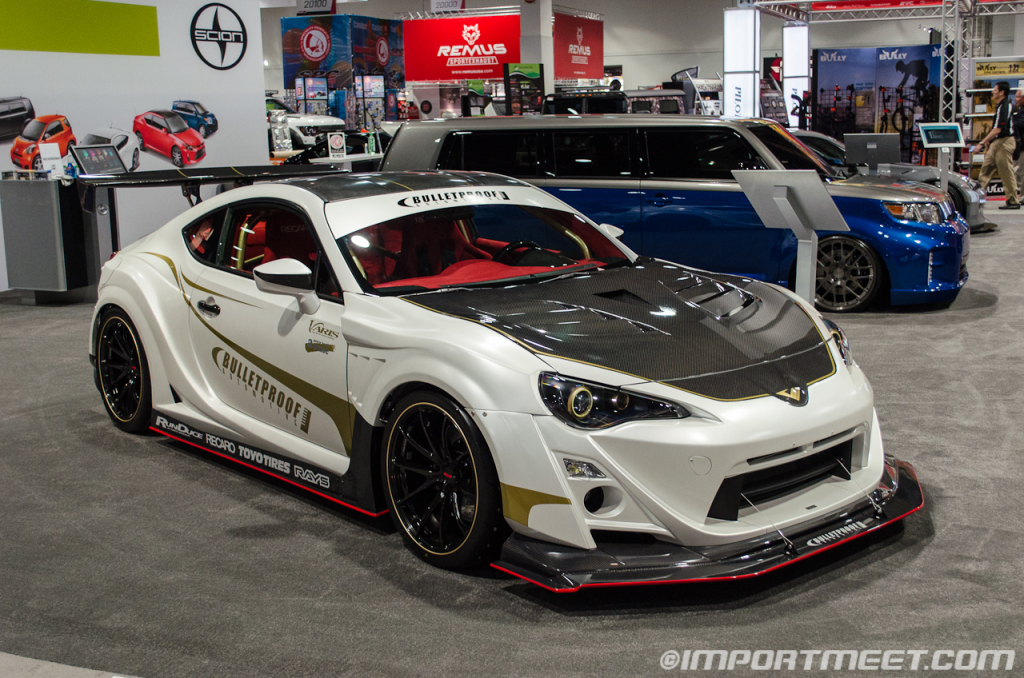 Another area of the car that was modified extensively was the interior. Bulletproof Automotive did a completely custom red Alcantara fabric conversion and built a variety of carbon fiber accents unique to the car. The steering wheel, shift knob, and 36 other pieces of the interior were refinished in real carbon fiber. For seats they went with a set of Japan-only Recaro RS-G seats refinished in red Alcantara to match the rest of the interior. To keep the driver and passenger securely fastened to the seats, a set of Willans 4 point racing harnesses were attached to the custom painted gold Cusco 8 point roll cage.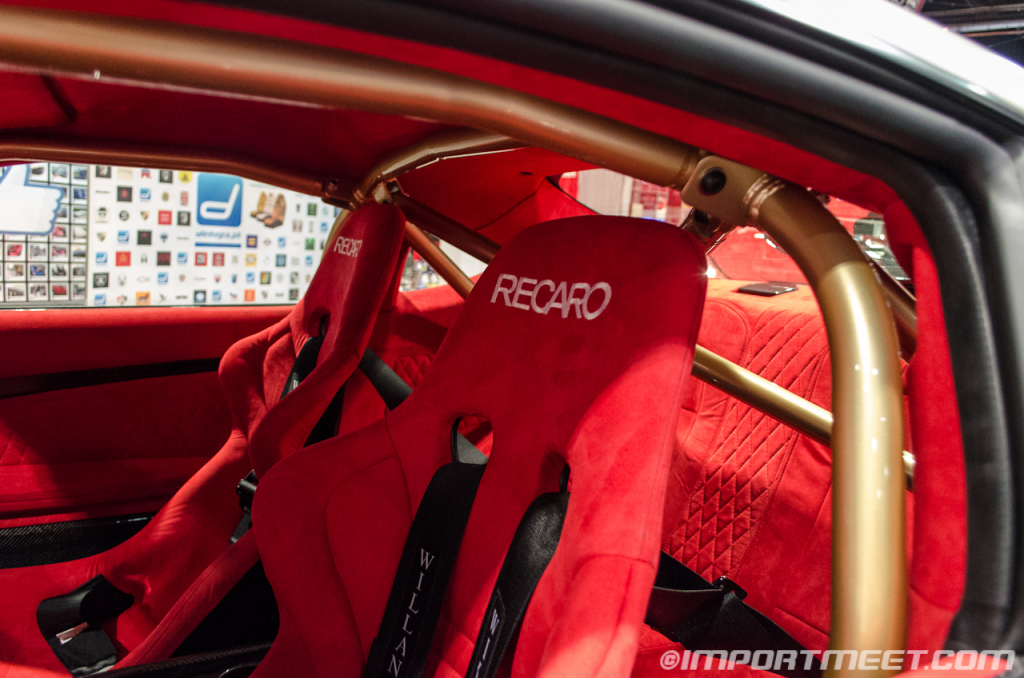 When asked why the car was built the way it was, Ben responded with: "This car is not a dedicated show car—it's actually meant to be driven and raced. A lot of people at these events don't think about it as this since most cars at SEMA are exclusively show cars. The whole point of the car is to run side by side with the Lexus LFA. It has better power-to-weight and should be pretty close in terms of performance."
In order to keep up with an LFA on a road course, the stock suspension and brakes needed to be upgraded. Bulletproof went with a full external reservoir coilover setup from noted Japanese tuner Original Runduce (12kg spring rates front and rear) and for increased stopping power, they opted for Original Runduce 6 piston front brakes (356mm rotors) and 4 piston rear brakes (330mm rotors). To stiffen the chassis, a Cusco rear lateral arm kit, engine reinforcement bracing, and front/rear strut tower bars were installed.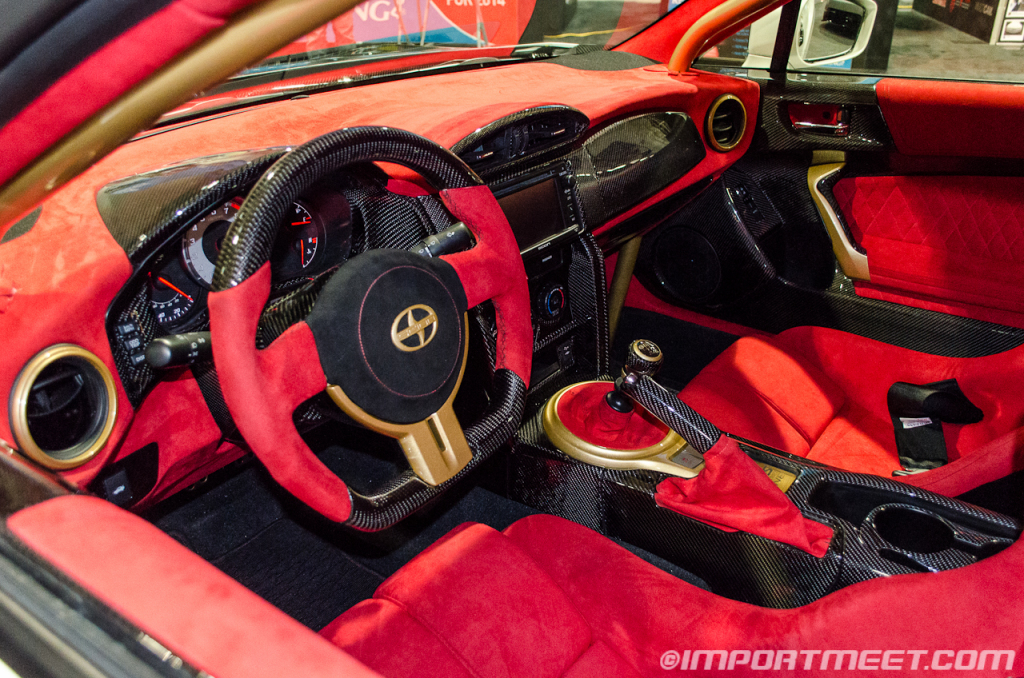 "We have an amazing team at Bulletproof Automotive and all of the guys worked their butts off to get this car done in time. We have some great sponsors and partners over in Japan—Amuse, Varis, Original Runduce, Recaro Japan, and Rays Wheels. All of these guys helped us out in a lot of ways and gave us access to their parts," Ben said.
In the coming months they're hoping to test the car against the Lexus LFA and see how it stacks up against it on the track.
Modifications
Exterior/Wheels/Tires:
Volk Racing G25 wheels (19×9.5 front / 19×10.5 rear)
Toyo R888 tires (265/30ZR19 front / 295/20ZR19 rear)
Authentic Lamborghini Balloon White full paint conversion
Varis Widebody Kit Spec D – VSDC semi dry carbon
Varis Cooling Hood System 2 with NACA duct (carbon fiber)
Varis Lightweight Trunk (extra reinforcement option – carbon fiber)
Varis GT Wing Center Mount Type (Euro edition – all carbon fiber)
Esprit dry carbon roof replacement
Bulletproof Automotive one-off custom dual HID projector headlights with black housing & gold accents
Bulletproof Automotive one-off front bumper – custom carbon fiber accents
Bulletproof Automotive one-off mirrors – custom carbon fiber accents
Crystal Eye LED taillights (red)
Interior:
Bulletproof one-off full red Alcantara interior conversion
Bulletproof one-off custom steering wheel (carbon fiber & Alcantara)
Bulletproof one-off custom shift knob (carbon fiber)
Bulletproof one-off 36 additional interior pieces converted to carbon fiber
Recaro RS-G seats with custom Bulletproof red Alcantara refinishing
P3 digital gauge
Cusco 8 point roll cage (custom gold paint)
Willans 4 point racing harness set w/ cam lock
Engine/Transmission/Differential:
Powerhouse Amuse turbo kit w/ Borg Warner EFR 6758 turbocharger
Powerhouse Amuse R1000 STTI titanium turbo downpipe
Powerhouse Amuse R1000 Straight STTI titanium front pipe
Powerhouse Amuse R1 Titan Extra STTI exhaust system
EcuTek Race ROM tune (91 octane & E85)
Bulletproof Automotive Race Spec engine
  86.5mm overbore pistons
  Upgraded connecting rods
  ACL bearings
Deatschwerks 900cc fuel injectors
Deatschwerks DW65C fuel pump
Cusco metal clutch set
Cusco engine mount kit
Cusco RS Spec F 1.5 way limited slip differential
Chassis/Suspension/Brakes:
Original Runduce Racing suspension with external tanks
  12kg front spring rate
  12kg rear spring rate
Original Runduce Racing 6 piston front big brake kit (356mm rotors)
Original Runduce Racing 4 piston rear big brake kit (330mm rotors)
Cusco rear lateral arm kit
Cusco front strut tower bar (custom gold paint)
Cusco rear strut tower bar (custom gold paint)
Cusco engine reinforcement bracing (custom gold paint)
Motul RBF 650 brake fluid
Project KICS 15mm spacer with PCD converter to 5×114.3