We are happy to introduce Mark Pontarolo as the next competitor in our Import Meet Street Car Competition. The IMSCC is an event that will compare ten import cars in multiple categories (drag racing, autocross, dyno, car show, etc.) in August 2013.
The next competitor will be announced next week. For notifications, join the Facebook event.
Mark Pontarolo first drove a Mitsubishi Galant VR-4 when he was working as a detailer at a dealership after graduating high school. Right after driving one for the first time he knew that it would be his platform of choice for years to come.
It wasn't until four years later, in 1998, that he was able to buy a 1991 Galant VR-4 from a local dealership. Mark didn't waste any time in making a decision, purchasing the car within only one day of it being on the market.
Photos and video by Ryan Kam (RK Films). Text by Matt Haugness.
Watch 1991 Mitsubishi Galant VR-4 – Number 1051 – 2013 IMSCC Competitor on YouTube
To say that Galant VR-4's are rare is an understatement. After 22 years, even base model Galants are few and far between. Out of those that are still on the road, there aren't many that are in as good of condition as Mark's. In 1991 and 1992 Mitsubishi only brought 3000 Galant VR-4's to the United States. Mark's Galant is numbered 1051 out of the 2000 they imported into the US in '91.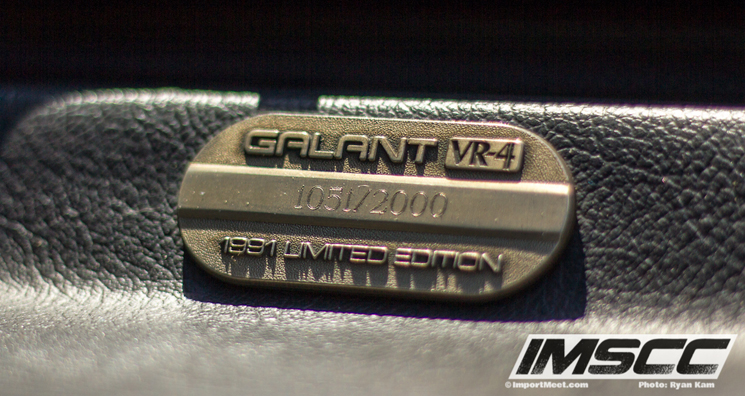 Owning #1051 for 15 years has taught Mark a good amount about cars. Nearly every modification he has performed himself. "I've learned pretty much everything I know about cars by working on this one. Numerous transmission R&R's, clutch installs, a head rebuild, suspension, brakes, driveline, wiring, and tuning were all done by me," Mark explains.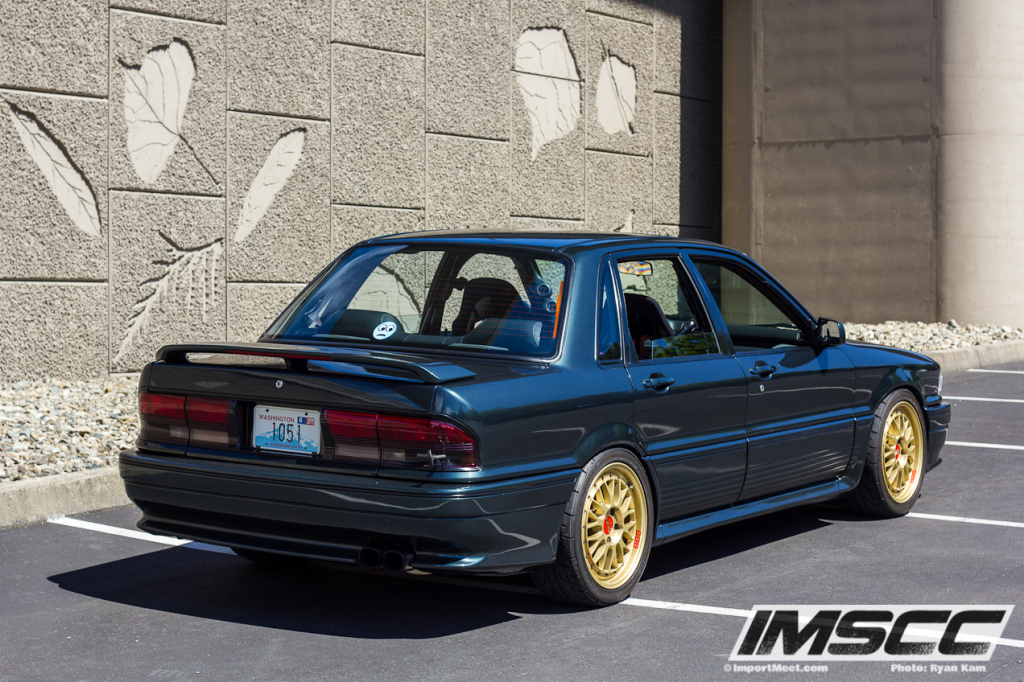 Rather than building it to be a track car, Mark's goal was to make it into a fast street car. When it came time to upgrade the engine he knew from everything he read that Mitsubishi had over-engineered the stock 4G63. This meant that he could leave the stock internals alone and still make enough power to have fun on the street, and the occasional drag strip.
From all of his research dealing with other DSM's Mark found that the second generation exhaust manifold flowed well stock. He decided to take it a step further and have it ported. He then replaced the stock turbo with a Forced Performance FP3052 ball bearing turbocharger. At this stage of the build he also went with an FP 2.5" O2 housing and TiAL 44mm wastegate. "The turbo isn't so big that it lags forever, yet it still flows enough to throw you back in the seat when you romp on it," he explains.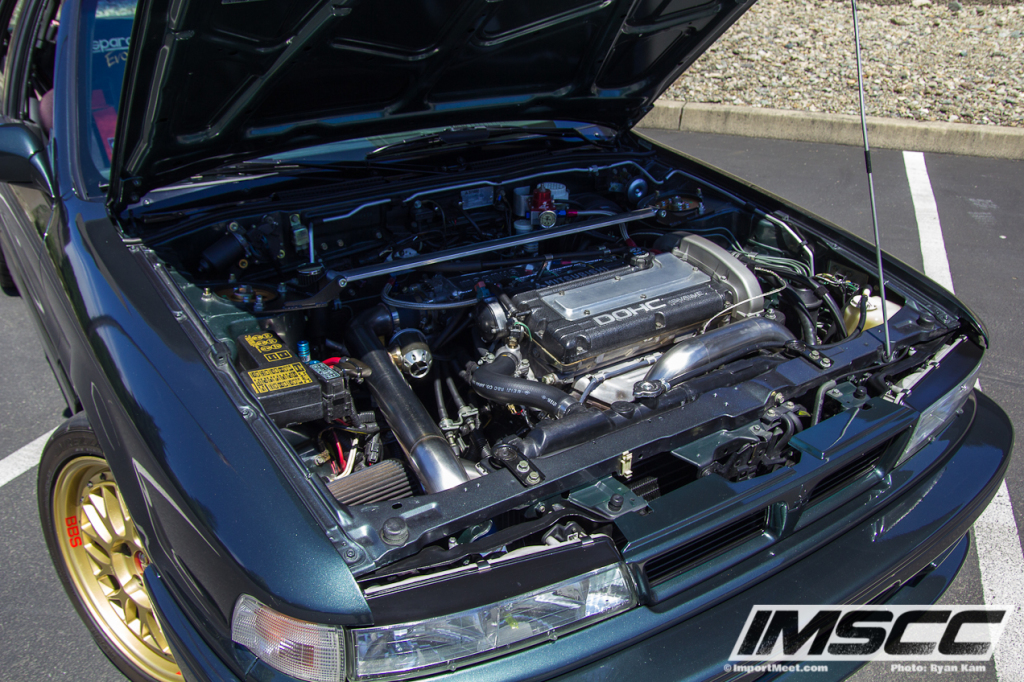 In order to properly support the increase in boost a Walbro 255 fuel pump was installed with -6 AN lines running from the fuel filter to the Aeromotive regulator to the fuel rail, which he fitted with 950 FIC injectors. Since the decision was made to keep the car on pump gas a methanol injection system from English Racing was included to reduce any chance of detonation.
After the turbo upgrade, Mark knew that he needed keep cool air flowing into the throttle body. He installed a Spearco intercooler with custom end tanks and 2.5" intercooler piping fabricated by PINA Motorsports. An HKS SSQV blow-off valve was fitted to the upper intercooler piping and the stock intake manifold was replaced with one from Magnus.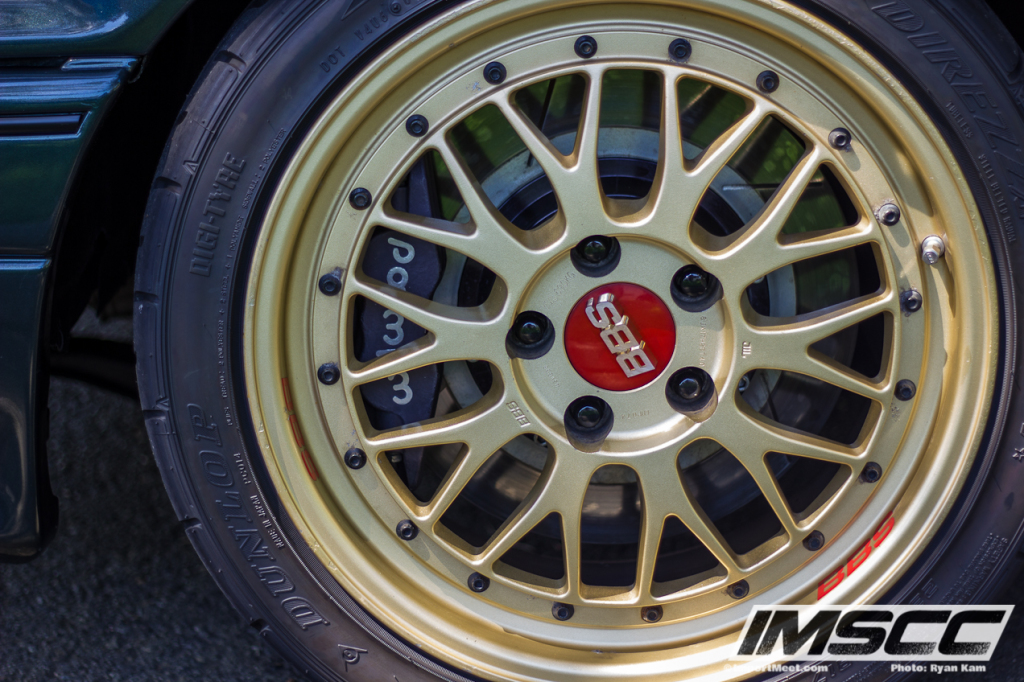 The suspension was upgraded with a set of Muellerized JIC coilovers, Ingalls adjustable rear upper control arms, and Cusco strut tower bars in the front and rear. For the brakes, he went with a TCE/Wilwood 13" setup in the front and Porterfield R4S pads in the rear. All of the factory lines have been upgraded to stainless steel.
To improve the looks without going over the top, Mark replaced the front and rear bumpers with JDM versions, as well as a vented RS hood. The headlights were upgraded to '93 spec glass headlights, and JDM fog lights/corner lights were installed to finish off the exterior.
Mark's favorite modification is the gold 17" BBS LM wheels. He was very specific in his decision on the wheels, buying them straight from Japan due to their high quality, rarity, and the fact that they were more than appropriate for the particular period of the car. He found the set on Yahoo Auctions and had his sister's friends in Japan ship them back to the US. He will be running the 235/40/17 Dunlop Direzza Star Specs that are currently mounted on the wheels for the IMSCC.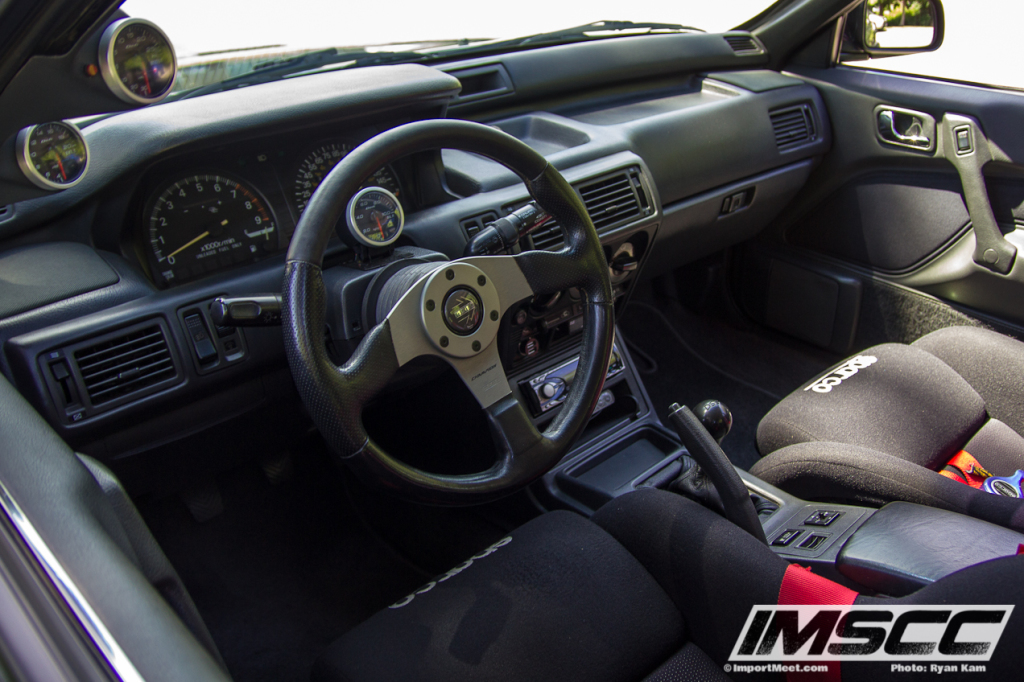 The interior was one of the last areas that Mark addressed. Both of the stock front seats were replaced with Sparco EVO seats on custom brackets. A Threespeed harness bar and Sparco harnesses keep him fixed in the seats under hard cornering. In the early 90's the amount of information found on the stock gauge cluster was minimal so Mark went with a set of Defi gauges enabling him to keep an eye on the engine's vitals.
If Mark had to pick one word to describe the car, it would be sleeper. "Even though my car isn't so much of a sleeper with the BBS LM's and the large FMIC showing through the bumper cover, nobody really expects it to put down the power it does, or to run the numbers that it does at the track."
His inspiration for the car has always been to just have a good time with it. "I originally picked the car back in the day because it was unique. I mostly just built it to have fun on weekends be it drag racing, a local show 'n shine, or even the occasional autocross," he says.
In the future Mark plans on continuing to maintain the car by replacing a few parts here and there. The build is mostly complete and only needs a few more maintenance items at this point.
When asked why he thinks he will do well in the IMSCC, Mark responded with:
"I think the car is fairly well-rounded. It puts down decent power, is comfortable to drive (I love that I can still drive down the freeway windows up with the AC on full blast and still get good gas mileage), looks good (IMO), is unique, and being AWD it can launch pretty damn well at the track."
Mark would like to thank GalantVR4.org and his family, friends, and his wife.
Click here to see the rest of the IMSCC competitors
Modifications:
Exterior/Wheels/Tires:
JDM front bumper
JDM rear bumper
JDM vented RS hood
JDM keyless fuel door
JDM projector fog lights
JDM single bulb corner lights
1993 headlights (non-diffused glass)
17" BBS LM wheels w/ 235/40/17 Dunlop Direzza Star Spec
Interior:
Sparco EVO seats with custom brackets
Sparco 5-point 3″ cam-lock harnesses
Threespeed harness bar
Momo Champion steering wheel
Aeroworks A-pillar gauge holder
Alpine head unit
Xtant 3300x amplifier
Soundstream Reference 5.25 mids and tweeters
DSG shift knob
Leather shift boot
JNZ short shifter
Defi link boost gauge
Defi link egt gauge
Defi link oil pressure gauge
Engine/Transmission/Differential:
Stock block, bottom end, and head
Forced Performance FP3052 BB turbo
2g exhaust manifold (ported)
Forced Performance stainless braided oil feed
FP 2.5″ stainless O2 housing
TiAL 44mm wastegate
HKS SSQV blow-off valve
950cc FIC injectors
Walbro 255lph HP fuel pump
Aeromotive AFPR
SS -6an fuel lines
Spearco 2-216 intercooler with custom endtanks (core size – 28 x 10.5 x 3.5)
PINA Motorsports stainless 2.5″ intercooler piping
PINA Motorsports 4″ stainless intake pipe
Balance shafts removed
ARP headstuds
Mitsu MLS headgasket
Prothane motor mounts
NGK spark plugs
MSD spark plug wires
HKS 272 camshafts
3″ stainless mandrel bent exhaust w/ Magnaflow dual tip muffler
Custom -10AN stainless oil drain line
Custom -6AN stainless water feed line
Magnus intake manifold
K&N air filter
RRE oil breather/catchcan
ECMlink V3 in speed density mode
TurboXS two stage manual boost controller
PLX M300 wideband o2 sensor
English Racing methanol injection system
English Racing built transmission
TMZ clutch
RRE stainless clutch line
23 spline transfer case
4bolt LSD rear differential
5-lug swap w/ABS retained
4WS removed
Suspension/Brakes:
Muellerized JIC coilovers
Ingalls camber adjustable rear upper control arms
Cusco strut tower bars
Front brakes: TCE/Wilwood 13″ slotted rotors with FSL calipers and stainless brake lines
Rear brakes:Porterfield R4S pads and RRE stainless brake lines
Special Thanks to Our IMSCC Sponsor:


If your company is interested in sponsoring the IMSCC, please email info@importmeet.com for more information.