In the days leading up to Forum Fest this year I probably checked the weather report at least 10 times. The monsoon that ruined the event last year was still fresh on most people's minds including my own. Even though it called for rain before and after June 22nd this year, when it came time to have the event the weather couldn't have been better.
Photos by TK Akiyama, Ryan Cutuli, Sam Fu and Wicked West. Text by Matt Haugness.
Concern over a repeat of last year wasn't enough to deter people from registering their cars in the show. When it came to pre-registrations, NWMotiv broke their record this year. According to their Facebook page 391 people registered online prior to the event. This year they mixed things up a bit and allowed people to choose between the Competition (judged show) or Show category.  By giving people the choice it lessened the total amount of cars to be judged. It also made the cost to park in the show reasonable for people who didn't really care to be judged in the first place.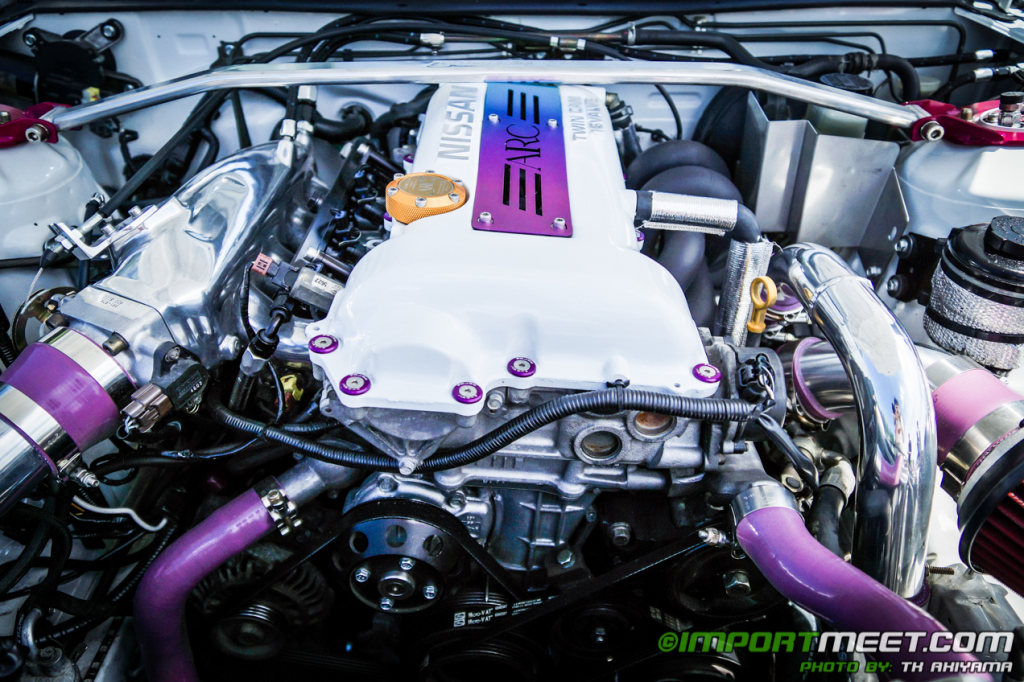 NWMotiv wasn't the only group to break a record at Forum Fest. SpeedFactory Racing made it into the 7's with their Outlaw Honda Civic with a 7.99 pass. See their pass below captured by MimicInc.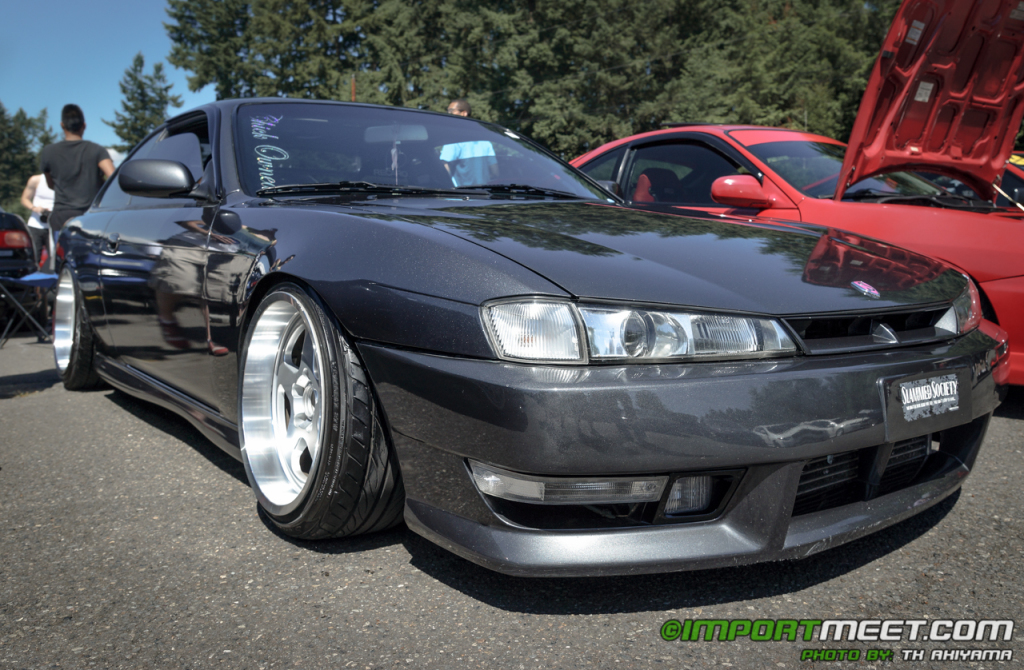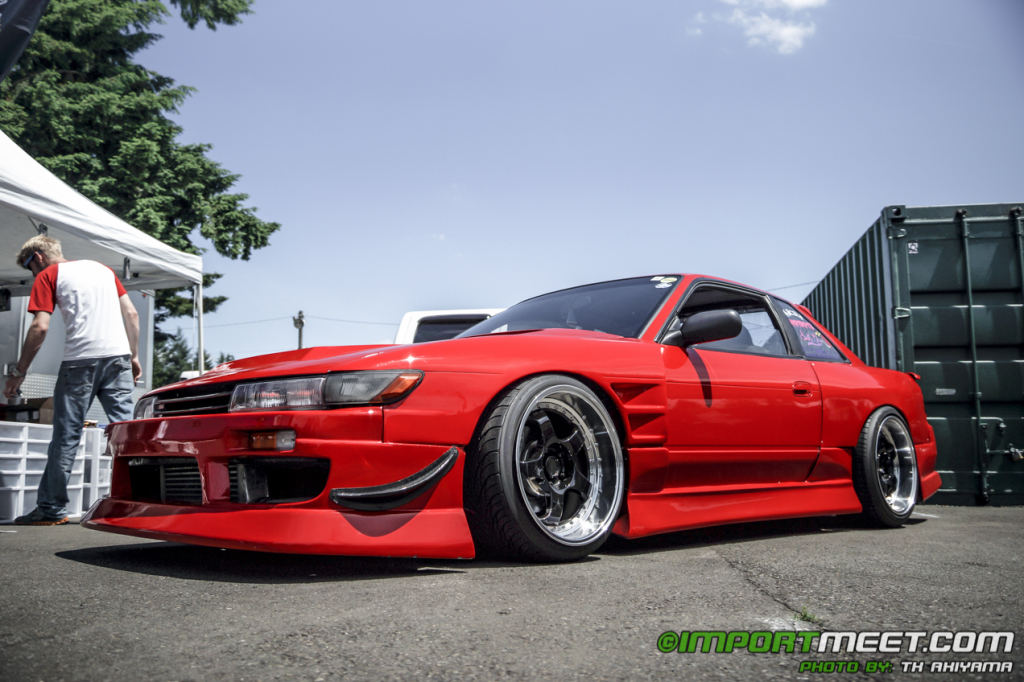 For the drifting portion of the event, many drivers returned to the track this year to make up for what they missed last year. Drift-Office kept everything in line and organized throughout the day.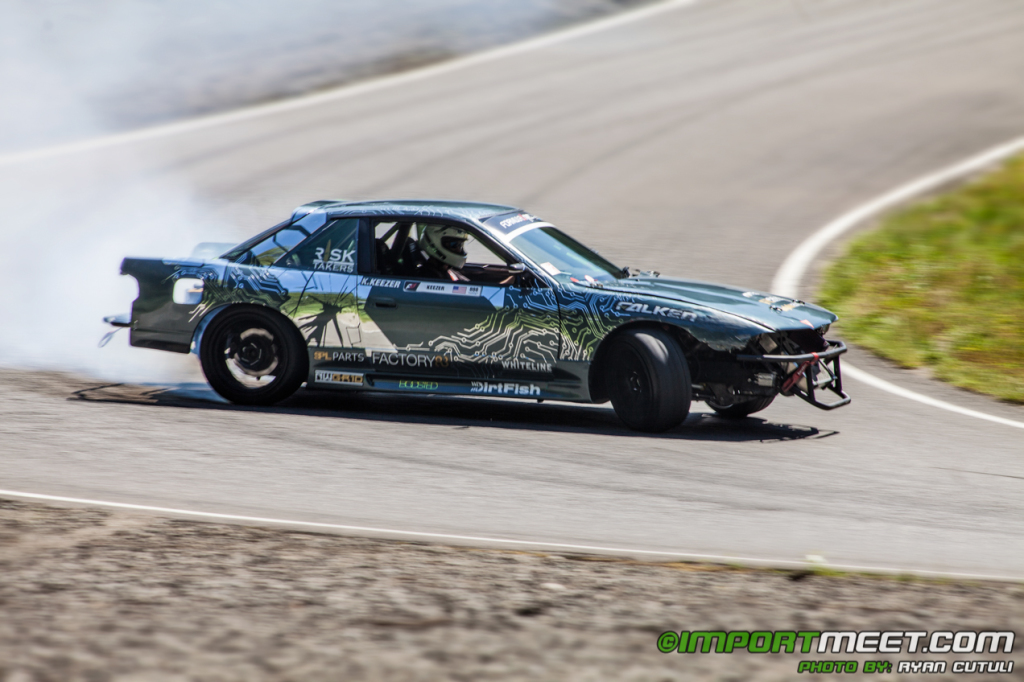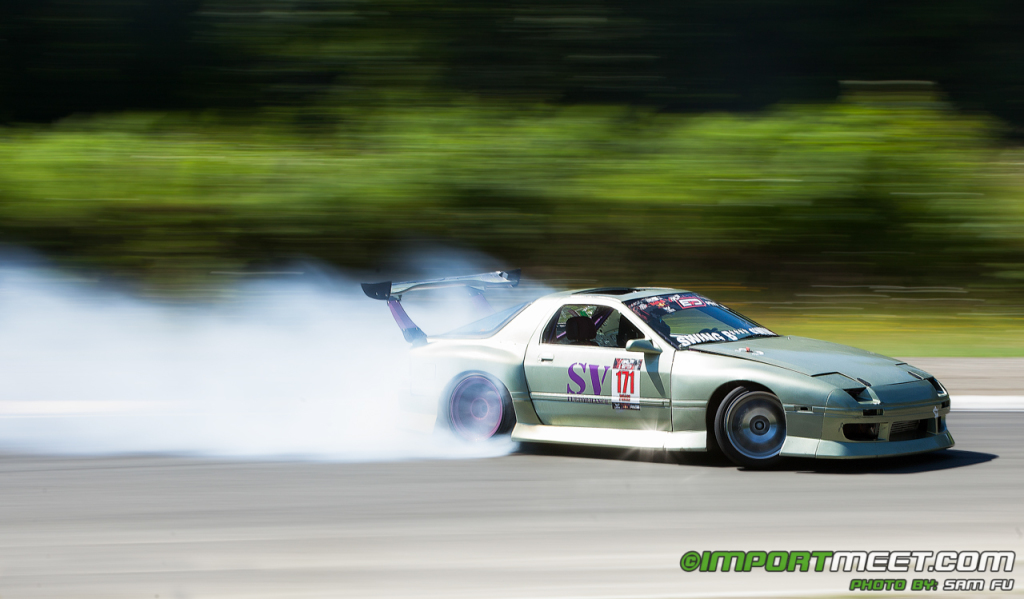 One of the more interesting parts of the day was watching Kory Keezer in his LS1 powered 240SX race Rob Primo in his 2JZ-GTE powered 240SX down the drag strip. Kory ended up taking the win. Here's a video by Kory Keezer of the two racing from his perspective. It would be great to see a rematch next year with both of them on drag radials.
Since its start 3 years ago, Forum Fest has been about seeing which forum or team can bring the most number of members to the event. This year, thanks to all of our friends and fans online, ImportMeet.com managed to take home Best Team/Forum Representation. Thanks again to everyone who rallied behind us and helped us win this badass trophy!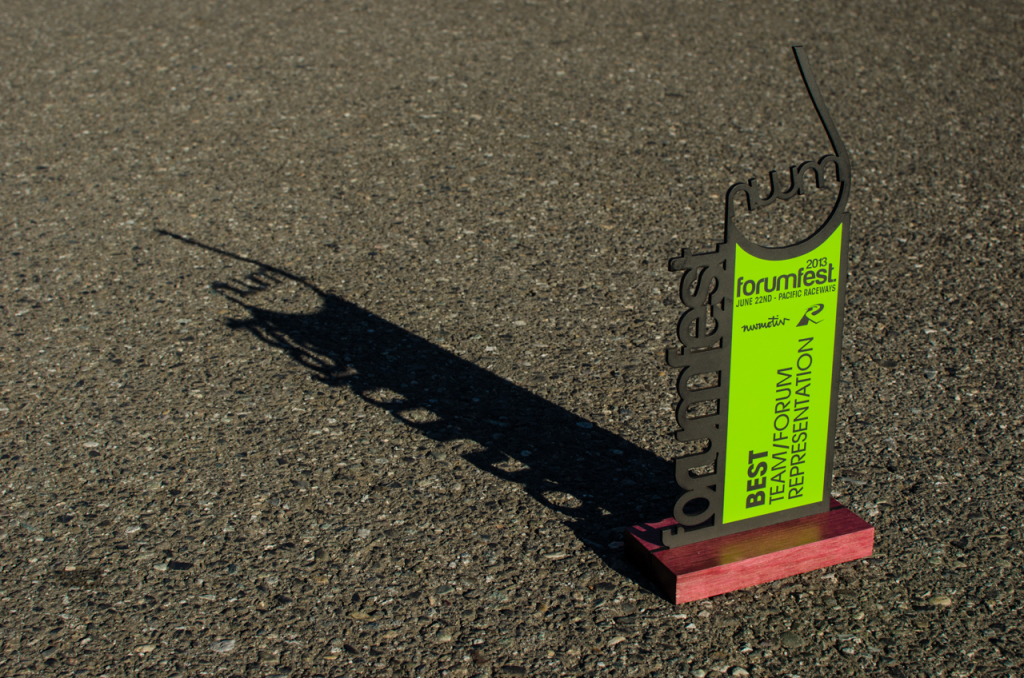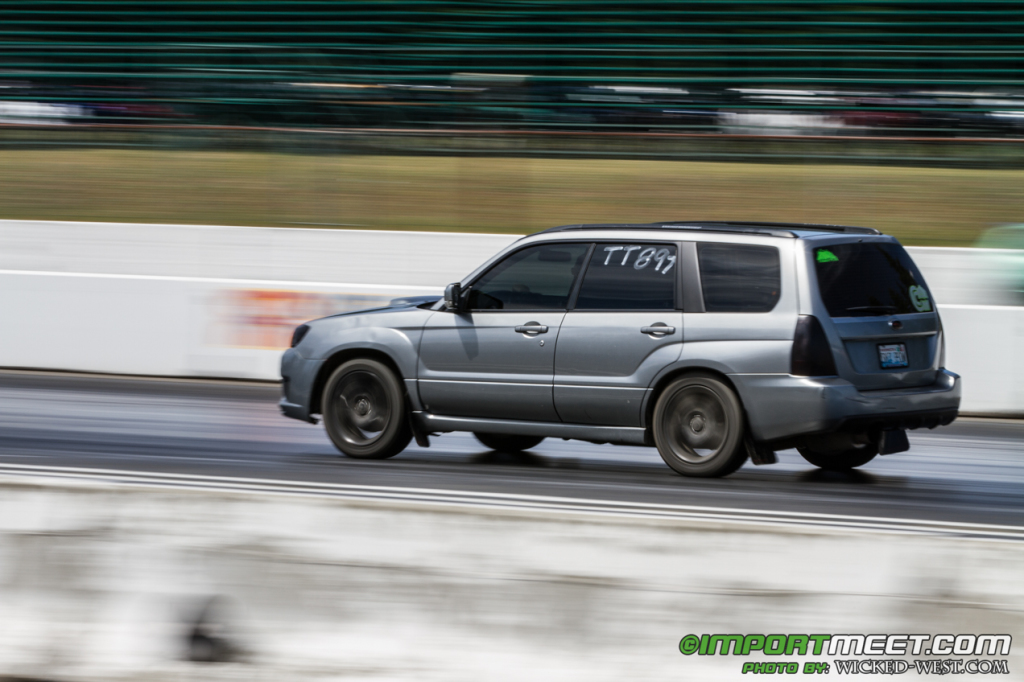 Everyone involved in Forum Fest this year made it a huge success and more than made up for 2012. We look forward to this event growing and evolving in the coming years. We're also expecting some big competition next year in the category of Best Team/Forum Representation. Bring it on!
Car Show Award Winners
| | |
| --- | --- |
| Best of Show | Travis McPeak – Honda Accord |
| NWMotiv Judges Choice | Craig Byron – Mitsubishi 3000GT |
| Fan Favorite | Slyvia Garcia – Nissan 240 |
| Best Paint | Craig Byron – Mitsubishi 3000GT |
| Best Interior | Travis McPeak – Honda Accord |
| Best Stance | Julius Edoh – Mazda 3 |
| Best Team Overall | Team Menace |
| Best Motorcycle | Terry S – Honda Ruckus |
| Best Team/Club/Forum Represent | ImportMeet.com |
| Best Engine | Kyle Korour – Toyota Supra |
| Best VIP Build | Kenji Nishimura – Lexus GS |
| Best Old School | Justin March – 1979 Honda Civic |
| Best Vendor Car | Kramer Nirider – Subaru Forester |
| Best Female Build | Amanda Plummer – Scion TC |
| Best Track Build | Ryan Stanley – Acura Integra |
| Best Toyota / Scion | Justin Polacheck – Scion XB |
| 2nd Place Toyota / Scion | Vance Sakado – Toyota Celica |
| Best Subaru | Katie Smith – Subaru Impreza |
| 2nd Place Subaru | Eli Anderson – Subaru WRX |
| 3rd Place Subaru | Brent Husinger – Subaru WRX |
| Best Mazda | Quetin Christianson – Mazda RX7 |
| 2nd Place Mazda  | Martin Chen – Mazda Speed3 |
| Best Nissan | Tahnae Baker – Orange Nissan 240 |
| 2nd Place Nissan | Sylvia Garcia – Matte Nissan 240 |
| 3rd Place Nissan  | Danielle Martin – Grey Nissan 240 |
| Best Japanese Luxury | Justin Wallace – Lexus GS |
| 2nd Place Japanese Luxury | Josh Hauser – Lexus ISF |
| Best Honda/Acura Hatch/Coupe | Steve Kwan – Green Civic Hatchback |
| 2nd Place Honda/Acura Hatch/Coupe | Mel Diego – White Civic Hatchback |
| Best Honda/Acura 4/5 Door | Justin March – 1979 Honda Civic |
| 2nd Place Honda/Acura 4/5 Door | Andrew L – White Civic Sedan |
| Best European | David Song – White BMW M3 |
| 2nd Place European | Yogi Song – Mercedes S320 |
| 3rd Place European | Alex Andreza Grey BMW M3 |
| Best Domestic | Derrick Bruce – Chevy S10 |
| 2nd Place Domestic | Jon Brock – Chevy Tahoe |
| Best Mitsubishi | Craig Byron – Mitsubishi 3000GT |
| 2nd Place Mitsubishi | Rob K – White Mitsubishi Evo |
| Best Hyundai/Kia | Marcus – Hyundai Tiburon |
| 2nd Place Hyundai/Kia | David Longwell – Kia Optima |