We are excited to introduce Matt Korthuis as the next competitor in our Import Meet Street Car Competition. The IMSCC is an event that will compare 10 import cars in multiple categories (drag racing, autocross, dyno, car show, etc.) in August 2013.
The next competitor will be announced next week. For notifications, join the Facebook event.
Growing up as a kid Matt Korthuis' dad was always working on a car project in their garage. Watching him take them apart and rebuild them into perfectly restored cars is what originally sparked his interest in having a project of his own.
Photos by Matt Haugness and Ryan Cutuli. Video by Ryan Kam (RK Films). Text by Matt Haugness.
Watch 1993 LS1 Swapped Mazda RX-7 – Matt Korthuis – 2013 IMSCC Competitor on YouTube
Matt swapped his first V8 into an RX-7 12 years ago—back before it was the thing to do. He started by putting an LT1 (GM V8 from the early-mid 90's) and 6 speed into an FC RX-7. It wasn't until he graduated from college that he had the money to build his dream car—an LS1-swapped FD RX-7.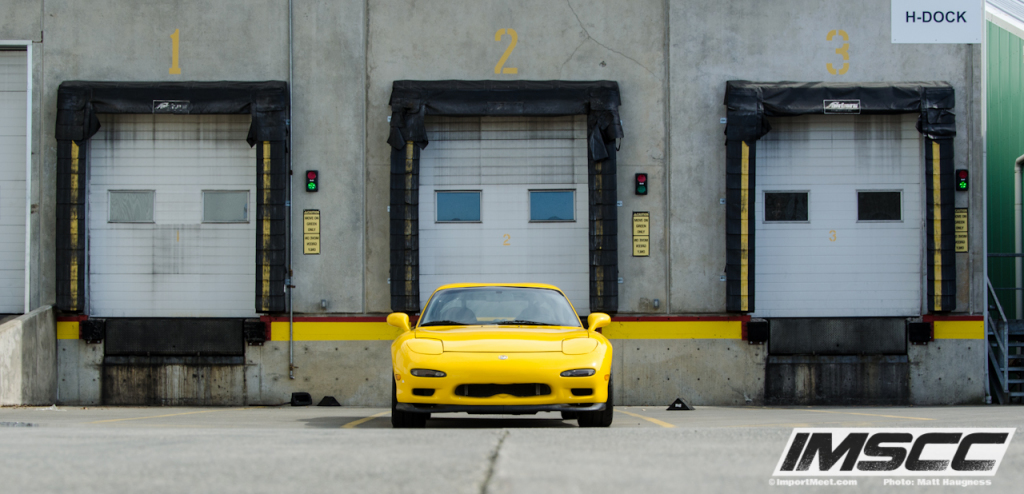 Matt picked up his FD in 2007. He bought the car with a blown rotary engine and he swapped it within six months of owning it. In the last 6 years, it's been through multiple revisions and stages.
The LS1 engine and T56 transmission were sourced from a wrecked 2002 Chevrolet Camaro. In order to swap the drivetrain into an FD, the subframe, transmission mount, differential mount, and driveshaft needed to be changed. Matt initially went with a different company for the swap kit but recently upgraded it to the lighter and better engineered kit from Samberg Performance.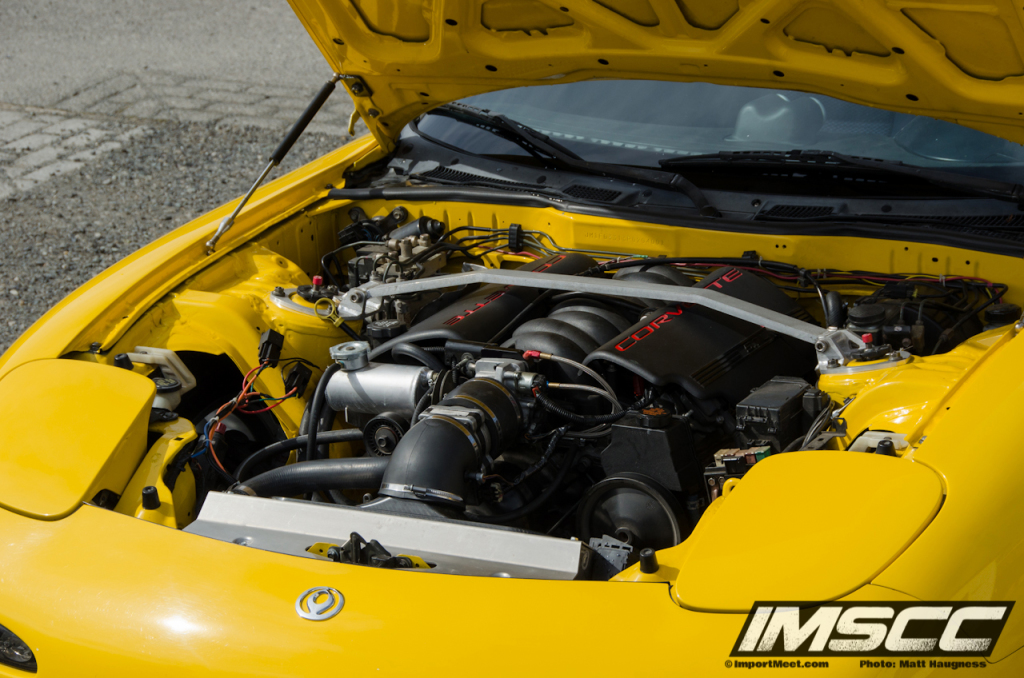 One of the many benefits of displacement is that upgrades tend to have a bigger effect. For stage 2 of his build, Matt decided to go with a set of PRC Stage 2.5 5.3L ported heads, an EPS 230/238 camshaft, 80mm ported throttle body, Comp Cams hardened pushrods, and PRC dual valve springs. These modifications alone increased the output of the engine by nearly 100 horsepower.
For external bolt-ons, Matt installed a set of JTR headers and a custom 3.5" exhaust that he fabricated himself. He also installed a Samberg Performance radiator/intake setup which can be seen in the front of his engine bay.
When it came to handling, he went with a set of BC Racing coilovers with 10kg/8kg springs and an upgraded front sway bar from Tanabe. He also went with adjustable sway bar end links and a strut tower bar from Improved Racing.
The brakes have been upgraded to Hawk HP brake pads with PowerSlot rotors. For wheels, Matt bought a set of 17×9" Enkei RPF1's. He plans on running Nitto NT05 up front and Nitto NT555R tires in the rear for the IMSCC.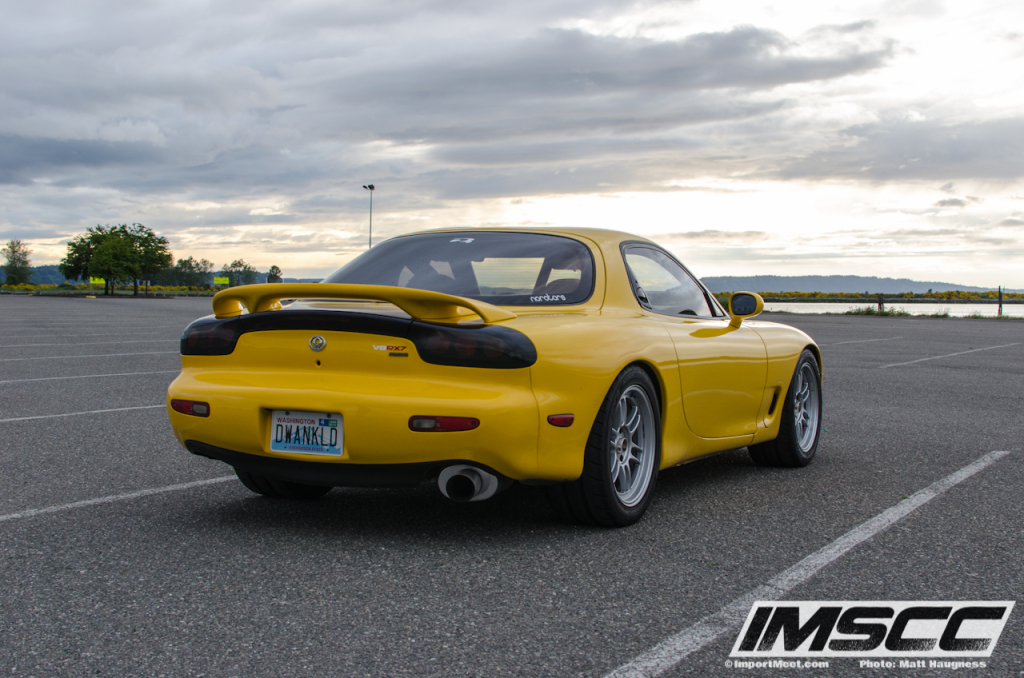 Matt feels that the color is the most unique and noticeable aspect of the car.
"The car was already repainted yellow when I bought it so I had to stick with the color when I got a new paint job. When it came time to decide on the actual shade of yellow it was difficult since it's such an easy color to screw up. I eventually decided on Mazda Sunburst or Vivid Yellow. This just so happened to be the same color that Mazda painted their Special Edition 2001 Bathurst R RX-7's in Japan."
Despite the color being the most attention-getting mod, the roll bar is his favorite. Matt designed and fabricated the roll bar himself using 1-3/4 DOM tubing. It was designed to meet the NHRA requirements of the time he runs at the drag strip.
"The roll bar is welded into place, but I designed it in such a way that it was able to be taken in and out of the car during fabrication. This allowed it to be professionally powder coated before being welded into place. The roll bar is barely noticeable when street driving the car and I built in a swing-out door bar to improve the comfort when I'm not on the track," Matt explains.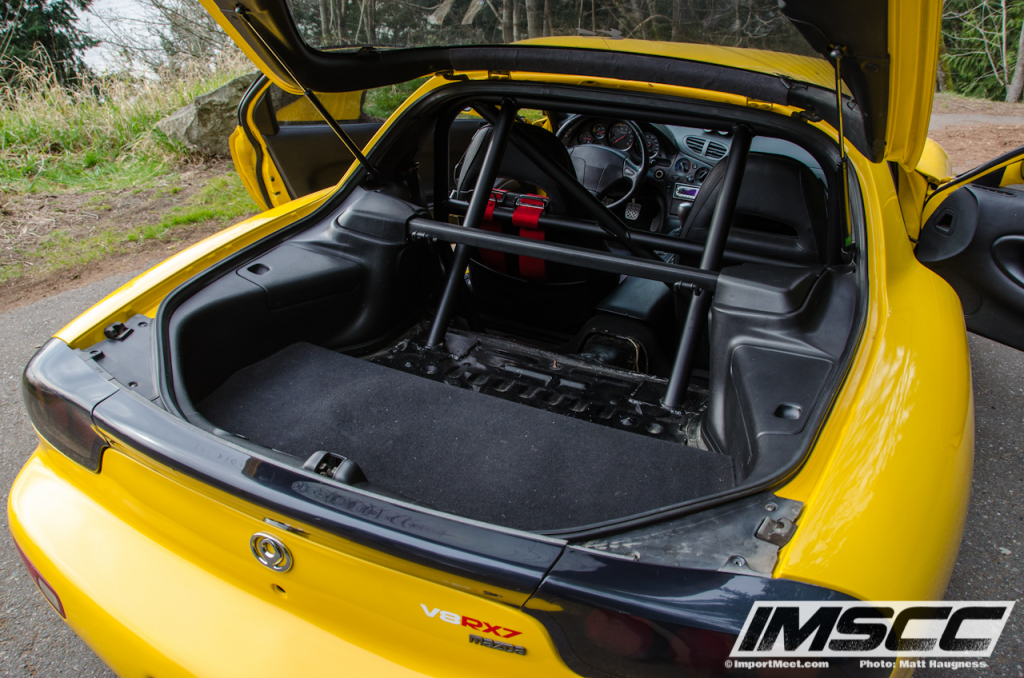 If he had to pick one word to describe his car, it would be "raw."
"The nature of a lightweight import with the power delivery of a domestic engine is unique. I can't really describe it with any other word," he says.
Matt spends most Fridays and Saturdays during the summer drag racing at his local track in Mission, BC. He also participates in the occasional autocross events. He wants to start shifting his focus away from drag racing because he is approaching times that require safety modifications that would make the car less streetable.
This change in racing styles will require further modifications in some areas of the car that he still needs to address. He plans on upgrading the stock brakes to a big brake setup soon along with an 8.8 differential. This will allow him to change his gearing to perform better on smaller road courses.
When asked why he thinks he will do well in the IMSCC, Matt responded with:
"I think that since my car is set up to be an all-around competitor that it will do well in most events, but I am really trying to keep my expectations low. I am a really competitive guy so I am looking forward to the chance to go head to head with the best street cars in the Northwest. I am particularly excited for the drag race event as I will be setting up my car to have a slightly more heavy focus on doing well in that event."
Matt would like to thank:
The guys on NoRotors.com:
"They are a great group of guys all across the country and even world who share my passion for V8 powered RX7's.  There is so much collective knowledge and it's a tight knit group."
His family and local car friends:  For encouraging his hobby and always being willing to help.
His fiancée Lisa: For letting him compete in the IMSCC less than a month before their wedding.
Click here to see the rest of the IMSCC competitors
Modifications:
Exterior/Wheels/Tires:
Enkei RPF1 17X9 +45mm wheels w/ Nitto NT05/NT555R tires
R1 rear wing & front lip
20% tinted windows
Replica '99 spec taillights
AeroCatch hood pins (not pictured)
Smoked lenses
Shaved antenna
Interior:
5-point Weld-in NHRA/SCCA Roll Bar powder coated matte black
Removable door bar
RCI 5 Point camlock racing harness
Autometer Ultra Lite oil pressure gauge
Autometer Ultra Lite water temperature gauge
Pro5.0, Steeda Triax shifter & Cobra shift knob
Engine/Transmission:
2002 LS1/T56 Swap
EPS 230/238 112+2 LSA 0.600″/0.602″ camshaft
PRC Stage 2.5 5.3L Ported Heads
LS6 intake manifold & ported throttle body
Samberg Performance intake & radiator system w/ Spal fans
Improved Racing Oil Pan Baffle
JTR 1-3/4″ long tube headers
Custom mandrel bent exhaust w/ Magnaflow muffler
Monster stage III clutch
Wilwood 7/8″ clutch master cylinder
Katech rod bolts
ARP head bolts
PRC dual valve springs
Comp Cams 7.425″ hardened push rods
Denso "Supra" fuel pump
FMS 36lb/hr injectors
-6AN fuel lines
MSD spark plug wires
PC680 battery
Custom-built hybrid Mazda Differential 3.73:1 gears & S4 TII clutchpack
Suspension/Brakes:
BC Racing coilovers w/ 10Kg/8Kg springs
Hawk HP brake pads
Improved Racing front strut tower bar
Improved Racing adjustable front sway bar endlinks
Corksport stainless steel brake lines
Powerslot brake rotors
Tanabe front sway bar
Speed Bleeder fittings
Special Thanks to Our IMSCC Sponsor:
If your company is interested in sponsoring the IMSCC, please email info@importmeet.com for more information.