We are pleased to introduce Karalee Quinton as the next competitor in our Import Meet Street Car Competition. The IMSCC is an event that will compare 10 import cars in multiple categories (drag racing, autocross, dyno, car show, etc.) in August 2013.
A new competitor will be announced each week leading up to the competition so be sure to check back next week. For notifications, join the Facebook event.
Karalee Quinton, soon to be Karalee Christensen, was first introduced to the import car scene by her fiancé, Quentin. While being supportive of his interests, her own passion for import cars started after her first autocross event.
"I did the Bremerton Sports Car Club autocross novice school just this last year," she said.
While she may be a rookie driver when it comes to racing events, her 2009 Nissan GT-R was built from the factory to perform well regardless of driver skill level.
Text by Matt Haugness. Photos by Matt Haugness and Ryan Cutuli. Video by Ryan Kam (RK Films).
Watch 2009 Nissan GTR – Daily Driven Godzilla – 2013 IMSCC Competitor on YouTube
This particular GT-R was the first one sold in Washington State back in 2008 and Karalee and Quentin are the second owners.
When asked how long she has owned the car, Karalee immediately replied, "Negative three months." Curious, I asked her to elaborate. "Once I get married late this summer the car will officially be half mine," she said, jokingly. "But for now, the car is unofficially all mine."
When the car was brand new, it was a test car for Difflow. This was when it received the aftermarket rear diffuser.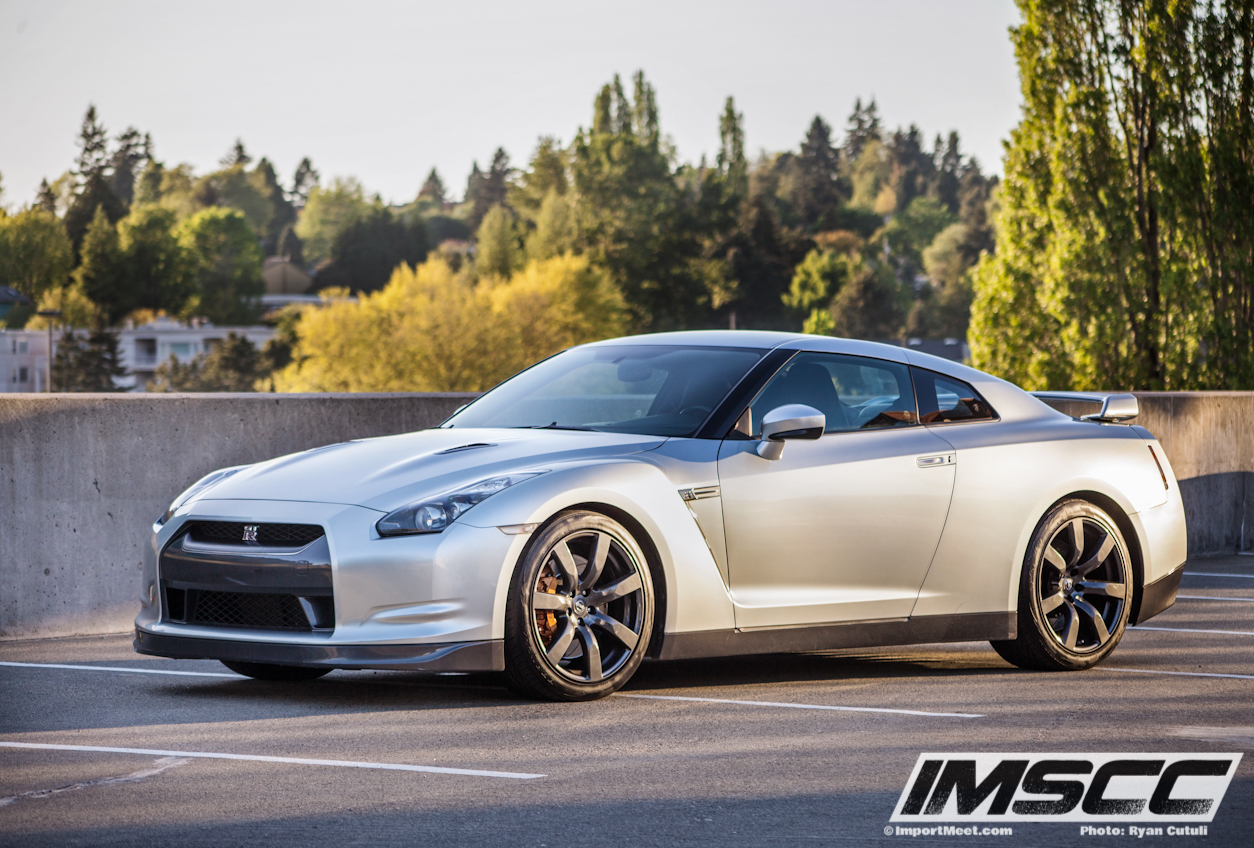 As is, the car is ready for just about anything. However, on track days the stock wheels are swapped out for a set of 18" TSW Nurburgring wheels with Toyo Proxes R888 tires. These are one of the few 18" wheels that fit over the GT-R's massive brakes. Their smaller diameter keeps the weight down and allows for the use of more reasonably priced track tires. Karalee will be running these wheels and tires for the IMSCC.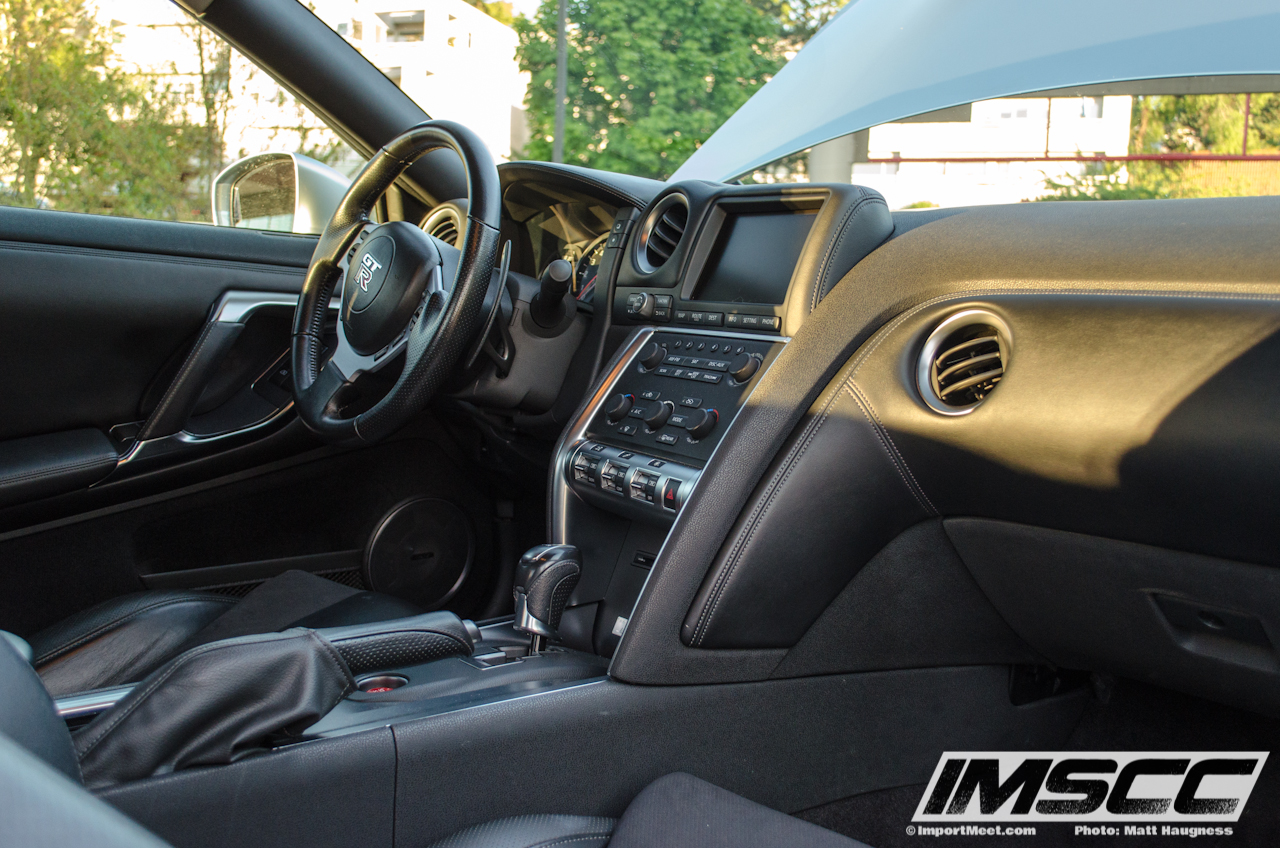 Music is a big part of both of their lives so it wasn't long after buying the car that the audio system was upgraded by Quentin. He installed an AudioControl LC6 output controller with MB Quart Premium 6.5" component speakers. He also installed a JL Audio 12W3 subwoofer with a Rockford Fosgate Punch 1000.4W amplifier.
The brakes have been upgraded with stainless steel lines, AP Racing curved vane slotted rotors, and Endless MX72 pads.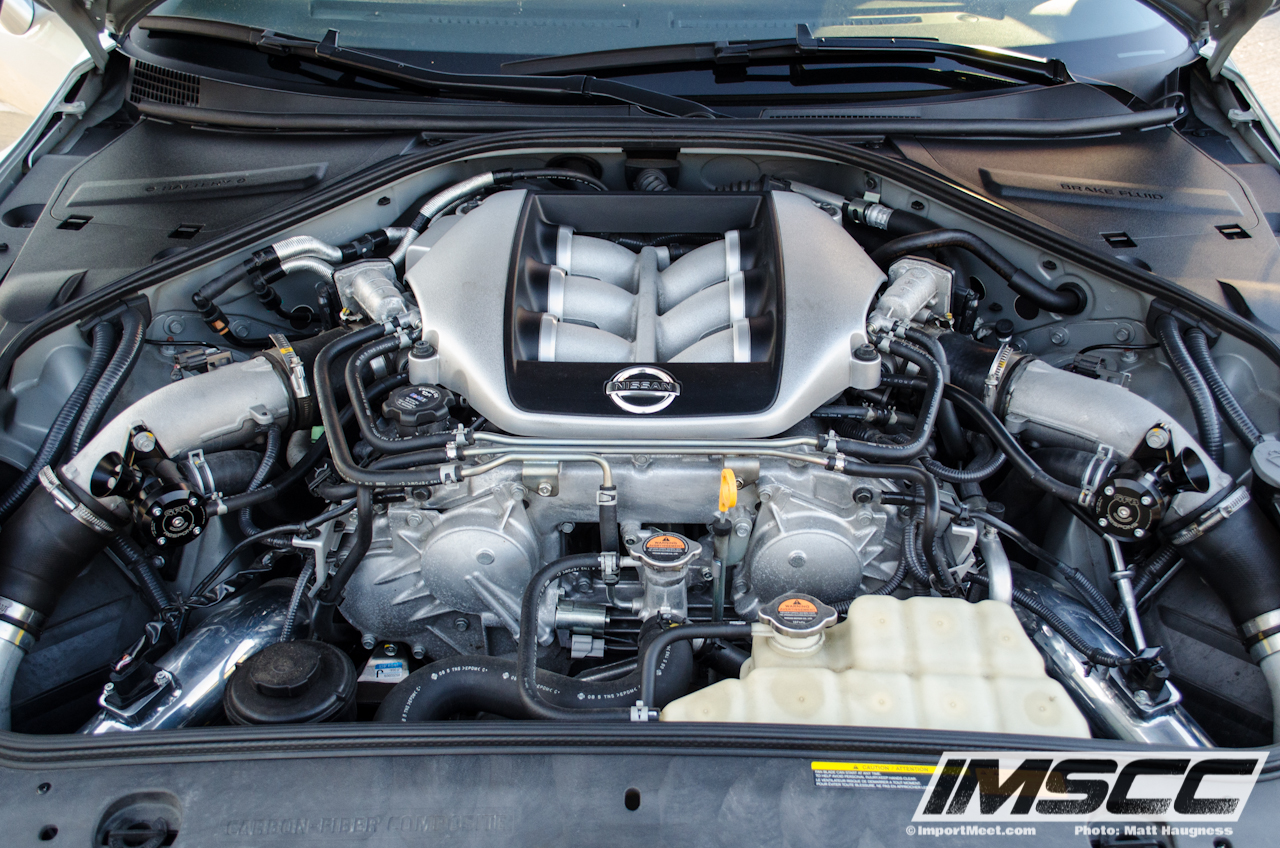 To improve the performance of the engine, they installed 3" Gotboost intakes, 3" Agency Power downpipes, Cobb catted midpipe, Cobb Accessport, 2012 GT-R turbo inlets, and a pair of GFB Respons blow-off valves. They also upgraded the fuel system too with dual Walbro 255lph fuel pumps and Injector Dynamics 1000cc injectors.
Their favorite modification is the Cobb Accessport. With this mod, they were able to take the car to Cobb Surgeline in Portland, OR and increase the boost from 10 to 18psi. This equates to roughly 130 more horsepower to the wheels. The Accessport also allowed them to adjust the transmission clutch touch points and launch control.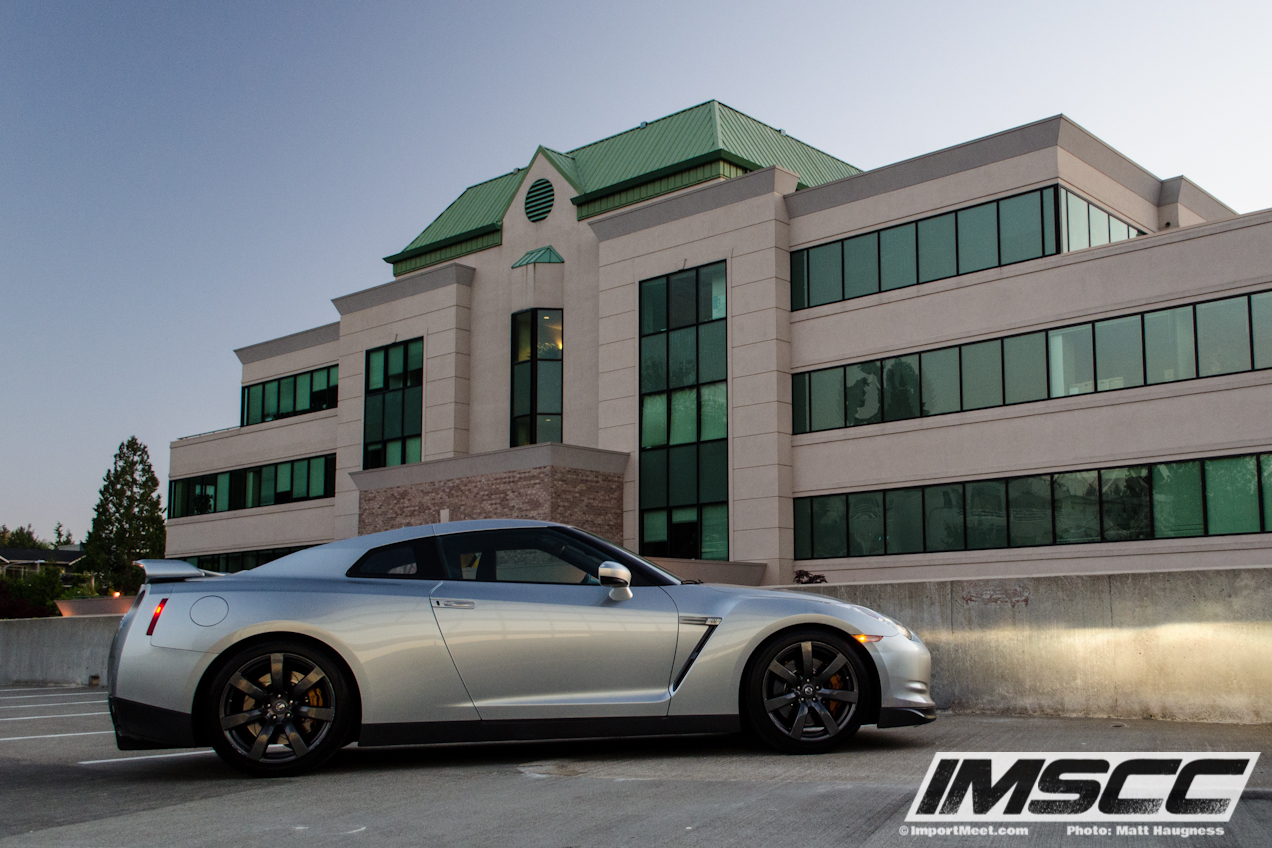 When asked why she thinks she will do well in the IMSCC, Karalee responded with:
"I'm not sure how I'll do in the competition, but with Godzilla on my side, I think I stand a good chance of placing well."
Karalee would like to thank the following people for helping with the GT-R:
Quentin (her fiancé) – for being the brains behind the car and for installing most of the modifications
Cobb Tuning Surgeline (Portland, OR) – for the great tune on the car
NW Nissan GT-R Owners Club – for giving us ideas on how to build the car and for organizing great local events
Click here to see the rest of the IMSCC competitors
Modifications:
Exterior/Wheels/Tires:
Difflow rear diffuser
JDM GT-R clear corners
Rexpeed carbon hood dampers
18" TSW Nurburgring 18×10.5 wheels w/ 305/35R18 Toyo R888 tires (not pictured but will be running for the IMSCC)
Interior:
AudioControl LC6 line output converter
Rockford Fosgate Punch 1000.4 amplifier
JL Audio 12w3 subwoofer
MB Quart Premium 6.5″ component speakers
Engine/Transmission:
Cobb Accessport with TCM
3″ Gotboost Performance intakes
2012 GT-R turbo inlets
GFB Respons blow-off valves
Agency Power 3″ downpipes
Cobb 3.5" catted midpipe
Injector Dynamics 1000cc fuel injectors
Dual Walbro 255lph fuel pumps
Suspension/Brakes:
AP Racing curved vane slotted rotors
Endless MX72 brake pads
Stainless braided brake lines
Special Thanks to Our IMSCC Sponsor:
If your company is interested in sponsoring the IMSCC, please email info@importmeet.com for more information.