We're excited to introduce Stu Hagen as the next competitor in our Import Meet Street Car Competition. The IMSCC is an event that will compare 10 import cars in multiple categories (drag racing, autocross, dyno, car show, etc.) in August 2013.
A new competitor will be announced each week leading up to the competition so be sure to check back next week. For notifications, join the Facebook event.
The Toyota Supra has been a dream car for many people since the first time they saw the original Fast and the Furious. During the summer of 2001, Stu Hagen reached a point in his life that he was ready to own a sports car. His son, being 16 and into import cars at the time, recommended that he test drive an RX-7, a 300ZX, an NSX, and a Supra. Stu test drove all of the cars but instantly fell in love with the ergonomics and feel of the Supra. Seeing the first Fast and the Furious sealed the deal and he purchased a nearly new 1997 Toyota Supra Turbo that August.
Text by Matt Haugness. Photos by Matt Haugness and Ryan Cutuli. Video by Ryan Kam (RK Films).
Watch 1997 Toyota Supra Twin Turbo – Stu Hagen – 2013 IMSCC Competitor on YouTube
While building the car, it was never about making the most horsepower or being the fastest on the track. Stu was constantly focused on building a well-performing street car that he could enjoy at all times. All of the comforts of the stock car were retained or improved with every modification he made.
In addition to being an enjoyable car, the Supra has been a hobby for him. Stu has spent countless hours documenting every custom mod that he has done along with gathering useful information for other Supra owners on his website, 97SupraTurbo.com. From his completely custom LED dash lights and gauge cluster, to his stock looking GT28R twin turbocharger setup, he has always built the car a little different from the rest of the Supra community.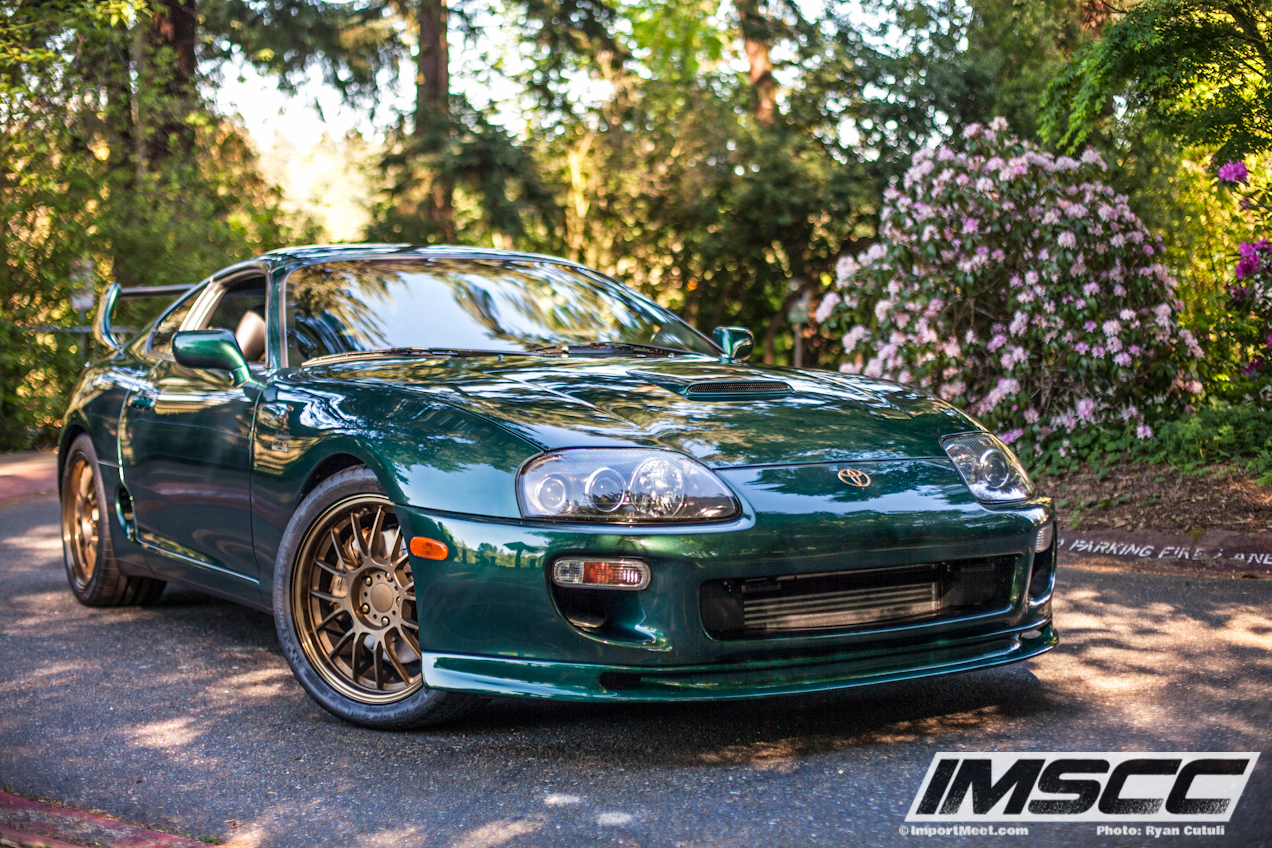 Even though the engine bay of Stu's Supra looks mostly stock, it's far from it.
"I wanted something that no one else had thought of before. I didn't want a monster single turbo car that was somewhat limited in appearance and drivability. This is why I spent 5 years coming up with an OEM looking twin turbo system that appears stock but can unleash the power when the need arises," Stu explains.
He accomplished this by putting Garrett GT28R turbochargers inside of modified OEM turbo housings and mounting them to a custom tubular exhaust manifold. He also upgraded the stock head to a JDM stage 1 ported version with HKS 264 cams and JUN cam gears.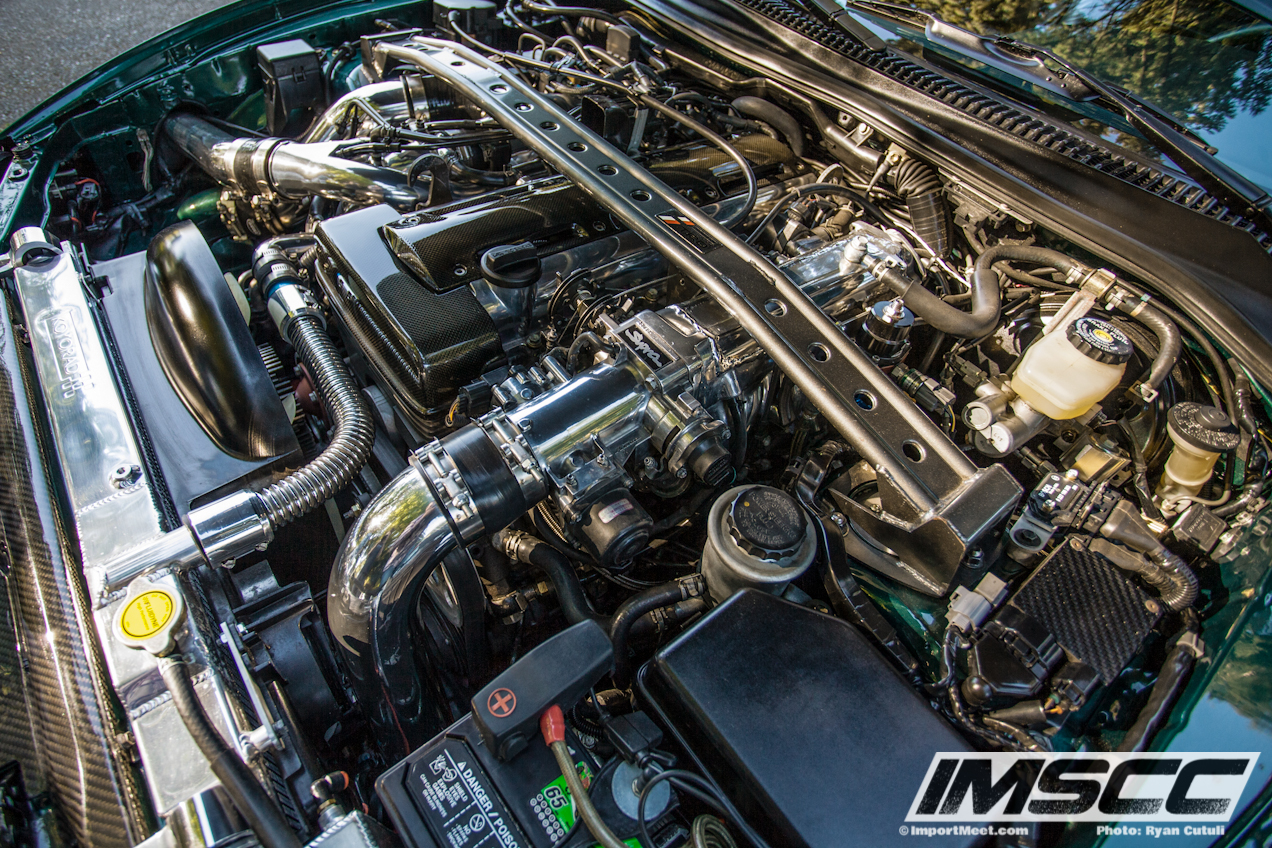 The stock front mount intercooler was upgraded to an ETS unit along with polished HKS intercooler piping. To maximize the amount of air passing through the intercooler, Stu created a custom airfoil that directs some of it over the top portion that is normally blocked by the front bumper. He estimates that this mod improves the effective area of the intercooler by 50%. He also modified the stock intake to eliminate any engine heat. He welded in a pipe that drops down behind the passenger turn signal that allows the Blitz SUS to suck in cold air.
With the latest build, Stu decided he wanted to go the flex fuel route. His friend Eric Urness (R/T Ernie) helped him tune the car on just about every mixture of ethanol and pump gas. With the aid of supporting mods, the ViPec V88 engine management system is able to determine the ethanol content of the fuel and change the tune on the fly. These supporting mods include dual Walbro 400LPH fuel pumps, a custom tank, lines, ID 2000cc injectors, and a GM flex sensor.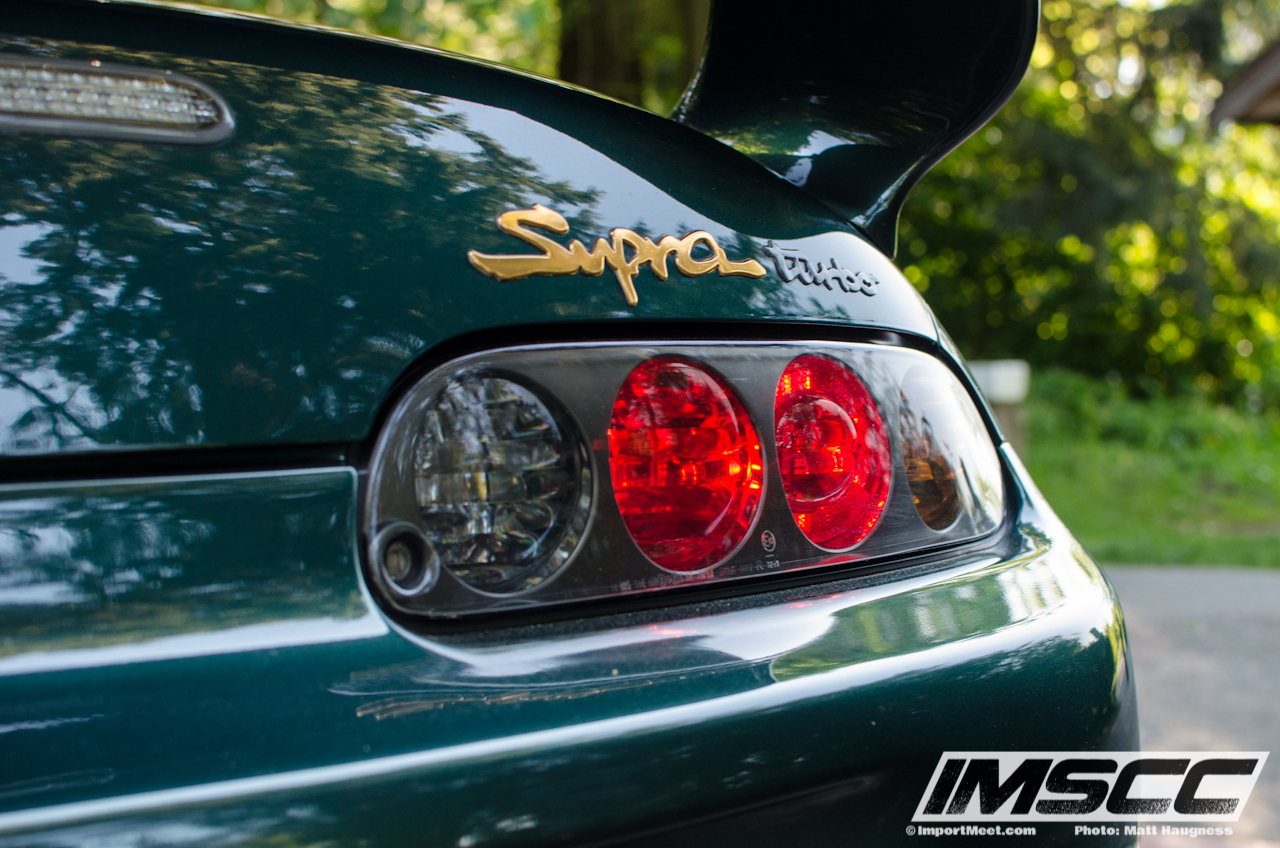 For suspension mods, Stu installed a TRD front sway bar, TRD front strut tower bar, and HKS HyperMaxIII coilovers. His goals with these mods was to improve the handling without sacrificing the ride quality or making the car feel too different from stock.
Most of the time, the Supra is equipped with 18" Volk Racing SE37K wheels. Stu switches to a set of16" Volk Racing CE28N's with drag radials when drag racing and 18" CCW Corsairs when road racing.
The brakes on the car have been upgraded to StopTech slotted rotors and EBC Red Stuff pads.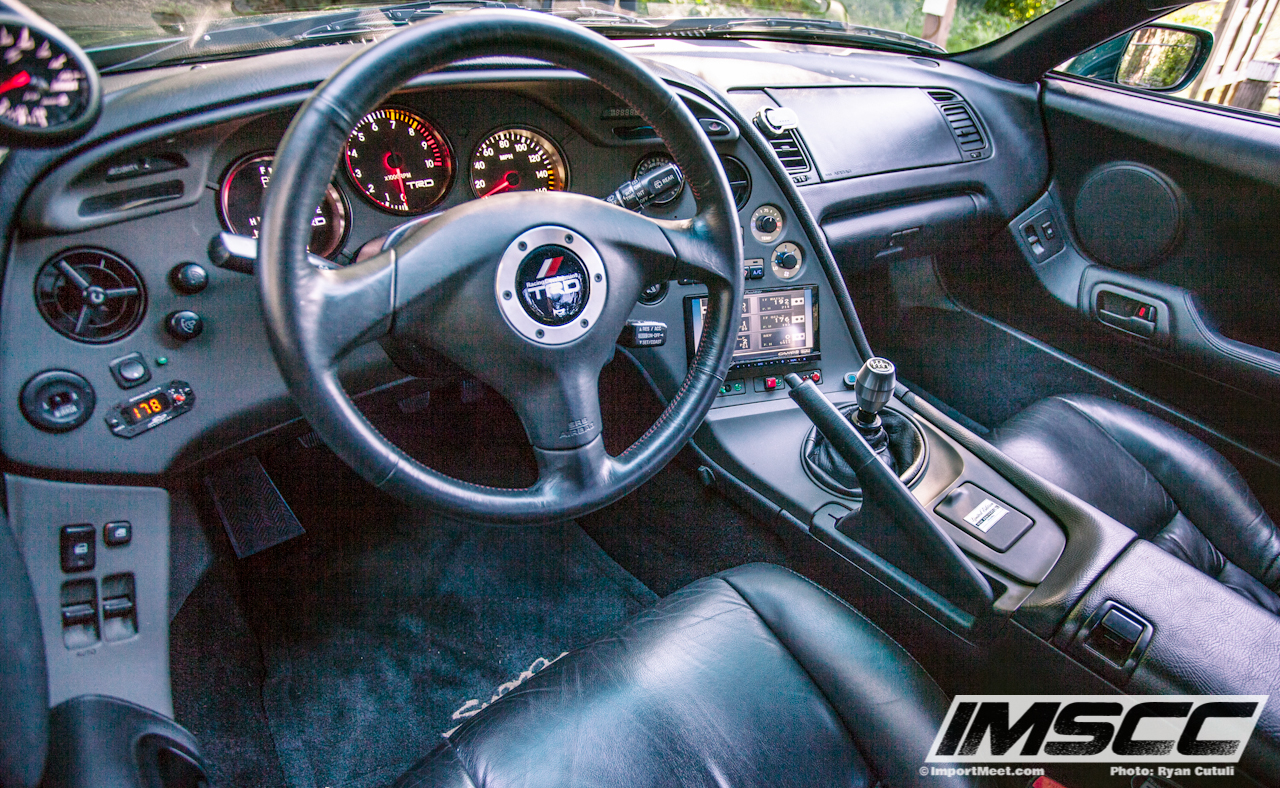 In the past, most of the Supra's time on the track was spent at the local drag strip or HPDE events. As of 2011, the car has been used exclusively as a street car. When asked about future modifications, Stu explained that the build is complete and that he's done modifying the Supra.
"I have changed the build on this car 4 times over the last 12 years. It is now a true street car for me to enjoy. I will pass it on to my son, Marshall as I begin to build my R35 GTR."
When asked why he thinks his car will do well in the IMSCC, Stu responded with:
"I am going into this competition with no preconceived notions of being first or last. I feel that I have a well-built, well taken care of, truly OEM in many facets street car that still has the power and agility to be keep up with more modified cars."
Stu would like to thank the following people for helping him build his Supra:
Steve Ishii (owner of Ishii Motors) – for being the master Toyota Supra expert
"I have known Steve for 10 years and when he moved back from Japan around 2010 I was elated. Steve had done some work on my Supra prior to moving, but when he returned, we went to town and replaced nearly 50% of the car's drivetrain."
Eric Urness (R/T Ernie) – for the great job on the latest tune and other help with the car
Marshall Hagen (his son) – for all of his support over the years and for being co-pilot on many many trips and meets. Also for him being designated drag racing driver.
"I wouldn't have this car if it wasn't for him."
Check out Stu's website dedicated to his Supra: 97SupraTurbo.com
Click here to see the rest of the IMSCC competitors
Modifications:
Exterior/Wheels/Tires:
Boost Logic pulleys
Cool Flex radiator hoses
Custom polished radiator overflow tank
Euro hood scoop
HKS polished intake
Titek carbon fiber valve cover
Titek carbon fiber radiator cooling plate
RMM carbon fiber center rear wing
Whiff-Biz front lip
Volk Racing SE37K 18" Michelin Super Sport 265/35F 275/35R
CCW Corsair 18" (road racing wheels)
Volk Racing CE28N 16" (drag racing wheels)
Interior:
TRD tachometer
TRD steering wheel
Leather interior upgrade
Interior LED conversion including HVAC
Custom LED cluster by Stu Hagen
Blitz FAT turbo timer
HKS Camp2-Gauge Display
-Fuel pressure
-Fuel temperature
-Oil pressure
-Oil temperature
-Boost pressure
-I/F Unit Engine parameter display
Innovate system
-LC 1 Bosch wideband
-XD-16 A/F gauge
Laser Jammer
RS3000 keyless entry
Custom flush mounted rear subwoofer
Pioneer HU AVH-P4300DVD
4200K HIDs – high, low, fog
Race-Logic traction control w/ digital adjuster
SP Custom FMIC temperature In&Out sensors
STRi boost gauge
Sun Hyper ground stabilizer
Engine/Transmission:
ViPec V88 engine management
Twin GT28R hybrid turbochargers
Custom tubular exhaust manifold
HKS SSQV BOV
HKS 4301 DLI
HKS 264 Cams
ETS front mount intercooler
JDM Stage 1 ported head – LW shim buckets
JUN cam gears
Injector Dynamics 2000cc injectors
Dual Walbro 400LPH E85 fuel pumps
Custom canister and fuel lines
Aeromotive FPR
B&M power steering cooler
ETS 4" Ti exhaust custom installed by Ishii Motors
Custom stainless steel downpipe
Blitz SUS intake filter
Boost Logic crank damper
RPS Triple Carbon clutch
Custom air box
Earl's 19-row oil cooler
GM E85 flex sensor
Hurst line lock
Koyo radiator
Suspension/Brakes:
HKS HyperMaxIII coilovers
TRD front sway bar
TRD front strut tower bar
StopTech slotted rotors
EBC Red Stuff brake pads
Special Thanks to Our IMSCC Sponsor:


If your company is interested in sponsoring the IMSCC, please email info@importmeet.com for more information.