We're happy to introduce Johnny as the first competitor in our Import Meet Street Car Competition. The IMSCC is an event that will compare 10 import cars in multiple categories (drag racing, autocross, dyno, car show, etc.) in August 2013.
A new competitor will be announced each week leading up to the competition so be sure to check back next week. For notifications, join the Facebook event.
Johnny has a thing for Skylines. Attending high school in Okinawa, Japan and being stationed there during his time with the US Air Force turned Johnny into a self-proclaimed Skyline freak. Having been involved in the import car scene for over 35 years, Johnny has built a wide variety of other Japanese cars (mostly Fairlady Nissans). It wasn't until he reached the later years in life that he was able to afford a Skyline. He picked up an R33 in December 2011 and then this R34 in July of 2012. Not soon after buying it did Johnny gave it the nickname The Blue Dragon. This name came from his high school days in Japan where the school mascot was a dragon.
Text by Matt Haugness. Photos by Matt Haugness and Ryan Cutuli. Video by Ryan Kam (RK Films).
Watch R34 Nissan Skyline GT-R V-Spec II – 2013 IMSCC Competitor on YouTube
Ever since purchasing the R34 Skyline, he's been steadily improving it one modification at a time. Things haven't always been easy with the car. One week after buying the car, Johnny brought the car to the Pacific Northwest Supra Nationals in Washington State. The event combined a car show, a drag racing night, and a dyno day. While most of the cars there were Supras, Johnny knew quite a few of the owners and figured the event would a good place to test out his new car.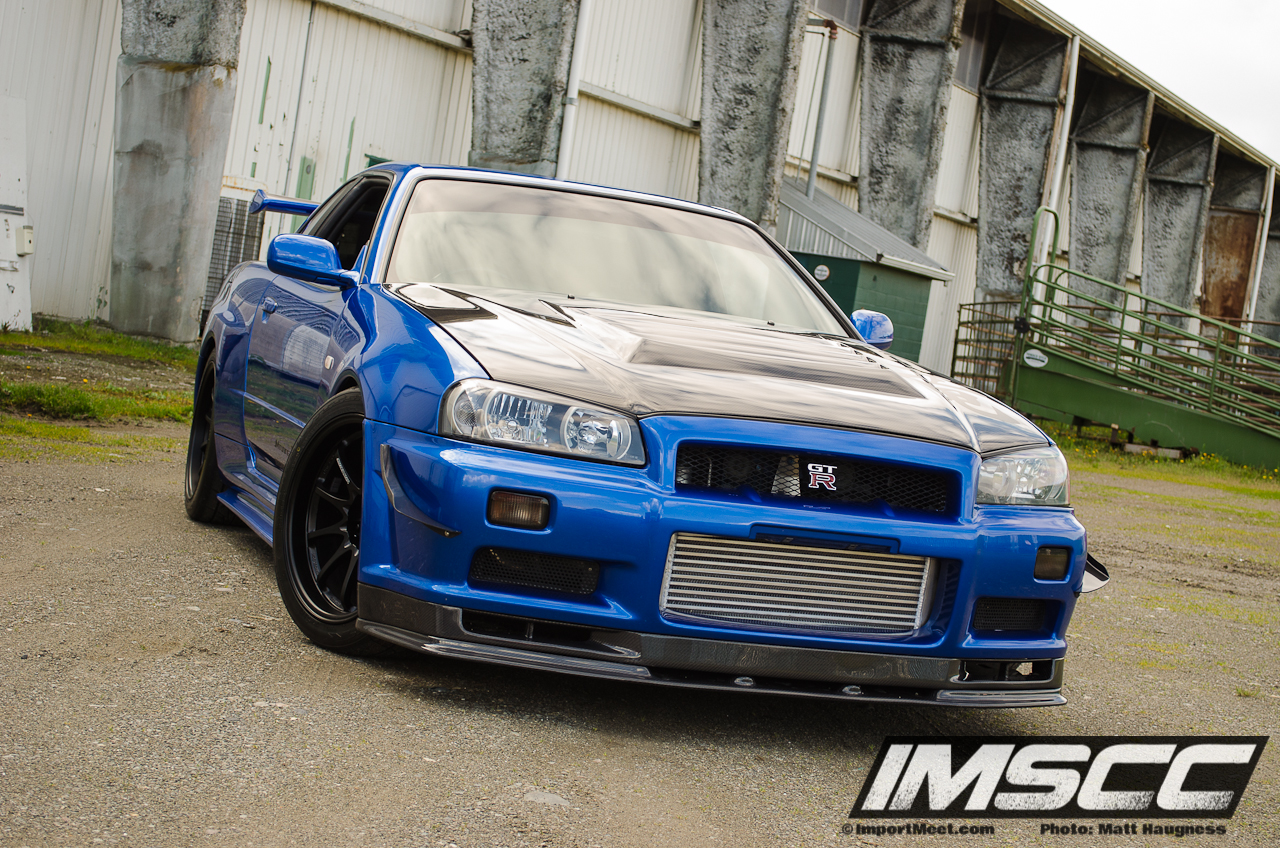 He completed the drag racing portion of the event without issue. The next day, on the way to the dyno, the cooling fan came in contact with the fan shroud which exploded all over the engine bay. A piece of the shroud knifed the draining the water out of it. He didn't notice it at first since the needle on the engine temp gauge was stuck at the last reading. They arrived at the shop with the dyno and parked outside. When it was their turn, they pulled it onto the rollers and did one pull. This ended up being the one and only dyno pull with the original engine. In a spectacular fashion, the number 2 piston ended up going through the oil pan. Luckily, they had trailered the car from their home in Idaho and were still able to attend the car show before heading back.
While most people would have been discouraged by this incident (especially after only owning the car for a week) Johnny didn't let it get him down. He contacted his good friends Nate Migneault and Kevin Shannahan and they started the long process of rebuilding the engine. He decided to go all out and buy a fully built RB26DETT long block from Raw Brokerage out of Florida. Along with the new engine, he picked up a Raw Brokerage intake manifold and 90mm throttle body.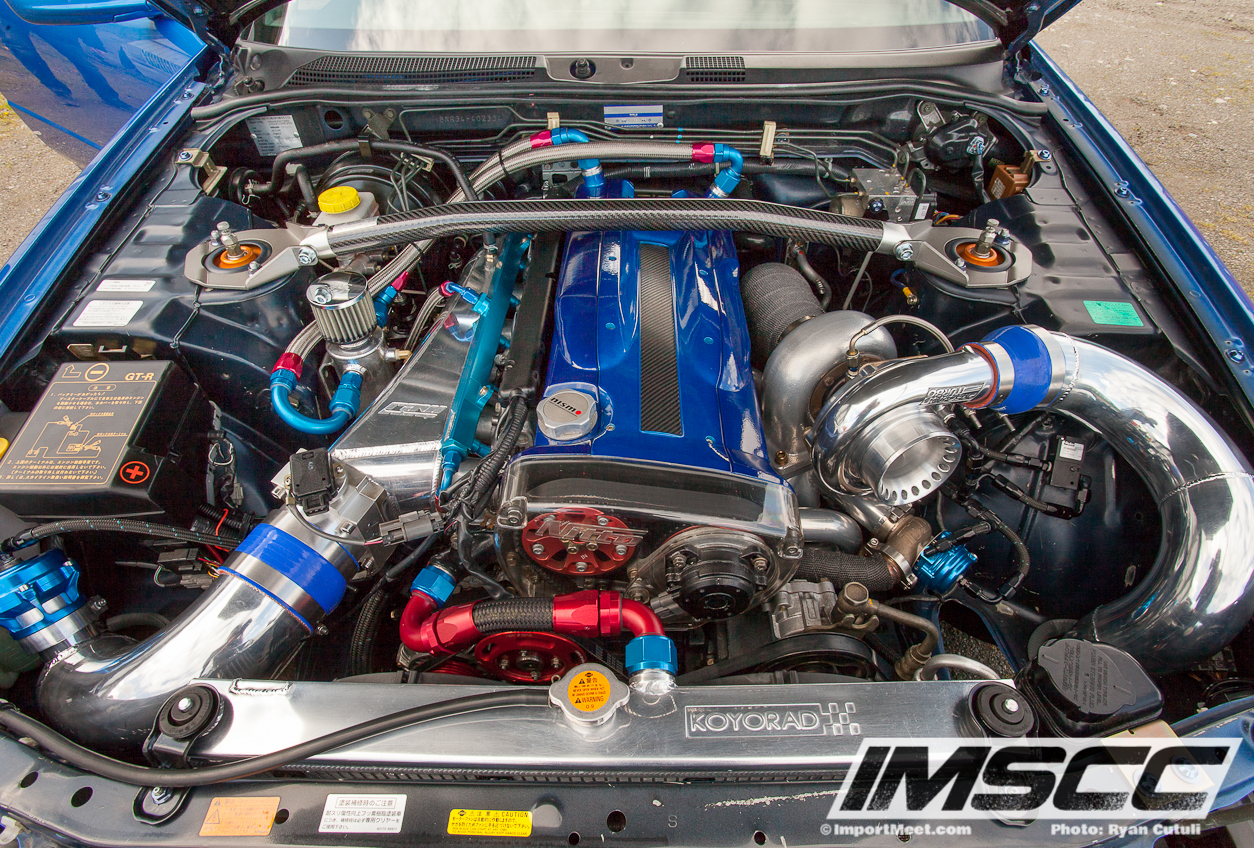 For the turbo setup, he decided to go with a Precision 6466 dual ball bearing turbo attached to a Full-Race top mount exhaust manifold. He knew that he wanted to run E85 so he outfitted the upgraded Tomei fuel rail with Injector Dynamics 2000cc injectors. To deliver the fuel from the tank to the engine, he upgraded the fuel system to three Bosch 044 fuel pumps (one in the tank).
The intercooler and piping was also upgraded to a completely custom setup. Revtech Motorworks out of Idaho built it using a 4" Turbonetics core with 3.5" charge pipes and 4" upper intercooler piping. He's also running a custom 4" turbo back exhaust developed by the same shop.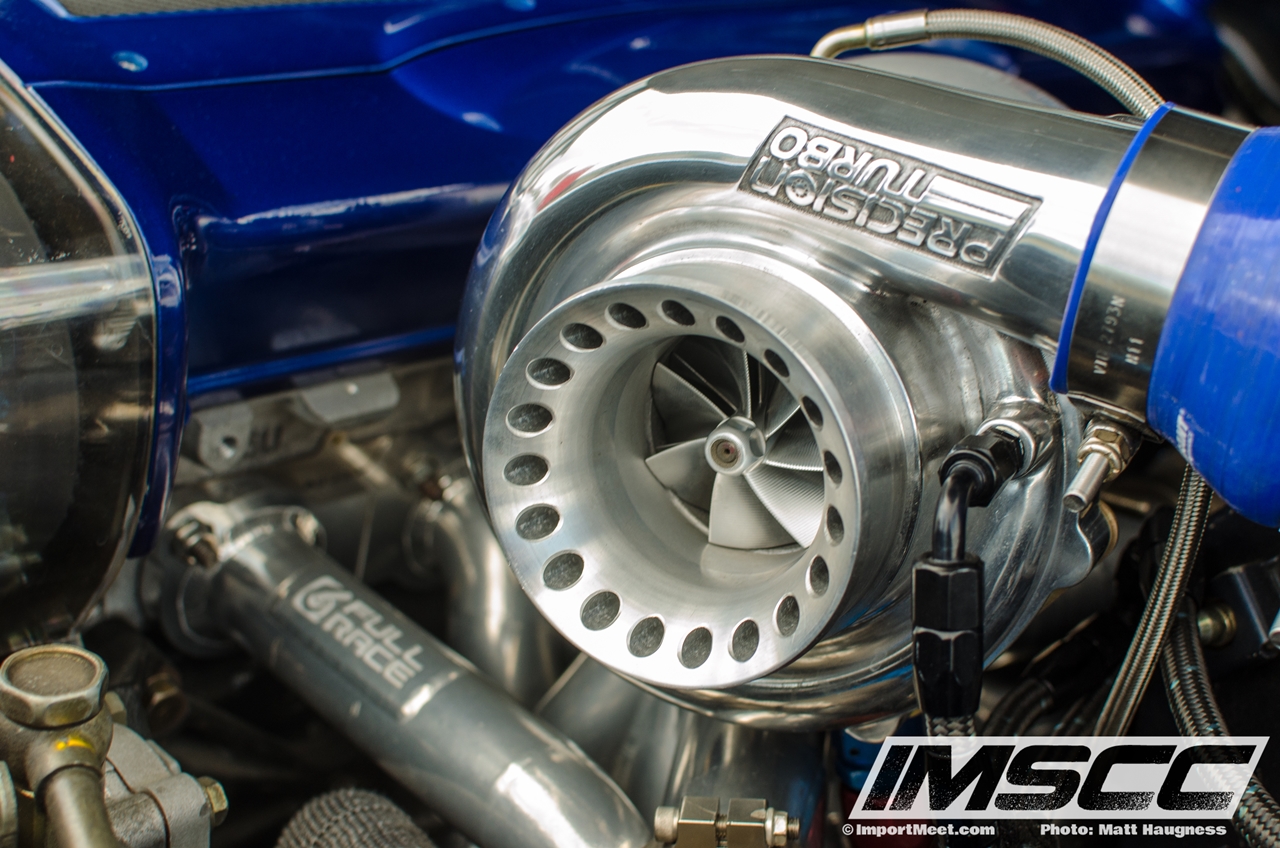 The stock brakes have been upgraded to a full StopTech setup including calipers and 2 piece slotted rotors front and rear. In addition to the upgraded brakes, the car also has a set of JW coilovers and a CUSCO front strut tower brace.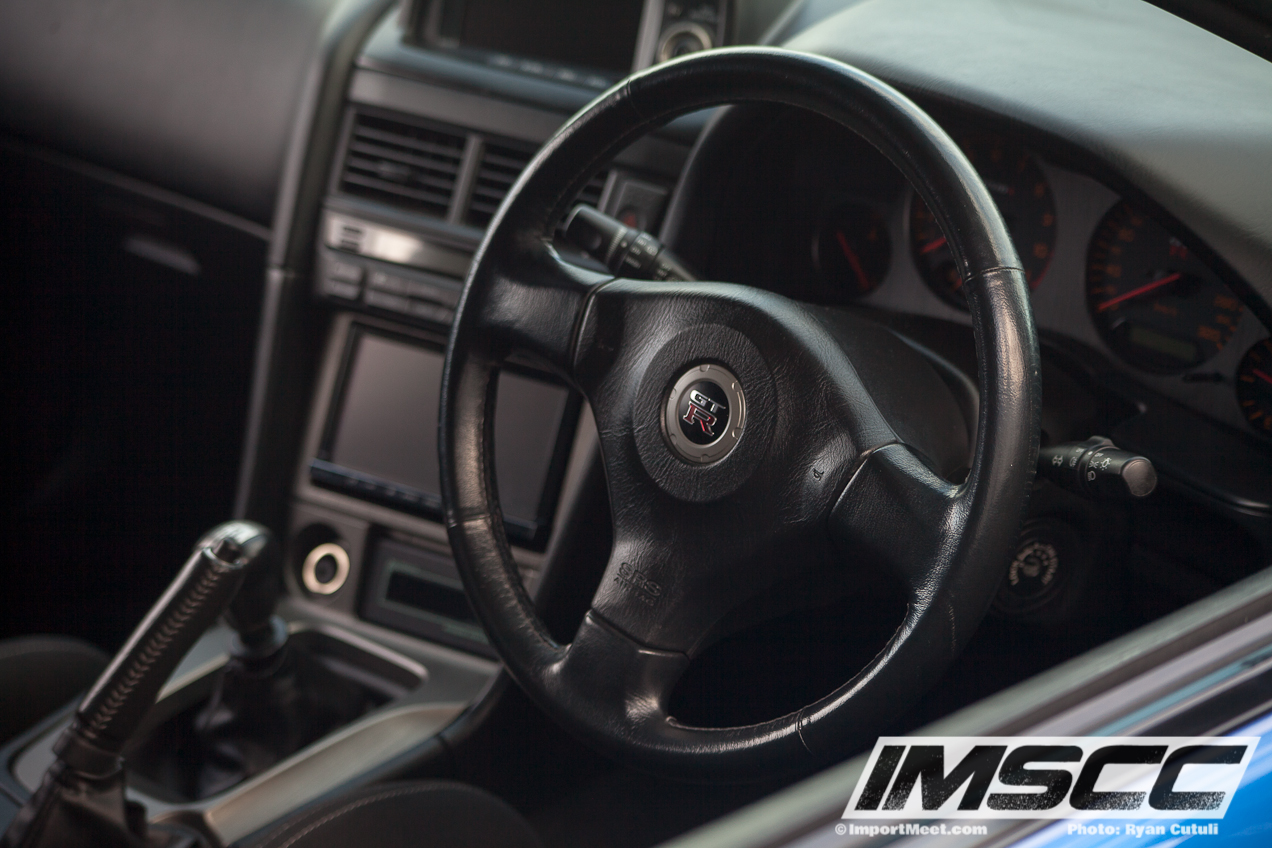 The R34 is equipped with 18" Volk Racing CE28N wheels wrapped in 285/35R18 Nitto NT555II tires. Johnny actually purchased the current set of tires to compete in the IMSCC. Being drag radials, they should allow him to perform very well in the drag racing portion while still complying with the 100 treadwear requirement.
When asked why he thinks his car will do well in the IMSCC, Johnny replied:
"I built the car to be an all-around well-performing street car. With the amount of power, it should do well in the drag racing and dyno portion of the event and it can definitely hang with some of the best in the car show. We're hoping that it will also perform well in the autocross portion with the upgraded suspension."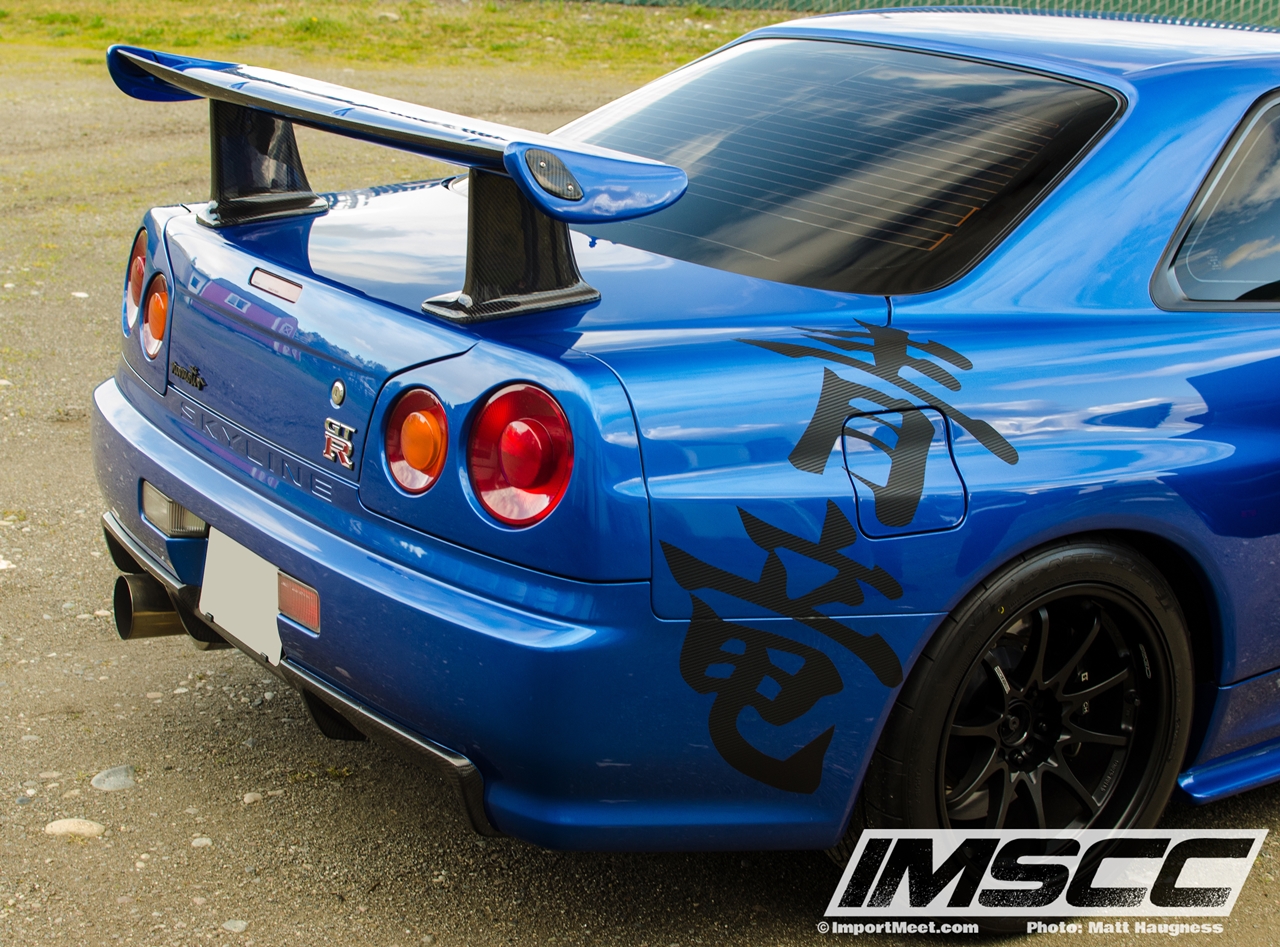 Johnny would like to thank the following people for helping him build The Blue Dragon:
Nate Migneault (NAMTECH) – for building the car (every aspect, front to back)
Jake Montgomery (JM Tuning) – for his outstanding work on the tune
Kevin Shannahan (True Performance) – for the ideas of how to build the engine
Dante (son) – for finding the car in the first place and giving him the inspiration go all out on the rebuild and hold nothing back
Monica (wife) – for standing behind him, no matter what, and being supportive of the build
Click here to see the rest of the IMSCC competitors
Modifications:
Exterior:
KnightRacer carbon fiber hood
KnightRacer carbon fiber front lip + under protection
KnightRacer side skirt extensions (Z Tune Style)
KnightRacer rear bumper Spat extensions (Z Tune Style)
KnightRacer carbon fiber rear diffuser
Interior:
Bride Cuga Japan Black driver and passenger seats
Pioneer double din touch screen DVD/GPS stereo
Polk Audio front and rear speakers
Pioneer amp and 10″ shallow subwoofer
Performance:
Raw Brokerage fully built RB26DETT with Tomei Pon B Cams
Full-Race top mount divided manifold
Precision 6466 dual ball bearing turbo with 1.10 ceramic coated exhaust housing and polished compressor housing
4″ turbo back exhaust custom build by Hai Tran at Revtech Motorworks
Custom front mount intercooler (Turbonetics 4" core) with 3.5″ charge pipe and 4″ upper intercooler pipe by Revtech Motorworks
Raw Brokerage short runner intake manifold with 90mm throttle body
Twin TiAL 38mm MVS wastegates
Tomei fuel rail
ID 2000 fuel injectors
Triple Bosh 044 fuel pumps and custom built fuel system including surge tank developed by True Performance
AEM EMS tuned by Jake Montgomery (JMtuning, of Nampa, Idaho)
1 piece aluminum driveshaft by The Driveshaft Shop
Suspension/Brakes/Wheels/Tires:
18" Volk Racing CE28N wheels w/ Nitto NT555II Extreme 285/35ZR18 100 Y B
Full StopTech brake package including calipers (front and rear)
StopTech slotted rotors (front and rear)
CUSCO carbon fiber strut tower brace
JW coilovers
Special Thanks to Our IMSCC Sponsor:


If your company is interested in sponsoring this event, please email info@importmeet.com for more information.