In update 14, I went over the installation of the T56 transmission and driveshaft. Since the clutch slave cylinder is an internal type, it was installed during the clutch and transmission installation. To make the GM slave cylinder function correctly, a properly-sized clutch master cylinder must replace the stock FC clutch master cylinder.
LS Swap FC RX-7 Clutch Master Cylinder & Hydraulic Line
The best part about doing a fairly common swap is that a lot of the required research has been done already. A company named Hinson Super Cars produces various parts for LS-swapped vehicles. They are somewhat of an authority in the community and have been working with LS engines for years. For FC RX-7's, they sell a modified Wilwood 7/8 brake master cylinder that is perfectly sized for the swap. To make it work in FC's, they weld a metric threaded rod onto the Wilwood push rod. They also provide an adapter block to use the stock firewall mounting holes.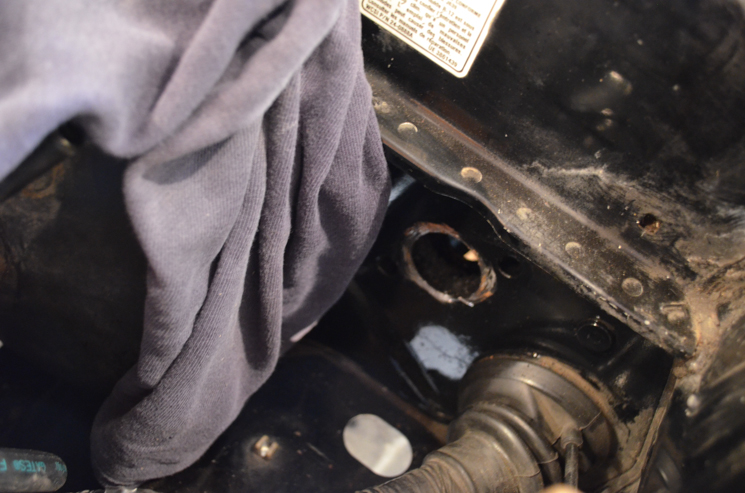 There was minimal modification required to make the Hinson master cylinder kit work. I had to enlarge the stock hole in the firewall by approximately 1/4″ which was as easy as using my Dremel with a small grinder attachment. Since the holes were rusty from the previous master cylinder leaking, I cleaned up and painted the sheet metal. The only issue that I ran into with the kit was that the mounting bolts provided by Hinson weren't threaded far enough. This meant that I had to use spacers to secure it to the chassis.
The next step was to attach a stainless steel braided clutch line. I ordered a 30" long line and a 3/8-AN4 Banjo bolt to make it work. Since I was happy with ATE Super Blue on my S2000, I ordered a can from Summit Racing for the clutch and brakes. Once the clutch line was installed onto the GM slave cylinder in the transmission, Matt and I bled both the brakes and the clutch.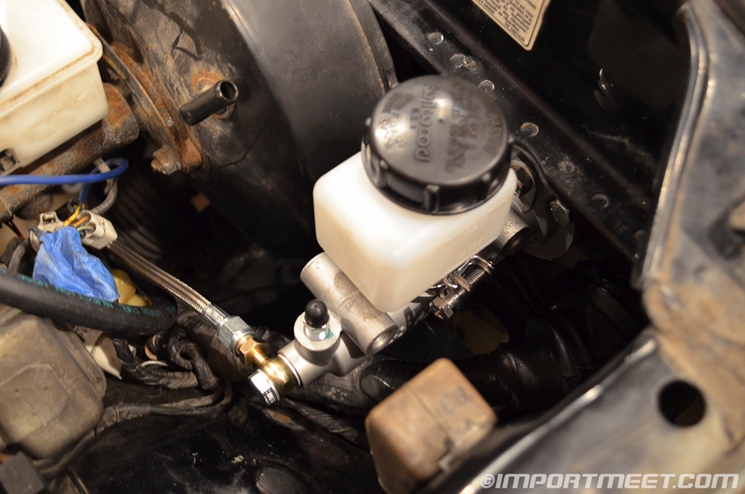 Some people recommend having heat protection on the clutch line since it passes so close to the exhaust manifold. Since my manifolds are ceramic coated and they aren't as close to the frame rails/tunnel, I'm fairly confident that I won't have any issues.
Previous posts about Project V8 RX-7:
Update 14 – T56 Transmission and C4 Driveshaft Install
Update 13 – First Start
Update 12 – Stage 1 Fuel System
Update 11 – Rear Subframe Modification and Bushing Install
Update 10 – S4 Turbo II Parts Car
Update 9 – L33 Modifications and Preliminary Install
Update 8 – Ronin Speedworks LSX Mount Kit
Update 7 – Improved Racing Oil Pan Baffle Install
Update 6 – Parts Engine Teardown
Update 5 – 5.3L Engine Purchase
Update 4 – The New Shop
Update 3 – Drivetrain Choices
Update 2 – Interior and Wiring
Update 1 – Engine Bay Preparation
Introduction to the Project