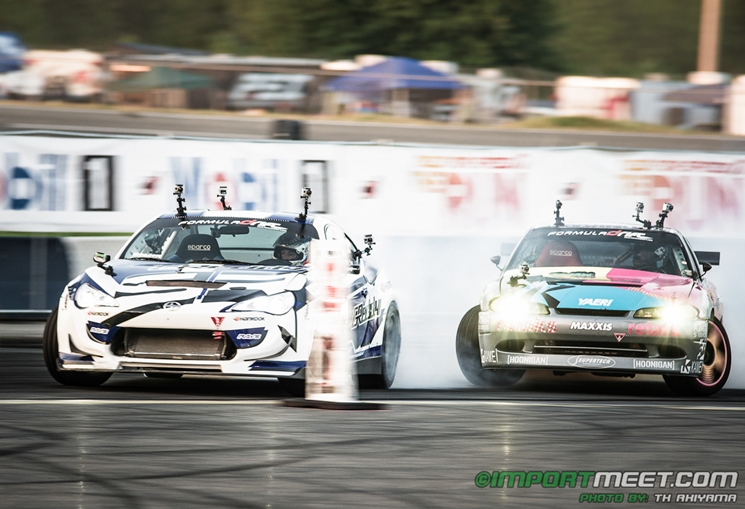 Photos by Nick & Melissa Poirier, TK Akiyama, and Matt Haugness.
In Part 1 of our Formula DRIFT Round 5 coverage, we posted photos from the car show and the pits. This post is all about the drifting.
Seattle is always an interesting stop on the Formula DRIFT circuit. Even though Round 5 is typically held in mid to late July, the weather is always unpredictable. On Friday it rained for half of the day making practice for both Pro-Am and the professional drifters limited. Although it didn't really clear off at all on Friday, the rain stopped by noon and the track workers were able to clear the track of any standing water.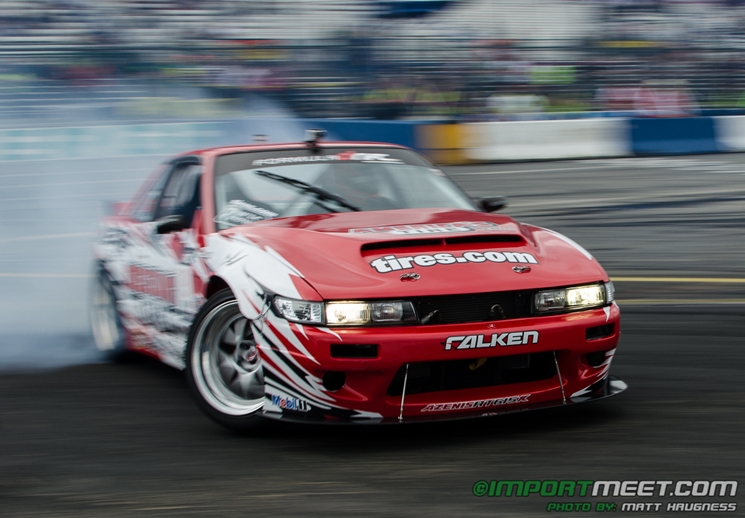 There were quite a few familiar cars and faces from 2011. Daijiro Yoshihara looked great all weekend and it was surprising when he didn't advance past the top 16. He was knocked out by Rhys Millen in his first battle.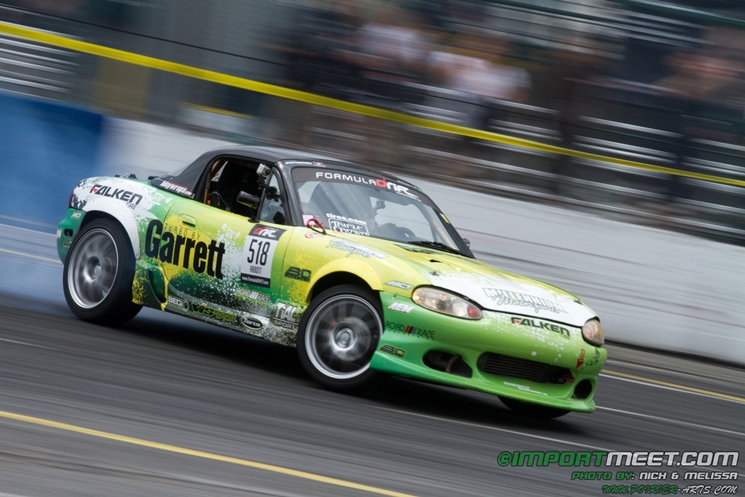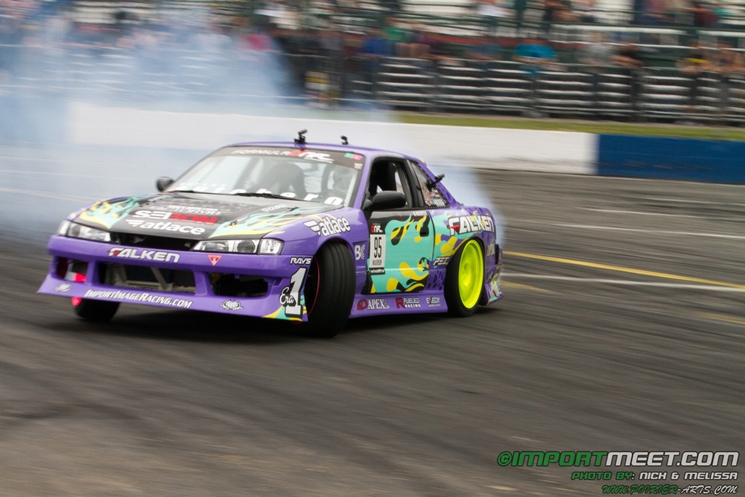 The crowd favorite, Walker Wilkerson made it into the top 16 but was eliminated by Matt Powers.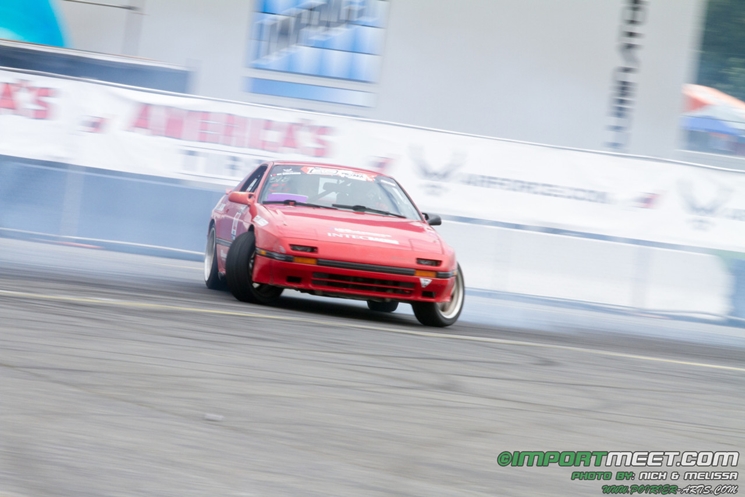 Evergreen Drift had Round 4 of their Pro-Am competition the same day as FD. Michael Klingele placed third with his LS1-powered FC RX-7.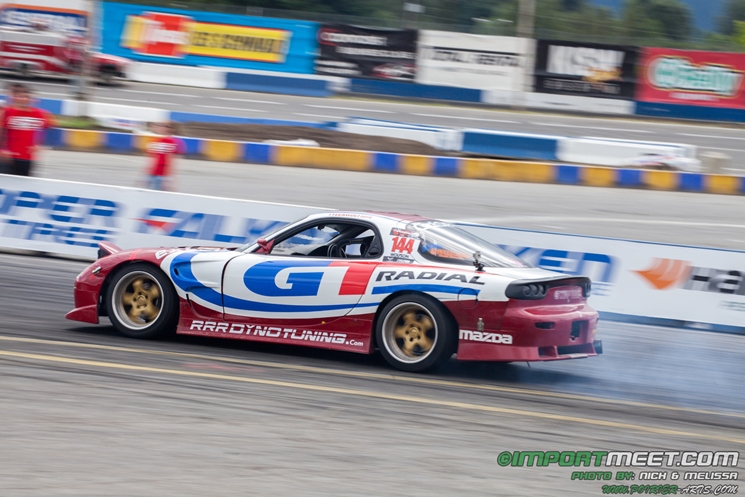 Tyler Wolfson, who came all the way from San Diego, California, placed second overall but wasn't able to compete in the final battle because of a minor accident between him and Michael.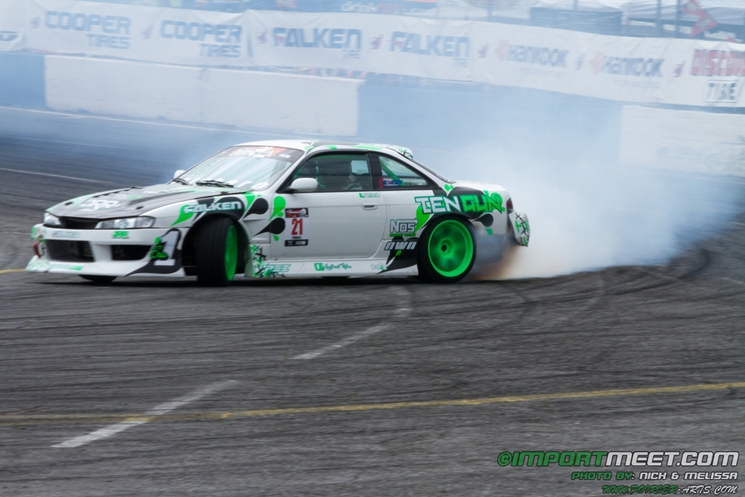 This meant that Rob Primozich placed first by default. He looked great all weekend and the win was well-deserved. He currently sits in third place overall in EVD's season standings.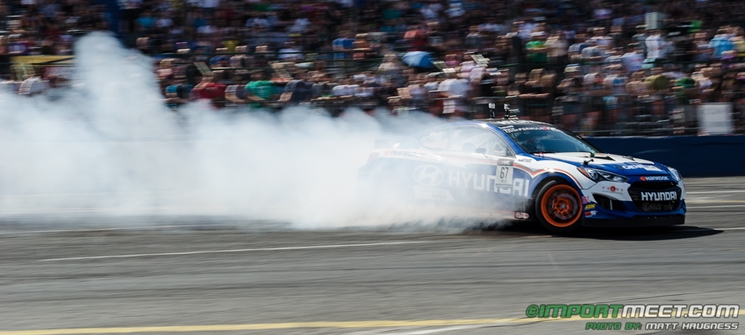 Rhys Millen ended up battling Ken Gushi for third place. The first battle between the two of them was so close that the judges made them battle "one more time". Rhys ended up taking the third place podium spot.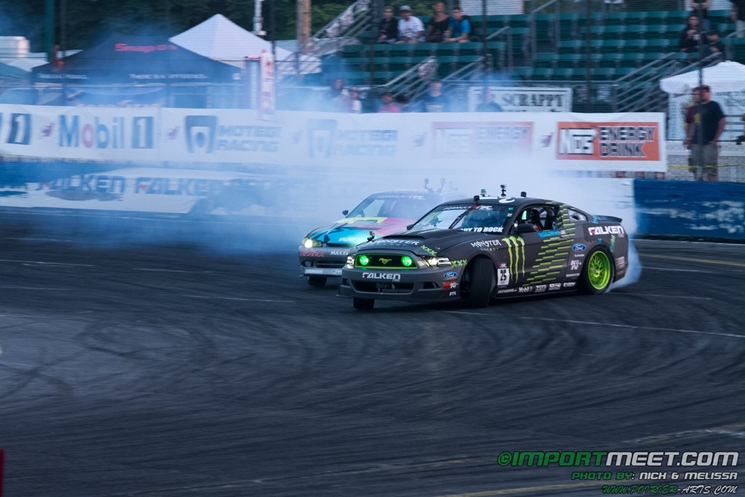 The final battle was between Ryan Tuerck in the Team Retaks Nissan 240SX and Vaughn Gittin Jr. in the Monster Energy / Falken Tire Ford Mustang.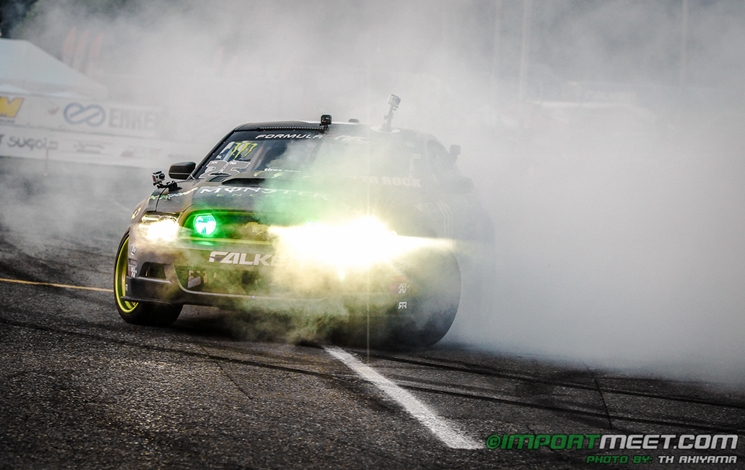 Ryan put up a good fight but it wasn't enough to beat Vaughn. Vaughn did so well in qualifying the day before that some predicted that he was going to win from the start. This was his second win in a row and he is currently in the lead for the season.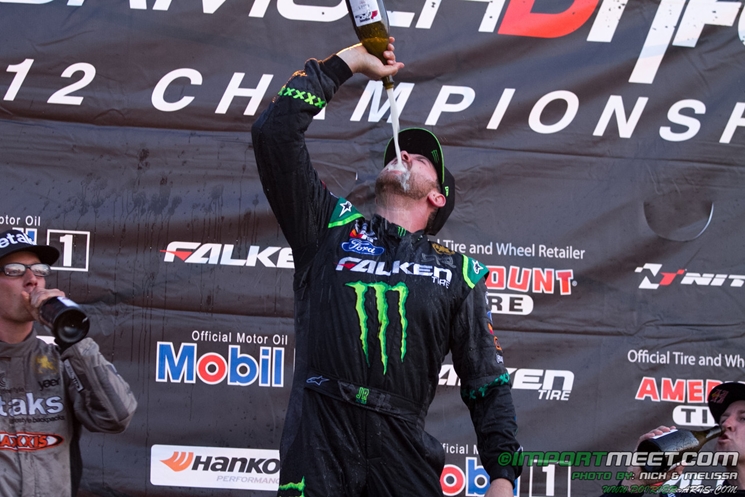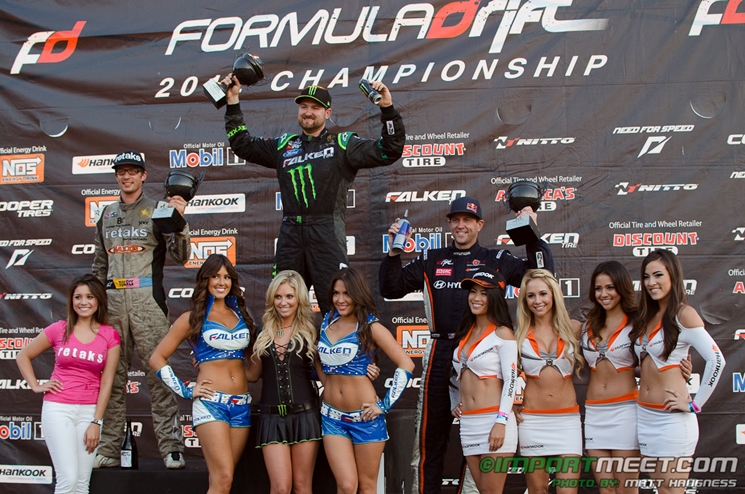 1st – Vaughn Gittin Jr.
2nd – Ryan Tuerck
3rd – Rhys Millen
Our entire team was happy to attend both days and provide coverage of Round 5 of Formula DRIFT. We can't wait to cover even more FD events in the future. If you missed Part 1 of our coverage which contains photos of the car show and pits make sure to check it out here.
Video by TK Akiyama.
Results
Formula DRIFT Professional Championship 2012 Point Standings After 5 Events
1. Gittin Jr., Vaughn
Monster Energy / Falken Ford Mustang
391 Points
2. Saito, Daigo
Achilles Tire / Bridges Racing Lexus SC430
383.50 Points
3. Pawlak, Justin
Falken Tire Ford Mustang
376 Points
4. Yoshihara, Daijiro
Discount Tire / Falken Tire Nissan S13
347 Points
5. Tuerck, Ryan
Team Retaks Nissan 240SX
328.50 Points
6. Millen, Rhys
Hankook / Rhys Millen Racing Hyundai Genesis Coupe
318.25 Points
7. Aasbo, Fredric
Need for Speed / Papadakis Racing Scion TC
295.50 Points
8. Forsberg, Chris
NOS Energy Drink / Hankook Nissan 370Z
293 Points
9. Powers, Matt
Need for Speed / Nitto Nissan S14
275.50 Points
10. Bakchis, Aurimas "Odi"
Bakchis Motorsports Nissan 240SX S14
267.75 Points
11. Gushi, Ken
Greddy / Hankook Scion FR-S
266.50 Points
12. Grunewald, Conrad
Hankook Chevrolet Camaro
238.50 Points
13. Essa, Michael
GSR Autosport / Nitto BMW ZR4
232 Points
14. Moen, Kenneth
Lutz Performance Nissan 350Z
231 Points
15. Kado, Ryan
Forged Racing / Nexen Tire Nissan 250Z
226 Points
16. Yoshioka, Toshiki
RS*R Nissan S15
224.75 Points
Round 5: Throwdown Event Results
1. Gittin Jr., Vaughn
Monster Energy / Falken Ford Mustang
Winner
2. Tuerck, Ryan
Team Retaks Nissan 240SX
Second Place
3. Millen, Rhys
Hankook / Rhys Millen Racing Hyundai Genesis Coupe
Third Place
Tires.com Triple Crown Standings after 2 events of 3
1. Gittin Jr., Vaughn
Monster Energy / Falken Ford Mustang
176 Points
2. Aasbo, Fredric
Need for Speed / Papadakis Racing Scion TC
153 Points
3. Tuerck, Ryan
Team Retaks Nissan 240SX
143.50 Points
[Sources: Formula DRIFT, Evergreen Drift]
Photo Gallery
(See pages 2, 3, & 4 more photos)