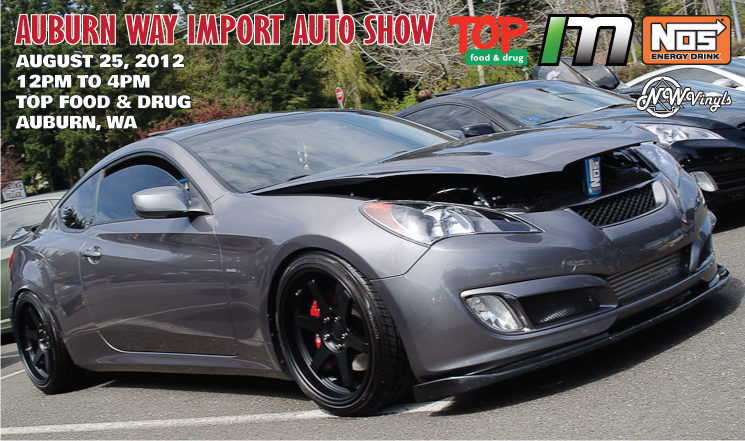 On August 25th 2012, ImportMeet.com and Top Food and Drug will be hosting an import car show and BBQ. All makes, models, and styles of import cars are welcome. The show will be held from 12pm – 4pm at the Auburn Top Food and Drug. This car show is FREE to the public and you are only required to pay if you want to reserve a spot in the show.
There will be a BBQ with bratwursts and hot buttered corn. NOS Energy Drink will be giving away FREE energy drinks. Bratwursts will be $3 each and hot buttered corn will be 2 for $3.
DJ Lil Shonn from Imperial Car Club will be the DJ for this show.
There are 150 reserved spots available for car show participants. $10 will reserve a spot in the show for ImportMeet.com members. If you're not a member on our site, the price is $12.50. It's completely FREE to become a member on ImportMeet.com and you can register here if you haven't already to save $2.50. If you wait and register the day of the show, it will be $15 cash.
Please use the form at the bottom of the page to reserve your spot at the Auburn Way Import Auto Show. Make sure you login to your ImportMeet.com account before clicking on the PayPal button below to ensure that you aren't overcharged.
Various prizes from the show sponsors will be raffled off during the event and all of the money received from the raffle will be donated to a Childhaven in Auburn. Childhaven is a non-profit organization that helps children of abuse and neglect.
Location:
Top Food and Drug
1702 Auburn Way N
Auburn, WA 98002
Time:
10am – 11:30am (Parking and registration)
12pm – 4pm (Show and BBQ)
Cost:
$10.00 for ImportMeet.com members
$12.50 for non-members (Register here!)
$15.00 for morning of registration (if spots available)
Awards
Best Engine Bay
Best Interior
Best Exterior Finish (Paint or vinyl wrap)
Best Classic Import (1989 and older)
Best Modern Import (1990 and newer)
Best Stance
Best Street Style
Best Race Style (Requires slips, photos/video, or cage)
Best OEM (Low miles and clean import cars)
Best Acura 1st and 2nd
Best Honda 1st and 2nd
Best Mazda
Best Mitsubishi
Best Nissan
Best Subaru
Best Japanese
Best European
Best Team Representation (Top number of team pre-registrations)
Best of Show
Make specific awards will be created if enough of a particular make pre-registers.
Cars will be judged by all of the other people who have registered for the car show. Each person who enters will vote for the car they think deserves to win in each category. Near the end of the day these votes will be tallied and the winner in each category will be announced.
We will be trying a form of electronic voting this time which should speed up the process of tallying the votes. If you don't have a smartphone, we will have hard copies available for people to vote with.
Previous car shows held by ImportMeet.com:
2011 End of Summer Car Show (a similar event held in Bellingham, WA)
2012 Spring Show & Shine (a similar event held in Bellingham, WA)
Testimonial from David Stewart (entry in the End of Summer Car Show):
This show was extremely well organized. It was on time, they grouped similar cars, there were mandatory car shots on the way in, they tracked the voting for prizes – to the point that one of the organizers tracked me down and asked if I was going to hand in my voting card! My only complaint was the annoying loud music… which I realize kind of goes with the 'scene'. Oh, and holding a car show in a parking lot is HOT, venues where you park on grass are better.

Even so, overall these guys did a fantastic show – probably the best organization I've seen all season.
Facebook event page:
https://www.facebook.com/events/322350297858191/
Feel free to invite your friends on Facebook. We hope to see you there!
Registration is closed. All 150 spots are occupied. Day-of registration will be waiting list only.
Note: The car show will happen rain or shine. If you pre-register and choose not attend because of rainy weather, your pre-registration fee will not be refunded.
Registration List – Thank you!
(It may take up to 24 hours to get your name added to the list)
| | | | | | | |
| --- | --- | --- | --- | --- | --- | --- |
| # | Make | Model | Year | Style | Name | Team/Club |
| 1 | Honda | Civic | 2006 | Street | Nathan | Stock Customs |
| 2 | Infiniti | G35 | 2003 | Stance | Milad | – |
| 3 | Infiniti | Q45t | 1999 | Stance | Shonn | Imperial |
| 4 | Hyundai | Genesis | 2010 | Street | Krista | NWGC |
| 5 | Mitsubishi | Evo X MR T | 2010 | Street | Igor | TEAMInnovationsNW |
| 6 | Acura | RSX Type-S | 2003 | Street | Douglas | – |
| 7 | Honda | Civic | 1996 | Street | Justin | – |
| 8 | Acura | Integra | 1998 | Street | Grayling | – |
| 9 | Acura | RSX | 2002 | Street | Eric | Imperial |
| 10 | Acura | Legend | 1994 | OEM | David | – |
| 11 | Mitsubishi | Evo IX MR | 2006 | Stance | Elree | TEAMInnovationsNW |
| 12 | Mitsubishi | Evo IX | 2006 | Street | Tj | TEAMInnovationsNW |
| 13 | Mitsubishi | Evo IX | 2006 | Race | Tomas | – |
| 14 | Mazda | 6i | 2008 | Street | designmonk | MazdasNW |
| 15 | Hyundai | Tiburon GT | 2004 | Street | Marcus | TEAMInnovationsNW |
| 16 | Honda | Civic | 1996 | Street | Vladimir | Tailored Gang |
| 17 | Honda | Civic | 1996 | Street | Andrew | Stock Customs |
| 18 | Honda | Civic | 1993 | Stance | Ivan | Stock Customs |
| 19 | Honda | Civic | 1999 | Street | Randy | Stock Customs |
| 20 | Honda | Civic EX | 1995 | Street | Nicholas | Stock Customs |
| 21 | Nissan | 350Z | 2004 | Street | Wei-Chieh | Stock Customs |
| 22 | Subaru | BRZ | 2013 | OEM | Nick | – |
| 23 | Subaru | WRX | 2007 | Street | Jeremiah | – |
| 24 | Acura | Integra | 1998 | Street | Eric | Stock Customs |
| 25 | Mazda | RX-8 | 2004 | OEM | Dane | Stock Customs |
| 26 | Honda | Civic | 1995 | Street | Kameron | Stock Customs |
| 27 | Mitsubishi | Evo VIII | 2005 | Street | Robert | TEAMInnovationsNW |
| 28 | Mazda | 3 | 2010 | Street | Josh | NWMotiv.com |
| 29 | Subaru | WRX | 2005 | Race | Samson | TEAMInnovationsNW |
| 30 | Honda | Civic | 1998 | Street | Bryce | Stock Customs |
| 31 | Acura | Integra | 1999 | Street | Jasmine | Stock Customs |
| 32 | Honda | Civic | 2007 | OEM | Chris | Stock Customs |
| 33 | Nissan | 350Z | 2008 | Street | Morris | – |
| 34 | Volkswagen | Jetta | 1991 | Stance | Raul | – |
| 35 | Mitsubishi | Mirage | 1989 | Race | Corey | – |
| 36 | Dodge | SRT4 | 2005 | Race | Lindsay | – |
| 37 | Nissan | 350Z | 2003 | OEM | Nicholas | Stock Customs |
| 38 | Infiniti | Q45 | 1999 | Stance | Phillip | – |
| 39 | Nissan | 240SX | 1998 | Street | Joseph | Stock Customs |
| 40 | Honda | Civic | 2000 | Street | Brad | Stock Customs |
| 41 | Honda | Civic | 1996 | Stance | Raid | Stock Customs |
| 42 | Honda | Civic | 1999 | Street | Robert | Stock Customs |
| 43 | Honda | Civic | 1999 | OEM | Grant | Stock Customs |
| 44 | Acura | Integra | 1997 | Street | Mario | Stock Customs |
| 45 | Volkswagen | Golf | 1999.5 | Street | Marco | Stock Customs |
| 46 | Honda | S2000 | 2003 | Street | Calvin | Stock Customs |
| 47 | Subaru | WRX | 2012 | Street | Eli | – |
| 48 | Honda | Del Sol | 1993 | Street | Ryan | Stock Customs |
| 49 | Mitsubishi | Eclipse | 2000 | Street | Jennifer | – |
| 50 | Honda | Civic | 1993 | Street | Frank | Stock Customs |
| 51 | Subaru | Impreza | 2005 | Street | Sam | Stock Customs |
| 52 | Honda | Civic | 1999 | Street | Shelby | Stock Customs |
| 53 | Honda | Civic | 1996 | Street | Jonathan | Team Unlimited |
| 54 | Honda | Civic | 1995 | Street | D-Lo | Stock Customs |
| 55 | Nissan | 240SX | 1997 | Stance | Henry | Stock Customs |
| 56 | Subaru | WRX | 2005 | Street | Michael | Stock Customs |
| 57 | Honda | Civic | 1997 | Stance | Jordan | Stock Customs |
| 58 | Subaru | WRX | 2007 | Stance | Chris | Stock Customs |
| 59 | Subaru | WRX | 2004 | Stance | Jeremy | SuperCute |
| 60 | Honda | S2000 | 2000 | Street | Hector | Stock Customs |
| 61 | Mazda | Speed3 | 2008 | Street | Kyle | MazdasNW |
| 62 | Mercedes | C63 AMG | 2012 | OEM | John | TEAMInnovationsNW |
| 63 | Mazda | 3 | 2008 | Street | Charles | MazdasNW |
| 64 | Scion | tC | 2008 | Stance | Trung | – |
| 65 | Honda | Civic | 1996 | Stance | Jake | Stock Customs |
| 66 | Scion | xB | 2008 | Street | Michael | HFD |
| 67 | Honda | Civic | 1998 | Street | Peter | Stock Customs |
| 68 | Acura | RSX | 2005 | Street | Juan | Stock Customs |
| 69 | Scion | xB | 2006 | Street | Steven | HFD |
| 70 | Honda | Civic | 2007 | OEM | Brian | Stock Customs |
| 71 | Acura | Integra | 1995 | Stance | Doaa | Stock Customs |
| 72 | Mitsubishi | Evo | 2006 | Street | Tyler | Stock Customs |
| 73 | Acura | TSX | 2000 | Stance | Thomas | Stock Customs |
| 74 | Nissan | 300ZX | 1990 | Stance | CJ | Stock Customs |
| 75 | Honda | Civic | 1995 | Street | Alexis | Stock Customs |
| 76 | Acura | Integra | 1992 | OEM | Tim | Stock Customs |
| 77 | Honda | Civic | 1997 | Street | Lynn | Down To Earth |
| 78 | Honda | Civic | 1993 | Street | Devon | Stock Customs |
| 79 | Honda | Civic | 1993 | Street | Patrick | Stock Customs |
| 80 | Honda | Civic | 1998 | OEM | Tyler | Stock Customs |
| 81 | Honda | Civic | 1989 | Street | Kit | Stock Customs |
| 82 | Honda | S2000 | 2006 | Street | Stephen | Stock Customs |
| 83 | Datsun | 240Z | 1970 | Street | Bousy | – |
| 84 | Honda | Wagovan | 1988 | Street | Zack | – |
| 85 | Toyota | MR2 Turbo | 1991 | Street | Bryan | – |
| 86 | Nissan | 300ZX | 1991 | Street | Monorom | Stock Customs |
| 87 | Nissan | 300ZX | 1993 | Street | Chris | – |
| 88 | Honda | Civic Si | 2011 | Street | Gonzalo | Stock Customs |
| 89 | Toyota | Corona | 1967 | OEM | Tyler | Stock Customs |
| 90 | Honda | Civic | 1996 | Street | Tai | Stock Customs |
| 91 | Honda | Civic | 1996 | Street | Josiah | Family 360 |
| 92 | Acura | Integra | 1992 | Street | Manuel | – |
| 93 | Lexus | GS300 | 1994 | Stance | Matthew | Imperial |
| 94 | Toyota | AE86 | 1986 | Street | Kyle | Tork Motorsports |
| 95 | Acura | Integra | 1991 | Race | Charles | – |
| 96 | Subaru | WRX | 2004 | Stance | Joni | – |
| 97 | Honda | Accord | 2000 | Stance | Thai | Stock Customs |
| 98 | Nissan | 240SX | 1991 | Stance | Tanner | Stock Customs |
| 99 | Subaru | Impreza | 2004 | Race | Andrew | – |
| 100 | Scion | FR-S | 2013 | OEM | Mary | – |
| 101 | Subaru | WRX | 2002 | Street | Andrew | – |
| 102 | Subaru | 2.5RS | 2005 | Street | Randall | Atypical Crew |
| 103 | BMW | 325i | 1994 | Street | Aaron | JZPowered Garage |
| 104 | Suzuki | SX4 | 2007 | Street | Chris | – |
| 105 | Honda | Prelude Si | 1995 | Stance | Deok | – |
| 106 | Nissan | Nismo 370Z | 2011 | OEM | Karl | Team Unlimited |
| 107 | Honda | Civic | 1994 | Stance | Matt | Stock Customs |
| 108 | Mazda | Protege | 2003 | Street | Andrew | MazdasNW |
| 109 | Scion | tC | 2007 | Street | Chris | Imperial |
| 110 | Subaru | WRX | 2011 | Street | Alex | – |
| 111 | Honda | Civic | 2008 | OEM | Kyle | Stock Customs |
| 112 | Scion | xB | 2005 | Street | Shawn | HFD |
| 113 | Acura | Integra | 1991 | Street | Ryan | – |
| 114 | Acura | Integra Type R | 2000 | OEM | Mike | – |
| 115 | Subaru | WRX | 2002 | Street | Kelly | – |
| 116 | Subaru | Impreza L | 1995 | Street | Radu | Atypical Crew |
| 117 | Nissan | 240SX | 1996 | Stance | Micah | – |
| 118 | Mazda | Speed3 | 2008 | Street | Martin | MazdasNW |
| 119 | Subaru | Impreza | 2005 | Race | Geoffrey | Atypical Crew |
| 120 | Subaru | RWD STi | 2005 | Street | Scott | – |
| 121 | Mitsubishi | Evo X | 2008 | Street | Eric | – |
| 122 | Datsun | 260Z | 1974 | Street | Joseph | – |
| 123 | Nissan | 200SX | 1985 | Street | Donna | – |
| 124 | Mitsubishi | Evo IX | 2006 | OEM | Wilbur | – |
| 125 | Yamaha | YZF-R1 | 2002 | Race | Sergey | – |
| 126 | Subaru | WRX | 2004 | Street | Justin | Atypical Crew |
| 127 | Acura | Integra | 1992 | Stance | Jordan | NWP4LIFE |
| 128 | Honda | Civic Hatch | 1995 | Street | Dominick | TEAMInnovationsNW |
| 129 | Mitsubishi | Evo | 2003 | Race | Eraan | TEAMInnovationsNW |
| 130 | Subaru | STi | 2006 | Race | Jamarri | – |
| 131 | Toyota | Supra | 1987 | Street | Neyaz | – |
| 132 | Scion | xB | 2006 | Street | DJ Hall | HFD |
| 133 | Subaru | WRX | 2006 | Stance | Denis | Atypical Crew |
| 134 | Honda | Accord | 1997 | Street | Robert | Stock Customs |
| 135 | Scion | tC | 2006 | Stance | Amanda | Balliztik PNW |
| 136 | BMW | 318is | 1991 | Stance | Nathan | – |
| 137 | Mazda | RX-7 | 1990 | Stance | Joey | – |
| 138 | Mitsubishi | Evo 8 | 2005 | Street | Sean | – |
| 139 | BMW | 330i | 2006 | Street | Andy | Team Blop |
| 140 | Scion | xB | 2005 | Stance | Scott | HFD |
| 141 | Subaru | BRZ | 2013 | OEM | Chris | NWMotiv.com |
| 142 | Mazda | 3 | 2008 | Stance | Kenneth | MazdasNW |
| 143 | Mitsubishi | Evo X | 2011 | Street | Steven | – |
| 144 | Acura | RSX Type-S | 2004 | Stance | Calvin | – |
| 145 | Subaru | STi | 2007 | Street | Angel | – |
| 146 | Honda | Civic | 1997 | Street | Daro | – |
| 147 | Honda | Civic | 2007 | OEM | Chris | – |
| 148 | Nissan | 240SX | 1997 | Stance | Samuel | – |
| 149 | Nissan | 240SX | 1997 | Stance | Danielle | – |
| 150 | Scion | xB | 2008 | Street | Brad | HFD |
| 151 | BMW | M3 | 2011 | OEM | Kao | Team Blop |
Auburn Way Import Auto Show Sponsors