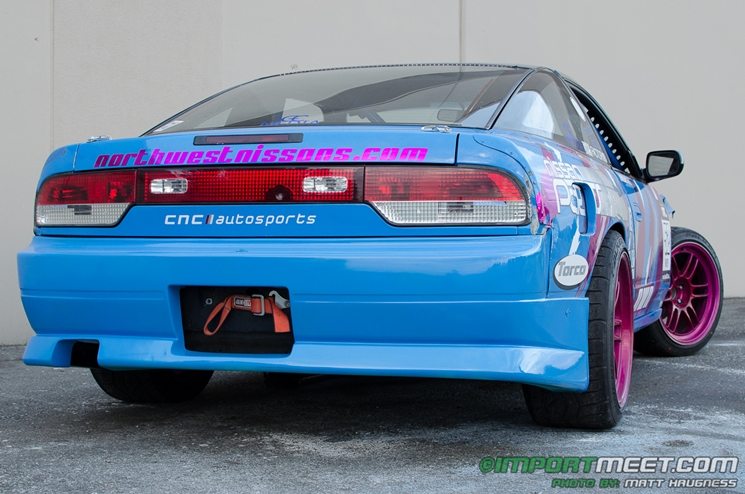 I recently had the chance to sit down with a professional Formula DRIFT driver by the name of Mike Phillips. He currently resides in the Seattle, WA area where he started his drifting career. Last year, Mike competed in the Pro Am drifting series at Evergreen Speedway where he placed 1st. This meant that he could compete professionally for Formula DRIFT.
This year, during practice at Long Beach for Round 1 of FD, he had an accident which took the car out of commission. Mike wasn't injured, but the car required extensive repairs. Many people would have given up after Long Beach and took the rest of the season to rebuild their car but Mike wasn't one of those people. He was determined to return this season and I'm happy to say he will be drifting at Evergreen Speedway this weekend for Round 5 of Formula Drift.
I'll let the rest of the interview shed some light on who Mike is and how he got started drifting.
ImportMeet.com: Can you tell us how old you are and how long you have been drifting for?
Mike Phillips: I'm almost 25 years old and I've been drifting for six and a half years. I'm currently in my first season as a professional drifter and I participated in two seasons of Pro Am before.
IM: What initially got you started drifting?
MP: While I was working as an intern at a local racing shop I saw a video of the first D1 USA drifting event. I saw a random sport that made no sense to me at all since I was a Honda kid and all I knew was that I wanted to do it.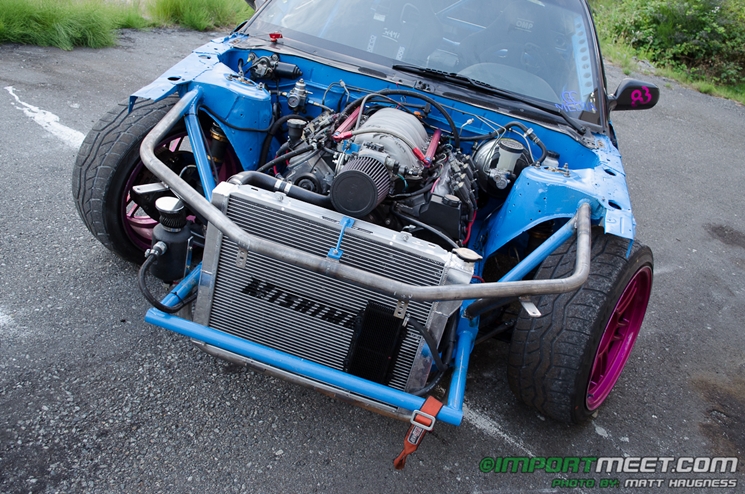 IM: What car did you learn to drift with?
MP: I first bought an SR5 Corolla that never ran. I sold it because of all of the problems I had and bought a GT-S Corolla that was lowered and had a welded diff. Looking back, I'm not proud of either of those cars. I sold the second Corolla and bought my 240SX for a steal from a friend. I daily drove a Civic for awhile while I started to build it. This was the first car I took drifting seriously with.
IM: Of all of the professional drifters you've driven with, who do you look up to the most? Who is your inspiration?
MP: I wouldn't say I have a particular role model in drifting since individuality is so important. Dai Yoshihara is someone that I respect because he's always so professional. For the most part, everyone in the professional drifting scene is someone that I look up to.
IM: Do you have any advice for anyone who wants to get started drifting?
MP: Get a lot of friends. You're going to need a lot of help supporting your career. Become friends with someone who is already involved in the community. Going in blind is going to cost you a lot of money and may deter you from the sport. Surrounding yourself with good people at the track and making sure you have support is important. It's such a tight-knit group that there are so many things you can benefit from by knowing others in the community.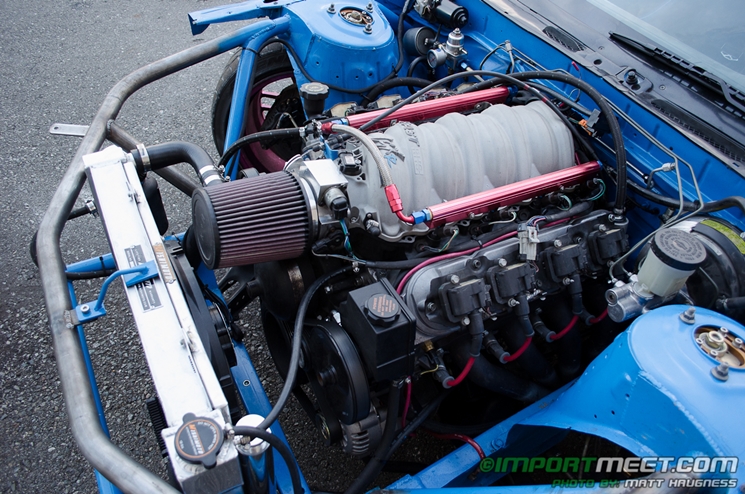 IM: Since you had an SR in the car before, how has your LS1 swap into your 240SX been received so far? How do you deal with "haters" or fanboys who may not like your choice?
MP: For me it's never been about "staying true to Nissan" or anything like that. I treat the car as a tool and I wanted the most efficient, most effective, most volatile tool with the most power for the least amount of money. It seemed like the logical way to go. Obviously I've also followed trends with other pro drivers who have already proven that it's a simple and consistent way to make power.
I haven't really had a lot of issues with haters. Some drivers get a lot of hate, but because of the way I present myself, kind of my all-American vibe, it kind of fits my style. I've never tried to emulate a D1 style. I have a race car that I built it in America that has a lot of horsepower. It's who I am so I think it fits me better than my previous choice.
IM: Have you had to tweak your driving style considerably because of the increased power?
MP: With a turbo you have almost like a buffer for your foot. You have to wait for it to spool and you can be a bit more aggressive with stabbing the throttle. Smoothing out my application of the throttle and refining the way I drive has been a big part of adapting to the setup. We've also done a lot of other suspension changes to compensate for the power. The car has a lot more mechanical grip and has a lot more power to overcome that, but at the same time it's increased the speed of the car. The things that it can do are a little more drastic. I'm pushing the car to those limits that I think it's made me more aggressive and fluid.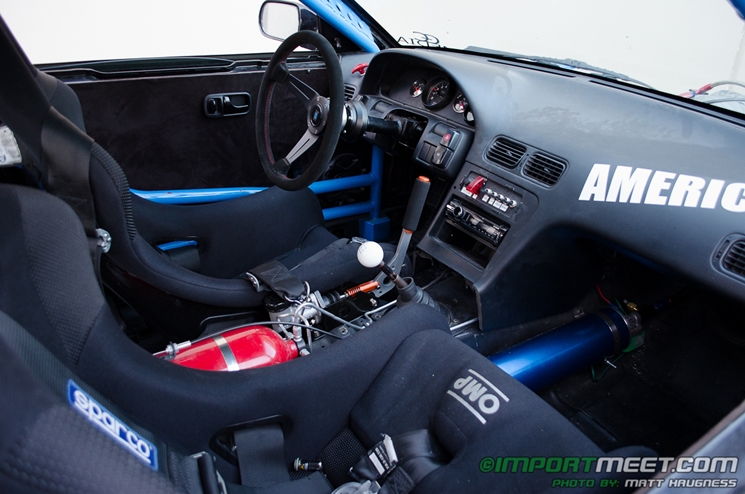 IM: How much power is your current setup producing?
MP: Right now it's putting down 455HP/393TQ but that was with the tires spinning on the dyno. We think it would be making 460+ if it wasn't spinning on the dyno.
IM: Other than the chassis modifications, what is the biggest change to the car since the last time you drove it?
MP: Initially we had some issues building the motor. We had some smoking problems, issues with the heads, and issues with the rings. All in the all, the first build wasn't as strong as we thought it would be. We decided to go a different route and have some different people help us with the setup. We had a custom cam designed for the new build and increased the compression a little bit. Ultimately, these changes increased the output by about 30 to 40 horsepower.
IM: What would be the ideal platform for you to evolve to?
MP: I'd like to progress to a newer chassis. Obviously that would be based solely on being sponsored. The car doesn't really matter to me as long as it functions properly. I'd love to have a big V8 Camaro or something like that but that's just my American side coming through. There isn't something I can really think of at the moment that I would want.
IM: What do you daily drive?
MP: I drive a Nissan 350Z with a few mods that don't really affect it's ability to drive on the street.
IM: Will you be competing at FD this weekend?
MP: Yes, as long as I make it through Thursday's practice.
IM: What is your next drifting event after Seattle?
MP: If I can break my trend of crashing the car every time I drive it in competition, I'll be at Vegas for the next round of Formula D. Again, if I survive that competition, I'll be at Irwindale for the final round.
IM: Who would you like to give thanks to?
MP: I would like to thank my sponsors NissanParts.cc, CNC Autosports, Northwest Nissans, Fueled Racing, Diversity Law, ACT, Torco, Falken, Factory83, Huckaneer, SONY, Hell Yeah Custom Coatings, NOS Energy Drink, Fuel Injector Connection, 425 Motorsports, and Portland Speed Industries.
IM: Thanks for sitting down with us for an interview. We can't wait to see you tear it up at Evergreen Speedway this weekend!
MP: Thank you.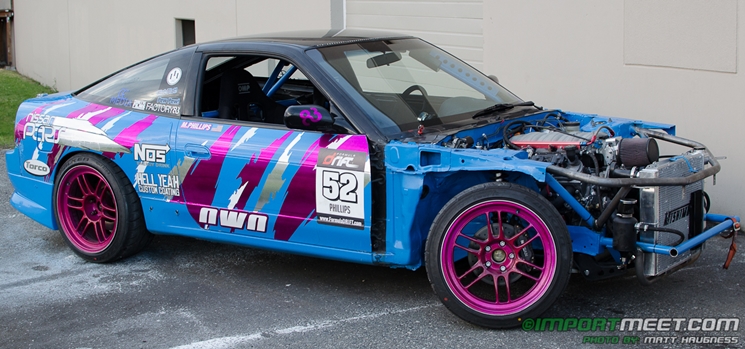 You can find Mike on Facebook at http://www.facebook.com/MikePhillipsRacing. If you would like to see a raw video of him testing his car, go here. Be sure to watch him compete in Formula DRIFT Round 5 at Evergreen Speedway on July 20-21, 2012. Good luck Mike!
Did you enjoy this interview? Would you like to see more interviews with professional drivers? Leave me a comment and let me know what you think.