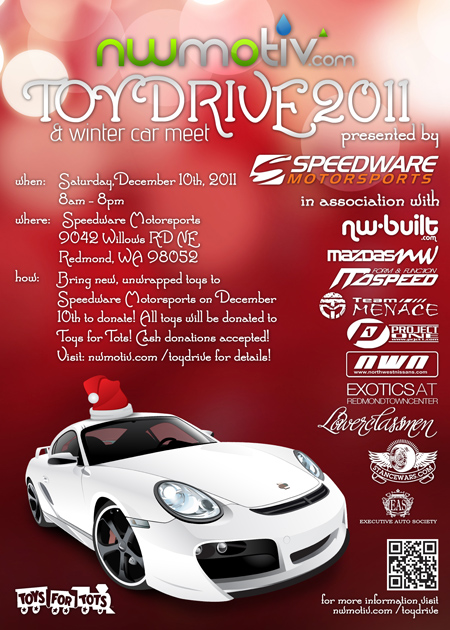 Update: Check out our event coverage.
On December 10th, 2011, NWMotiv.com will be holding a Toy Drive and Winter Car Meet at Speedware Motorsports in Redmond, WA. With very few events happening during the winter in the Pacific Northwest, this is sure to be a big one!
All donations made will go to the Toys for Tots foundation. From November 26th, 2011 until the day of the meet, you can drop off a new, unwrapped toy at Speedware Motorsports. If you can't make the event but still want to donate, you can do so on NWMotiv.com's event page.
Location:
Speedware Motorsports
9042 Willows Road NE
Redmond, WA 98052
When:
Saturday, December 10th, 2011
8am – 8pm
Suggested Donation:
Bring new, unwrapped toys to the meet. Cash donations will also be accepted.
Full details: http://www.nwmotiv.com/toydrive
Facebook page: http://www.facebook.com/event.php?eid=221289804597764
ImportMeet.com will be attending and will have a large group driving down from Bellingham. Facebook event page for the Bellingham pre-meet here: http://www.facebook.com/event.php?eid=288792774476931