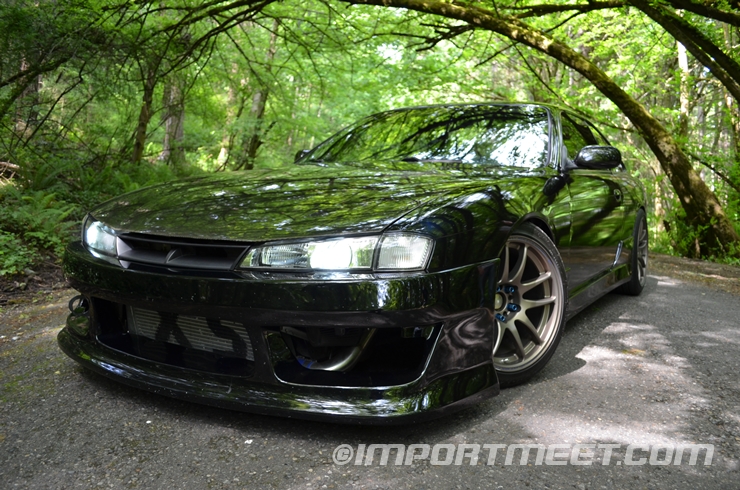 Kyle's signature on the forum is: "Boost it, break it, rebuild it stronger, repeat process…" and he lives by this motto with every car he owns. His obsession with boost began with a Dodge Turbo Diesel that he started to build right after finishing high school. Although he bought the truck stock, it didn't take him long to source every part imaginable to make 727 horsepower and run a 13.4 @ 105 MPH quarter mile. Shortly after achieving his goal of owning one of the fastest trucks in his hometown, he knew he wanted something smaller and faster. He knew he enjoyed 240SXs as he had a swapped S13 prior to his truck. He found the car he wanted and quickly sold the Dodge to buy this pristine 1996 240SX SE. While the Kouki front end conversion and SR20DET swap were already completed by the previous owner, Kyle knew he would save tons of money by buying the car already modified.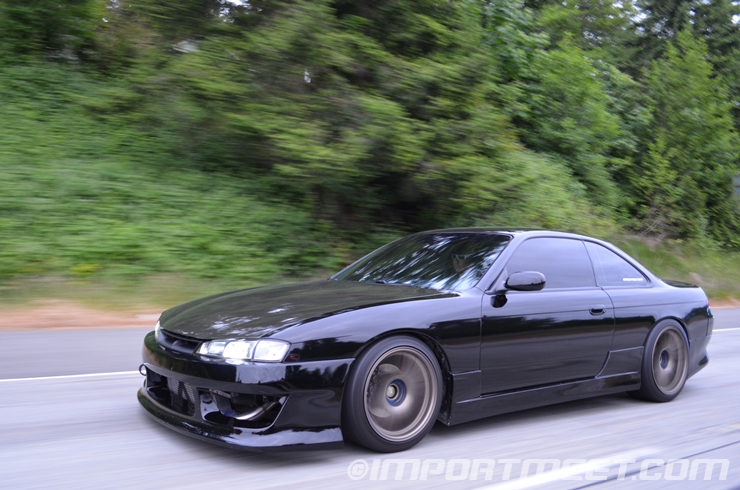 His first order of business was to swap in a Z32 transmission using a Mazworx SR/VG transmission adapter kit. This allowed him to have a reliable transmission that could handle the power that the built engine was capable of producing. He also upgraded to a 3" steel driveshaft to make sure that this wasn't the weakest link in his drivetrain. Next, he knew he needed to have the car re-tuned as this was the area of the build that the previous owner skimped on. He had heard great things about Lawrence at Intec Racing so he decided that their shop would be his best bet. The engine was meticulously tuned by Lawrence until it was producing 445 hp and 383 lb-ft of torque. The transformation in driveability after the tune was so dramatic that it rekindled Kyle's love for the car. Instead of dreading taking it out of his garage, he was now looking for every opportunity to drive it.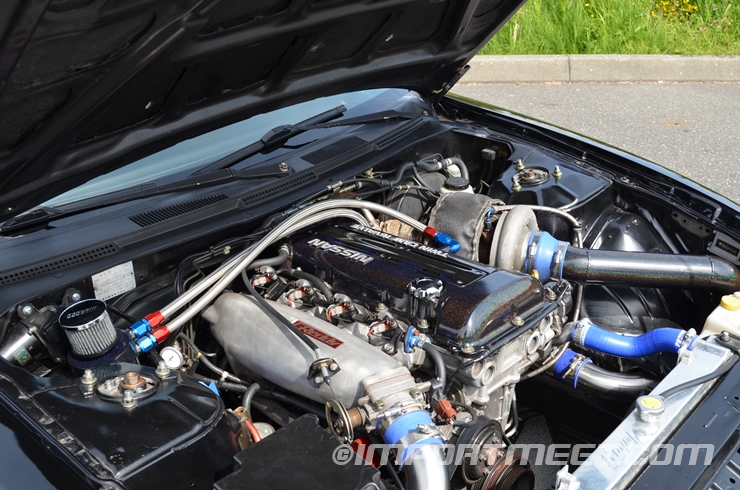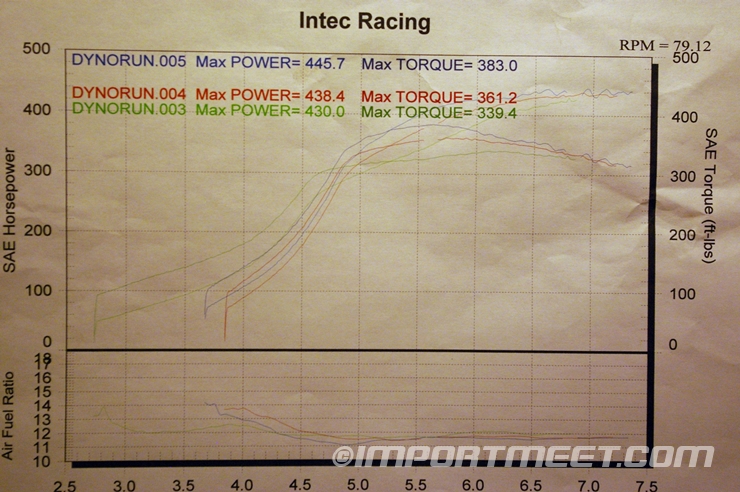 Kyle's plans for the future are to hit the 11's using slicks (his current best is 12.41 at 121 MPH) and to install solid rear subframe bushings. He would also like to upgrade his front brakes to 13" Wilwoods and potentially upgrade to a dual ball bearing turbo. Drag racing is his passion and he plans on spending as much time as possible at Mission Raceway this summer. Kyle would like to give special thanks to his girlfriend Leslie for supporting him throughout the build, Lawrence at Intec Racing, and his close friends who have kept him in the tuning scene.
Follow Kyle's build in this thread: http://www.importmeet.com/forum/viewtopic.php?f=56&t=253
Here's a short video put together by Kyle:
Modification List:
Engine
Blacktop SR20DET
Polished and knifed crankshaft
Eagle rods
ACL main bearings
CP 86.5mm 8.5:1 compression pistons
ARP head studs
Cometic head gasket
Ported and polished head
BC stainless steel valves with HKS valve springs and BC titanium retainers
HKS 264 intake / 272 exhaust camshafts with HKS cam gears
GReddy rocker arm stoppers
GReddy intake manifold
SARD 850cc injectors and SARD FPR
Walbro 255lph fuel pump
Full Race twin scroll top mount exhaust manifold
Holset HX35W turbo with twin scroll V-band turbine housing
Custom 3" downpipe and exhaust with an HKS Dragger muffler
Tial 44mm external wastegate with 1.5 bar spring
GReddy Type-R blow off valve
Turbo XS intercooler with custom intake piping and Z32 MAF sensor
Custom oil catch can
AEM water/methanol injection kit
Nismo engine/transmission mounts
Apex'i Power FC L-jetro
Apex'i AVC-R boost controller
Koyo radiator with ISIS dual 12" electric fans/shroud
Braided turbo lines
Transmission/Differential
Mazworx SR/VG transmission adapter kit w/ 3" steel driveshaft
Z32 transmission
OS Giken twin plate clutch
SPL solid differential bushings
Exterior
Origin Lab style body kit
VIS carbon fiber hood
Kouki front end conversion
Work Emotion CR KAI 17×9 / 18×9.5
Titek blue lug nuts
235/40/17 Toyo Proxes T1R / 255/40/18 Pirelli PZero Corsa
20% window tint
V-LEDs HID kit
Interior
Sparco EVO 2 fixed back seats
JDM gauge cluster
Nardi steering wheel
Nardi quick release
Autometer Ultra Lite oil temperature/oil pressure gauges
Innovate blue LED wideband gauge
Suspension/Brakes
DORF-R coilovers
Z32 brakes
Silvia K rear subframe
Cusco rear strut tower bar
Stainless braided brake lines